In the words of Keith Richards (Rolling Stones):
If you don't know the blues... there's no point in picking up the guitar and playing rock and roll or any other form of popular music.
Blues is one of the most important genres of music. It has shaped other styles, like jazz, rock, metal, even country.
Guitarists who know how to play blues guitar have a definite advantage over others.
Now you might be wondering:
"Is learning blues guitar hard?"
I have good news for you. It's rather simple.
Of course, it takes learning and practice (as does everything else in life), but once you understand the fundamentals, you'll see how practical blues really is....
...and most of all: how thrilling it is to play!
So let's get to it.
Below I'll review the best blues guitar courses you'll find on the internet in 2023.
While you read this post, get yourself into the mood and listen to what many consider one of the best blues songs of all time by BB King.
Review criteria
If you type blues guitar lessons into Google, you'll be presented with many sites offering blues tutorials. Some are good, some are not.
As I do not offer blues lessons on TheGuitarLesson.com (yet), I want to show my recommendations to my students and everybody interested through this post.
I've narrowed the choices down to what I think are the 3 best online blues guitar courses.
Why these 3?
Because they all have:
A structured curriculum, where the lessons build onto each other
HD video lessons
Tabs and Guitar Pro files of each lesson
Play along videos, where you can play along with the teacher
Jam tracks of each lesson, so you can practice by yourself as if you were in a band
Now let's have a look at the details of each course.
Guitartricks.com blues lessons
GuitarTricks.com is a real heavyweight in online guitar lessons. In fact, being established in 1998, it was the first site to offer video guitar lessons on the internet.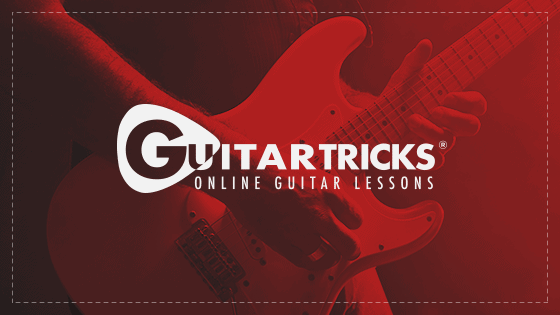 The blues lessons offered by GuitarTricks can be split into 3 main sections.
Blues style course (Level 1 and Level 2)
Blues songs
Blues mini courses
Let's have a look at each.
Blues Style Level 1 & 2 (Core learning system)
The core learning system is GuitarTricks.com's recommended path for learning guitar. After the fundamentals, you have the chance to learn the intricacies of blues, country and rock.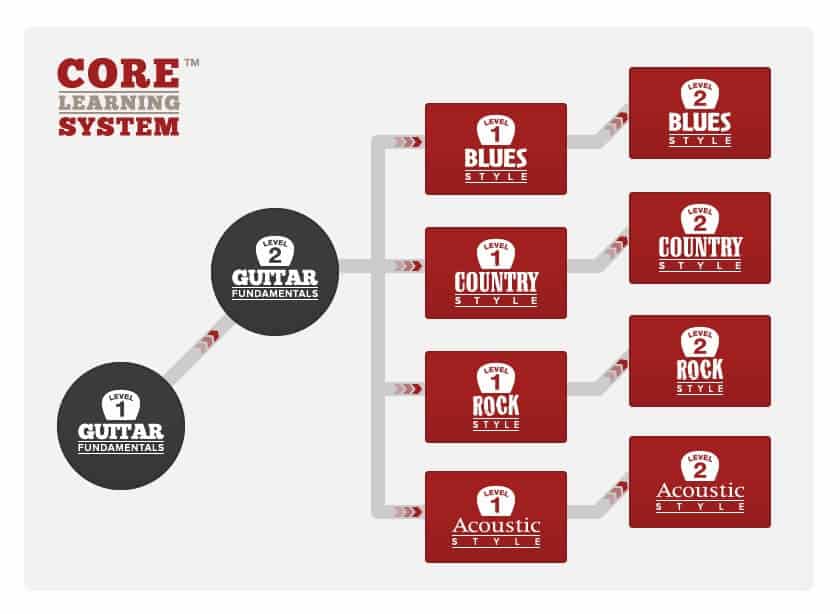 The Blues style course is made up of 2 segments: Level 1 and Level 2.
Each Level is split into Chapters, and each Chapter is split into a series of tutorials revolving around a given topic.
This sounds weird written down, but it's actually very intuitive:
When you look at the table of contents, you can immediately see the amount of thought that went into structuring the course.
Each lesson builds on the prior, and as a guitar teacher of 15+ years, I can't think of any blues skill/technique I would teach to aspiring blues players, that is not covered within the course.
It is safe to say that completing GuitarTricks's blues style lessons will get you to an early-advanced level of playing.
Blues Level 1
Chapter 1: 12 bar blues, blues shuffle rhythm, turnarounds, chord voicings
Chapter 2: power chords, barre chords, playing in different keys
Chapter 3: minor blues, minor chords, dominant chords, 12 bar blues variations7
Chapter 4: various blues strumming patterns and grooves, intro to regional blues rhythm styles
Chapter 5: blues lead techniques, blues scale
Chapter 6: getting a blues tone on various guitars & amps, and the effects you would use
As you can see, Level 1 covers basic blues concepts and techniques. Once you are comfortable with these techniques, you would turn things up a notch and move on to the next level.
Blues Level 2
Chapter 1: more blues lead guitar, building riffs, playing in different keys, minor scale, jamming
Chapter 2: the styles of Albert King, B. B. King and Freddie King
Chapter 3: blues phrasing, call and response, differing vibrato styles, bending concepts
Chapter 4: targeting chord tones, playing with a slide, blues mixed with other styles (jazz, rock, reggae, funk)
Chapter 5: advanced blues rhythm, various turnarounds, 8 bar blues
Chapter 6: regional blues styles (Jazz, Delta, Chicago, Texas, New Orleans, British)
All lessons in the blues style courses are taught by Anders Mouridsen, who is one of the best teachers on GuitarTricks.com. His calming personality is mixed with his enthusiasm for the guitar, which makes the lessons very enjoyable.
Blues song tutorials
After tackling the blues core learning system, what better way to practice and refine your newfound knowledge, than to learn to play popular blues songs?
GuitarTricks has an impressive collection of lessons on blues songs from many classic and contemporary blues artists. At the moment I counted about 100 blues songs in the list from artists such as:
BB King
Stevie Ray Vaughn
Eric Clapton, T-Bone Walker
Muddy Waters
Robert Johnson
Howlin' Wolf
Albert Collins
The Allman Brothers
Seeing how the masters use all the blues techniques you learned in the Level 1 and Level 2 blues style sections will help put it all together and move you forward.
Blues mini courses
GuitarTricks has a bunch of what I would call "mini-courses" on various guitar styles, including the blues.
These mini-courses are taught by different teachers, and are relatively short in length. Around 5 to 30 minutes, depending on the course.
These are great for quick practice sessions when you don't really have enough time to dive into something too deeply.
What kind of mini-courses will you find?
Blues riffs
Blues rhythm techniques
Blues orchestration
Using major notes in minor pentatonics
and so on...
TrueFire.com blues lessons
TrueFire.com is an absolute monster website, with more lessons than anybody could ever go through. They offer many individual courses in all genres and difficulties.
The company was founded in 1991, and they initially released lessons on tape and DVD. Than came the Internet.
TrueFire has an immense number of guitar lessons. At the moment of this writing, it has 177 courses full fledged blues guitar courses with almost 14,000 individual lessons in them.
Picking out each course of interest is useful for advanced guitarists.
"Blues Guitar Learning Path"
Beginner blues guitar players are offered a more structured way of learning, called the "Blues Guitar Learning Path".
It is made up of 4 stage, with lessons increasing in difficulty.
Each stage is made up of "core courses" and also "supplementary courses".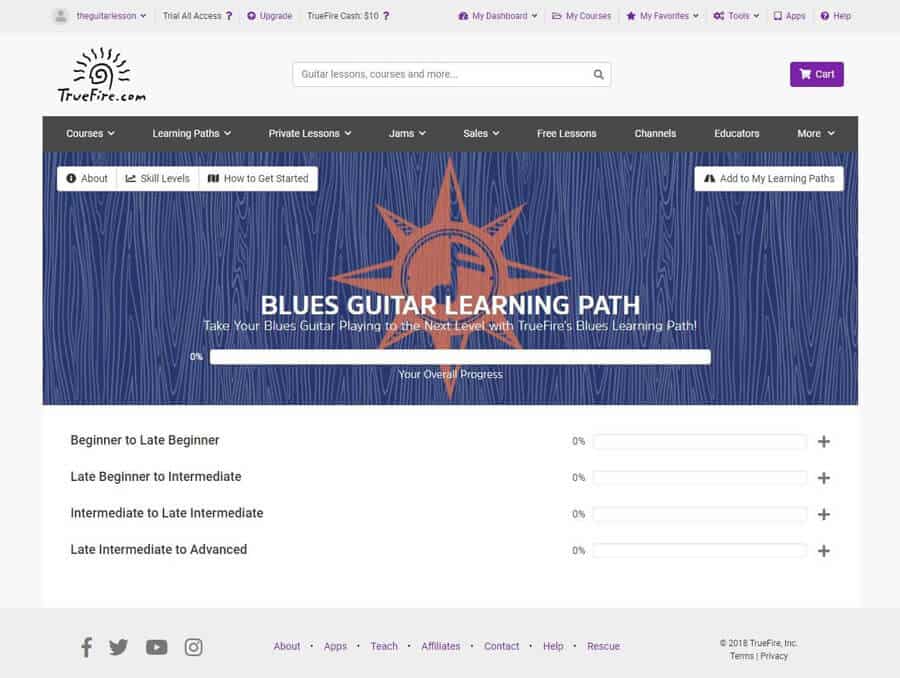 FYI the core courses are lessons that build fundamental blues guitar knowledge and skills, while the supplementary courses are stand-alone courses digging deeper into specific blues guitar aspects, like Jazz blues progressions, or 30 blues Americana guitar licks.
Stage 1: Beginner to Late Beginner
This stage isn't blues guitar specific. It teaches basic guitar skills to beginners, so I'm not sure why it's even included in the Blues path.
Anybody looking to learn a specific genre of guitar should have a sound knowledge of the basics already.
Stage 2: Late Beginner to intermediate
This stage of TrueFire's blues course covers basic blues guitar concepts and techniques. If you don't know anything about blues guitar, this is a good place to start.
Quick start for beginners: blues shuffle, 12 bar blues, 7th chords, blues turnaround
Rhythm and lead fundamentals: blues soloing basics, minor pentatonic scale, blues scale, 7th barre chords, 9th chords
Tools and techniques: all 5 patterns of the minor pentatonic scale, blues licks, major pentatonic scale, more turnarounds, blues in specific styles (rhumba, minor, funky)
TruFire gives several recommended supplementary courses with stage 2. The ones that are blues specific any I would recommend a beginner blues student to cover are:
Stage 3: Intermediate to late intermediate
The next stage of TrueFire's blues course builds onto stage 2 and provides more examples, rhythm patterns, licks and techniques.
It's important to note that unlike the stage 2 lessons, the lessons in this stage were not developed specifically for this blues course. They are actually individual lessons picked out of their massive library of existing courses, and presented in a structure that help build your blues skill-set one lesson at a time.
Rhythm principles: slow blues, 12/8 blues rhythm, 12 bar shuffle variations, blues styles (boogie woogie, rhumba, funky, New Orleans, country)
Rhythm approaches: more blues rhythm studies, rhythm techniques with loads of example grooves
Lick vocabulary: building your own blues licks using the minor and major blues scales, mixing the minor and major blues scales, more lick examples, texas blues licks
Lick lexicon: licks to use over the I & IV & V chords, loads of blues licks
Soloing principles: soloing concepts and techniques, hybrid picking, solos in differing blues styles
Soloing approaches: double stops, adding chromatic notes, call and response blues, loads of soloing examples
Slide approaches: the specifics of playing slide guitar in the blues, licks
Fingerstyle approaches: acoustic blues guitar, fingerstyle blues essentials, lots of example licks and patterns
There are a lot of supplementary courses recommended by TrueFire with stage 3, most of them blues specific. They entail specific courses on blues licks, soloing, rhythm and theory. I won't be listing all of them here, you can see them for yourself on TrueFire.com.
Stage 4: Late intermediate to advanced
As in stage 3, the core courses of stage 4 are a collection of individual lessons from other TrueFire courses. They were picked and structured to advance your blues skills in a logical manner.
If you learn everything in this set of core courses, you can call yourself a professional blues guitar player.
Advanced rhythm principles: guide tones, comping, jazzy blues chords and rhythm
Advanced rhythm approaches: funky blues, advanced rhythm ideas
Advanced lick vocabulary: advanced licks, "in the style of" lessons
Advanced soloing principles: jazzy blues soloing, diminished scale, advanced improvisation
Advanced soloing approaches: more soloing examples, motivic development, altered scales
There are many blues-specific supplementary course recommendations with these courses as well, some of which are very advanced.
JamPlay.com blues lessons
Jamplay.com is another high-quality guitar lesson site. It was founded in 2006 and has come far in the number of lessons, teachers, and innovation.
If you were to start learning blues guitar with Jamplay, you would:
Choose a blues guitar course
Maybe choose another one as well from another teacher
And a third time as well, just to make sure 😉
Learn blues riffs from their Lick and Riff Library
The main specialty of Jamplay is the wide array of teachers they have teaching the various lessons on their website.
This is evident when you look at their "Blues Genre-Based Lesson Sets".
Blues Genre-Based Lesson Sets
Currently, they list 16 various blues courses, taught by various teachers. Each course will vary in the number of lessons and video length.
The curriculum of these courses was probably developed by the given teacher, so a lot of the material offered in the different courses overlaps.
Beginner blues guitar on Jamplay
If you are a blues guitar newbie, I would recommend either Blues guitar with Hawkeye (acoustic blues) or Blues Guitar with DJ (electric blues). Both these courses offer a semi-structured approach to learning blues guitar.
I say semi-structured because unlike GuitarTricks and TrueFire, you can tell that Jamplay's blues courses were not designed from the ground up.
Both Hawkeye's and DJ's start out with older lessons, and they have been adding individual lessons to their courses with time. Because of this, they start becoming a bit random as the lessons progress.
Intermediate blues on Jamplay
If you complete either Hawkeye's or DJ's courses, you will have a sound knowledge of the basics of blues guitar.
At this point, you would continue with one (or several) of Jamplay's other blues courses.
You'll find a number of acoustic and electric blues guitar courses, as well as several slide guitar courses.
Lick n Riff Library
Jamplay has a large riff library, which is always a treat when you only have 5-10 minutes of practice time and want to learn something new.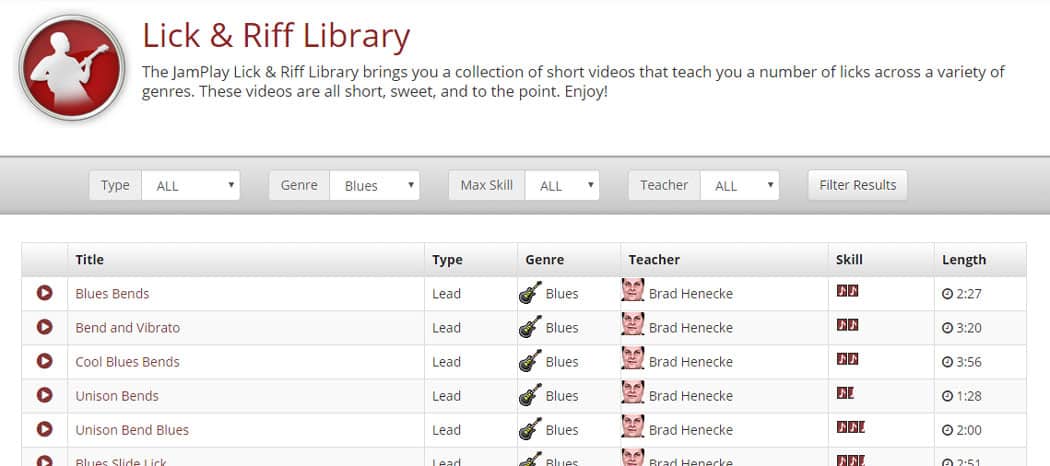 They have around 80 blues riff & lick lessons at the moment, most of which are electric guitar lessons.
Conclusion and recommendations
Who is GuitarTricks for?
Out of all of the lesson providers on this page, I feel the blues tutorials offered on GuitarTricks will serve the beginner blues player the best.
The structure of the core learning system is very well thought through, and there are no deviations from that path.
The blues songs section is also a big plus in showing you how to put the techniques into practice.
Who is TrueFire for?
I would say the lessons provided by TrueFire are best for advanced guitarists. The volume of advanced supplementary courses is what sets TrueFire apart.
Their basic blues tutorials are OK, but GuitarTricks is better for beginners.
Who is Jamplay for?
I would recommend Jamplay to you only if you are looking for acoustic blues courses.
Beginner and intermediate blues players will be better off with GuitarTricks, where the curriculum is structured better, has more play-alongs and blues song lessons.
Advanced blues players will be better off with TrueFire, which has very specific, advanced blues courses.
However, Jamplay has several acoustic blues guitar courses, the others do not.
Pricing of the courses
Getting high-quality educational material, jam tracks, play-alongs, tabs, etc. means that these courses will cost some money.
I found some discounts for these courses as I was reviewing them, so make sure you take advantage of those.
Can you learn blues guitar online?
Teaching yourself how to play blues guitar with online lessons is actually a perfectly fine substitute to employing a personal guitar teacher these days.
Online video lessons provide a huge range of advantages, that a personal tutor won't be able to provide.
The actual price difference is one of the biggest advantages of learning online, since you will be charged a small fraction of what one would typically spend on a personal teacher.
| | PRICE PER MONTH | PRICE PER YEAR |
| --- | --- | --- |
| Teacher (1 lesson per week) | $200 | $2400 (plus X-Mas present) |
| Online blues course (unlimited access) | $15 - $20 | Around $150 |
There are lots of online blues guitar courses on offer, and deciding on the best one might be more difficult than it seems initially.
The reviews on this page will make your job easier.
Blues DVD course
Not too long ago, DVD courses were all the rage. They have since been replaced by online courses, but if you prefer DVDs, you should check out Learn and Master Guitar's blues course, Blues Guitar Spotlight.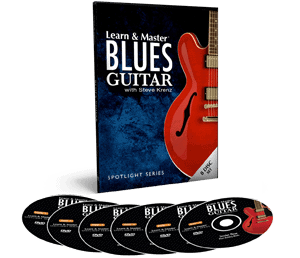 It consists of 6 DVDs, a book, and a jam-track DVD-CD hybrid.
Each of the 6 lessons is about 25 minutes long, and are accompanied by a 25-minute workshop lesson.
The instructor for this course is Steve Krenz, who has taught the other Learn and Master courses as well.
Unlike the original L&M Guitar course, this Blues Spotlight course is not for beginner guitarists though. You should buy this DVD set only if you are at an intermediate level and know your basic music theory (major, minor, pentatonic scales, and fretboard layout).
The video editing is very professional in nature as well, and they have added on-screen tabs to make the lessons easy to follow.
The videos are not available as an instant download, it only comes in DVD format. You have to wait a couple of days until it arrives. Also, the "book" is not printed, it is just a downloadable PDF file. It will cost you extra if you want to get it printed and bound.
Sometimes you can find the Blue Guitar Spotlight set for around $70 on Amazon by the way, but regularly it costs $120.
The lesson plan is not the best in my opinion. Some things seem out of place. It aims not to teach just a couple of blues riffs and techniques, rather the underlying theory. If you understand it all, you'll be able to start improvising to blues jam tracks very soon after starting the course.
But as I mentioned, you need to already be an intermediate player who knows music theory.
You'll be playing along with backing tracks and making up bluesy licks and progressions as you please. Making your own music is undoubtedly one of the best things in the world, and it's not as hard as you would think with the blues.
I personally prefer online lessons, I don't even have a separate DVD player anymore. But if you want to go "old school", this course is your best bet.
What kind of guitar is best for playing blues?
Basically, you can play the blues on any guitar. It's more of a style thing than anything else.
But if you want to get the blues sound you might be used to from other blues guitarists, these guitars would be your first choice:
1. Les Paul style guitar
Les Paul (Lester William Polsfuss) was a legend among legends in the guitar world. Creating the Les Paul style guitar, he was one of the pioneers of solid-body electric guitar.
Les Paul style guitars are arguably one of the best guitars for playing blues. Blues artists who have played on Les Pauls are Gary Moore, Joe Bonamassa, Jimmy Page, Billy Gibbons, etc.
Gibson now owns the Les Paul brand, and Gibson Les Pauls are some of the best instruments in the world.
Gibson's more budget-friendly company, Epiphone, also produces licensed Les Pauls. The higher-end Epiphone Les Pauls are great instruments, but nothing beats a real Gibson Les Paul.
Of course, there are many other Les Paul imitations out there. One of my first guitars was actually a Vintage V100 Les Paul copy.
2. Stratocaster
Fender's Stratocaster is another iconic blues guitar. Interestingly, its single coil tone is exactly the opposite of the Les Paul.
Blues players who have used Strats are Eric Clapton, Jeff Beck, John Mayer, SRV, etc.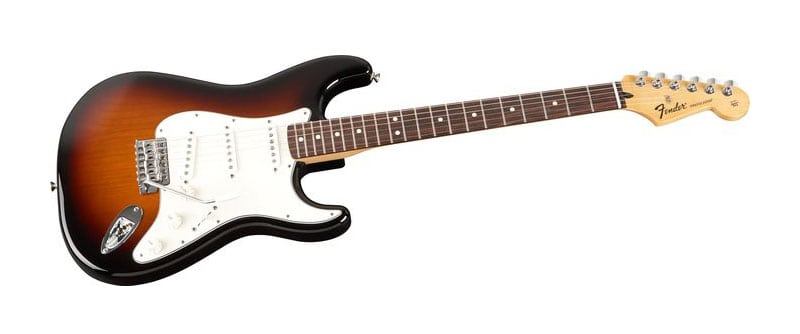 As I mentioned, the Stratocaster style is owned by Fender. Fender American Standard Strats are great guitars, and the 5 configurations of pickups mean that tonal variety is seemingly endless.
The Fender American Stratocaster is not as expensive as a Gibson Les Paul, so that's definitely great news if you prefer the sound of the single-coil pickups.
Fender's budget brand, Squier, also makes Stratocasters, but they are not as high quality as American Strats.
There are also other guitar manufacturers who make variations of strat-style guitars, for example, PRS and Ibanez.
3. Semi-hollow body guitar
Semi-hollow body guitars are chambered guitars with a wooden block running down the center of the guitar. Such guitars resonate beautifully with nice full-bodied humbucker tones, and the center block gives good sustain.
Artists who have used such guitars for playing the blues are BB King, Eric Johnson, Chuck Berry, Freddie King, etc.
The best-known semi-hollow body guitar is probably the Gibson ES-335. As with anything Gibson, it's an expensive, high-quality guitar.
Many other manufacturers make semi-hollow body guitars. Some models that come to mind are:
Epiphone Dot or the Sheraton II
Gretsch semi-hollow models
Guild Starfire IV
Ibanez Artcore AS93 models
Should you learn acoustic or electric blues guitar?
The first blues players of the early 1900's used steel-string acoustic guitars to play the blues, so you can say the blues is rooted in the acoustic guitar.
Think Robert Johnson, Lightning Hopkins, Mississippi John Hurt (here is a list of the most influential blues guitarists).
With the evolution of music and the advent of electric guitars, many blues players started playing on the electric guitar.
You can play blues on either the acoustic or the electric, it depends on which type of music you prefer. The style of blues you play on each type of instrument will of course be different, so it basically depends on what you prefer at any moment in time.
If you are a beginner and must choose between an acoustic or electric guitar to learn blues on, I would suggest the electric.
A Fender Stratocaster to be exact.