Beginner guitar lessons with animated tabs to make learning fast, easy, & fun
Learn to play acoustic/electric guitar at home with our free guitar lessons for beginners by learning popular guitar songs from day 1.
FROM BASICS TO THEORY
Our lessons are designed to teach you practical skills that you can use right now, as well as familiarize you with music theory to get the big picture.
Great for Beginners
As a beginner, you want one thing. To learn to play songs, as quickly as possible. Our video tutorials were engineered for just that.
180,000+ Students
Since 2008, tens of thousands of aspiring guitar players have learned guitar at TheGuitarLesson.com. This many people can't be wrong.
Flexible Learning
Interact with our lessons anytime, anywhere
On the go or pressed for time? No worries. Grab your guitar and access our video lessons, chords database, online guitar tools, support forum, etc. on any device.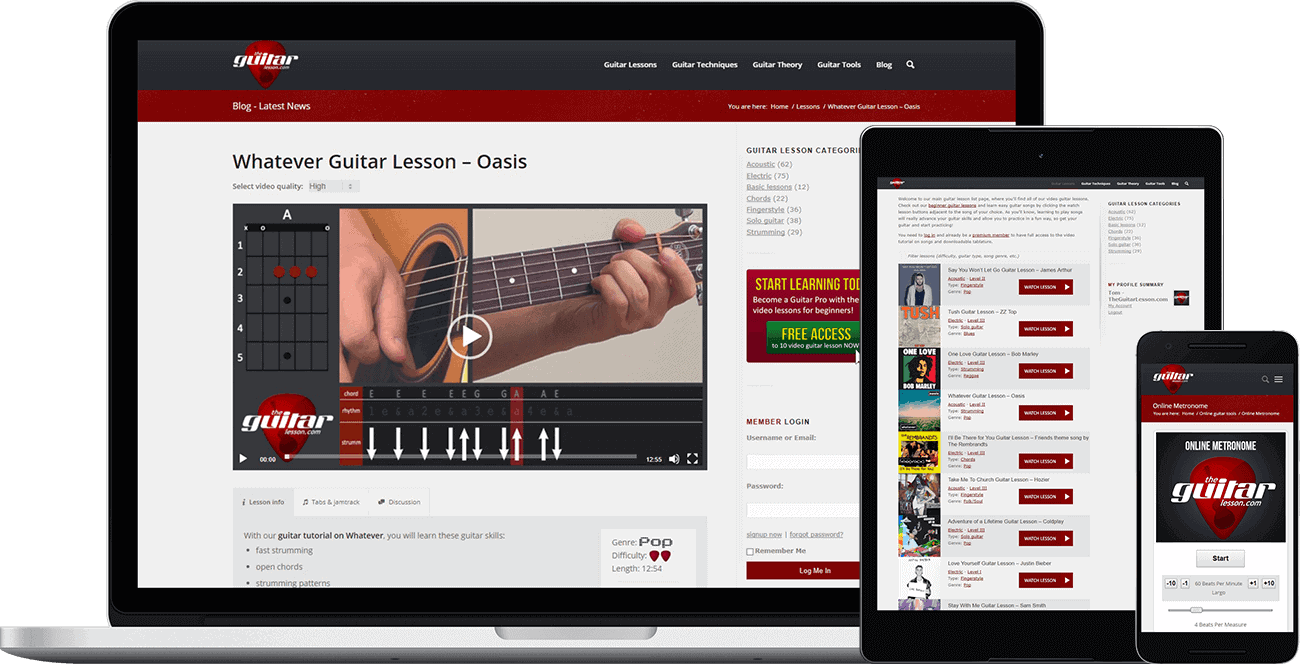 How Has TheGuitarLesson.com Helped Other Beginners?
Our lessons have helped over 180,000 students start their guitar journey and become better guitar players.
Getting "Thank you" letters is the best part of the job, here are a few that our students sent us.
Structured Lessons for Real Progress
Learning guitar isn't the easiest thing in the world, but it can be made much simpler by following a well-structured course.
Our course lessons build on each other, giving you a sound foundation of practical guitar skills
you'll use to play the music you love.
Practice Songs
There is only one secret to learning to play guitar: practice.
Most other courses give you repetitive practice drills, which get boring very quickly. This is why most beginner guitarists fail...
But there is a better way to practice: through learning awesome songs!
Playing real songs is an integral part of the courses on TheGuitarLesson.com, which keeps your practice sessions fun, rewarding, and motivating.
Fundamentals
As a beginner guitarist, you need direction and guidance on how to start learning guitar, and what to practice.
The beginner guitar course at TheGuitarLesson.com was created based on Tom Fontana's 20+ years of teaching experience.
It is designed to teach the practical skills you'll need to build on as you get better with each day of practice.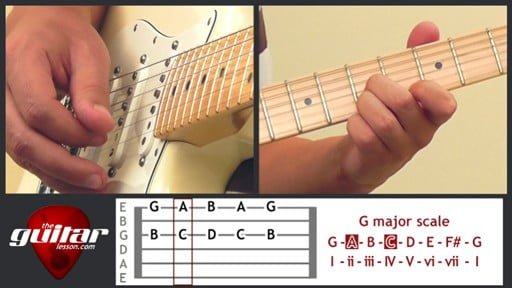 Music Theory
You don't need to start learning guitar music theory on day 1... but it is useful down the line if you want to become a musician.
Each lesson on TheGuitarLesson.com sprinkles in the music theory relevant to the given song, so you apply it in practice right at the offset.
This natural, practical form of learning theory will stay engraved in your brain since you learn it through using it in a real song.
You work smarter, not harder at TheGuitarLesson.com.
Advanced Tools
The internet has revolutionized learning. The guitar is no different. You'll make use of a wide array of online guitar tools at TheGuitarLesson.com, all helping you learn to play as quickly and easily as possible:
Now, do you want to get better at guitar?
Join the thousands of guitarists who have learned guitar with TheGuitarLesson.com today!