So you just got your first guitar, and are looking for a way to learn to play?
Or you've been playing for a while, and want to take things to the next level?
Using the best online guitar lessons to learn guitar is a very efficient and cost-effective way to advance your chops, no matter your level.
I have been playing guitar for 20+ years and teaching for 15+ years. I still use online tutorials to learn new things almost every day.
If you are interested in which guitar teaching websites I use and can honestly recommend, and also which ones I stay away from, read on.
Best online guitar lessons websites
This turned out to be a pretty long article, so here is a table summarizing the guitar lesson websites I can wholeheartedly recommend to electric and acoustic guitar players alike.
Site
Level
Online Tools
Songs
Price
Discount (September 2023)
1. Guitar Tricks
Beginner
Intermediate
Advanced
Chord library
Scale library
Jam tracks
Metronome
Tuner
Guitar games
600+ popular songs
Monthly: $19.95
Yearly: $143.20 after coupon
Coupon codes and free trial
2. TrueFire
Beginner
Intermediate
Advanced
Chord library
Scale library
Jam tracks
Metronome
Tuner
Guitar games
none
Monthly: $19
Yearly: $150 after coupon
Coupon codes
3. JustinGuitar
Beginner
Intermediate
Advanced
Chord library
Scale library
Jam tracks
Metronome
Tuner
Guitar games
300+ popular songs

Ad-supported + book purchases
None
4. TheGuitarLesson
Beginner
Intermediate
Advanced
Chord library
Scale library
Jam tracks
Metronome
Tuner
Guitar games
300+ popular songs
Monthly: $9
Yearly: $108 (+6 months free)
Built into pricing
5. ArtistWorks
Beginner
Intermediate
Advanced
Chord library
Scale library
Jam tracks
Metronome
Tuner
Guitar games
Video Exchange
none
Monthly: $35
Yearly: $279
Built into pricing
6. Jamplay
Beginner
Intermediate
Advanced
Chord library
Scale library
Jam tracks
Metronome
Tuner
Guitar games
300+ not so popular songs
Monthly: $19.95
Yearly: $159.95
Coupon codes
Best guitar lesson sites in 2023
I have had accounts with each of these sites and have used them extensively for years.
Continue reading for a thorough review of them, with the pros/cons of each and who they are best suited for.
Guitar Tricks
GuitarTricks.com was established in 1997 in San Francisco. It was one of the first video guitar lesson companies on the internet, and as such, basically invented the industry.
They have grown along with the internet, presently employing about 40 guitar instructors to record their videos.
Guitar Tricks lesson structure
The backbone of GuitarTricks' offering is their "Core Learning System".
This is a collection of courses meant to take a complete beginner to an upper-intermediate level.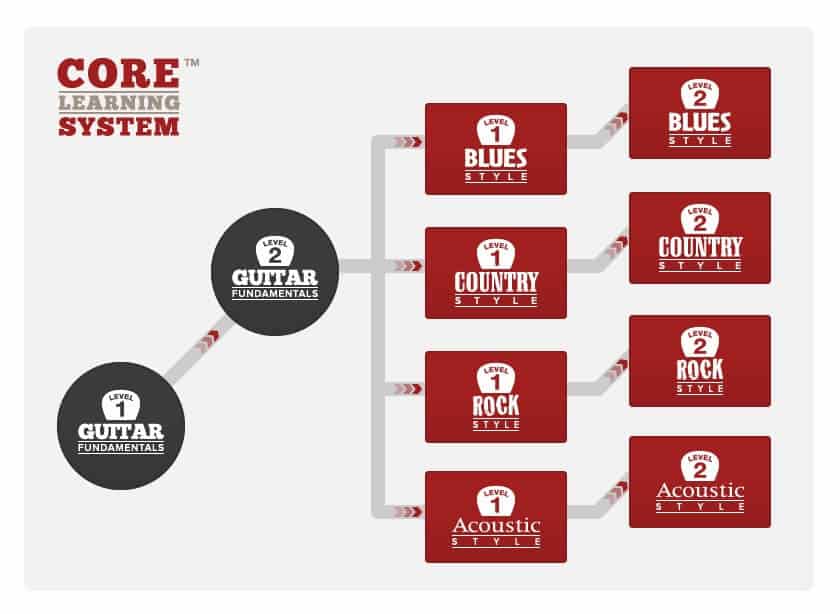 It starts out with the most basic techniques and theory in the 2 levels of Guitar Fundamentals, and transitions the student to a specialized genre of their choice:
These 4 genre courses are well thought out and structured, just like their beginner material. If you are a total beginner and aim to learn to play rock guitar, blues guitar, or country guitar, progressing through these lessons will get you to a strong intermediate level.
The lesson hierarchy is important; each guitar course should be learned in sequence.
A lot of times, beginner guitarists will skip a section they find difficult. Don't do that. Practice as much as you need to before moving on to the next section, otherwise, you will have holes in your knowledge and get stuck later on.
Genres taught on Guitar Tricks
Besides the 4 main genres of covered by the Core Learning System, Guitar Tricks has mini-courses on several other genres as well.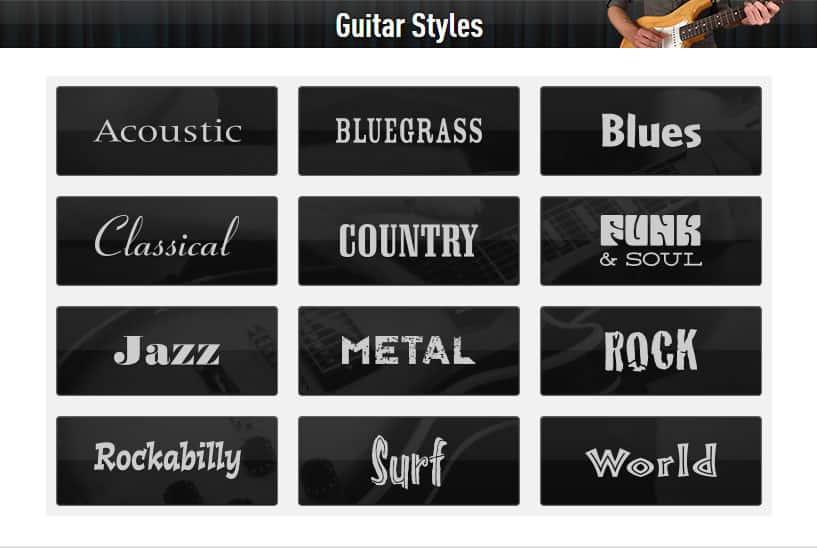 These are not lengthy courses to teach you an entire genre. They merely cover smaller niche topics of a given genre.
For example, here are the lessons they have listed under Funk: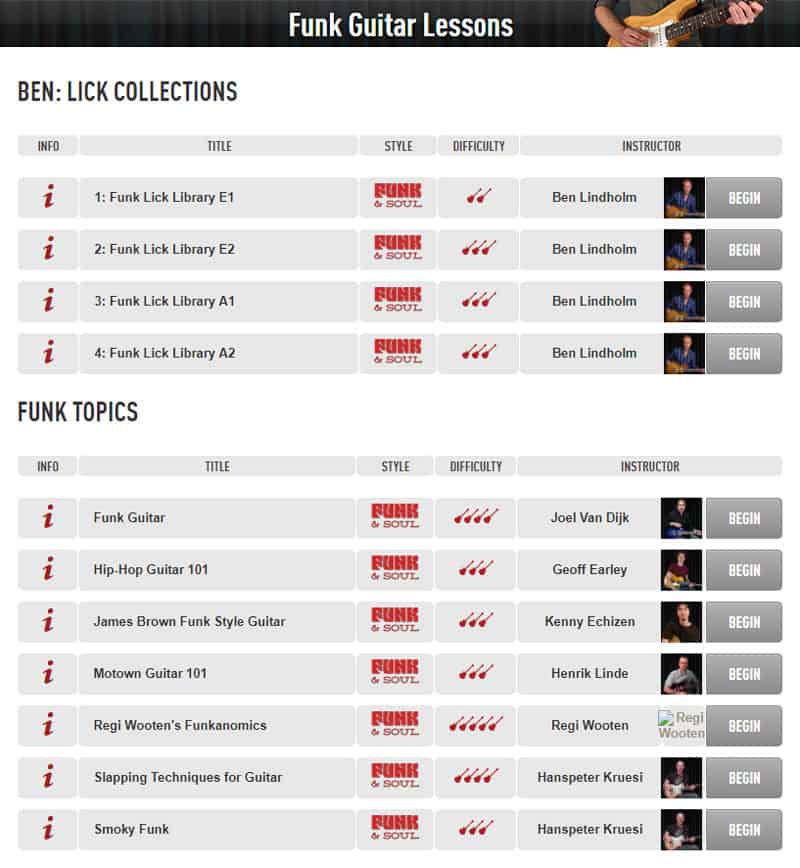 This is more of a collection of funk topics, rather than an A to Z course on funk guitar.
Songs to learn on Guitar Tricks
Sometimes you don't want to sit through a course that will take weeks to cover.
Sometimes you simply want to learn a song you love. After all, that's why you picked up the guitar in the first place.
For these moments, GuitarTricks' wide range of song lessons is a great choice.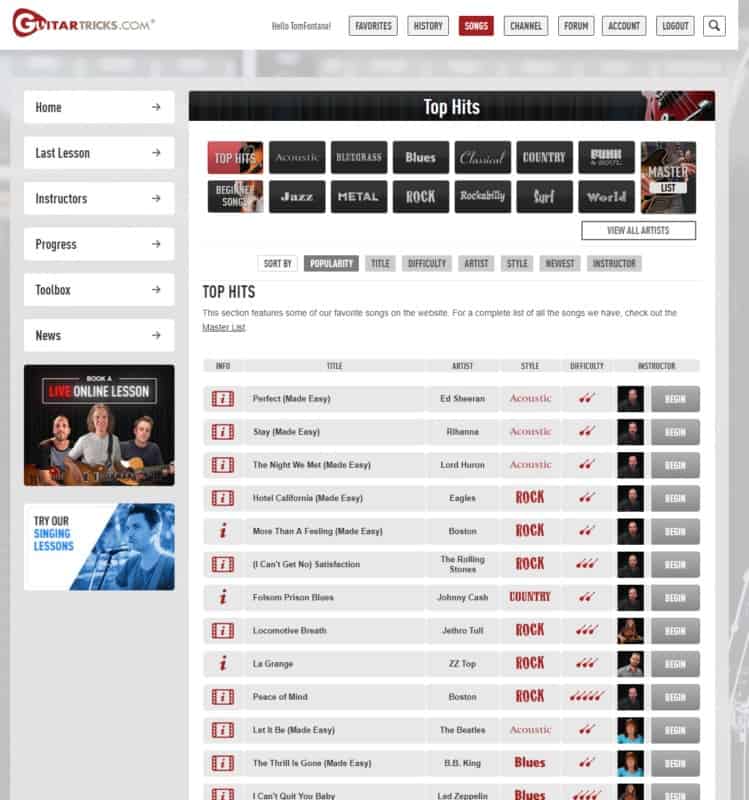 They have a massive amount of very popular songs to learn from a large number of artists.
Private, live lessons on Guitar Tricks
Some say that taking private lessons from a live guitar teacher is the best way to go.
While I disagree with this statement for a number of reasons (money, appointments, accessibility, etc.), there are times when it's nice to be able to have somebody to ask a few questions.
Guitar Tricks takes care of this, as you can buy 30 or 60-minute in-person lessons from a few of its instructors.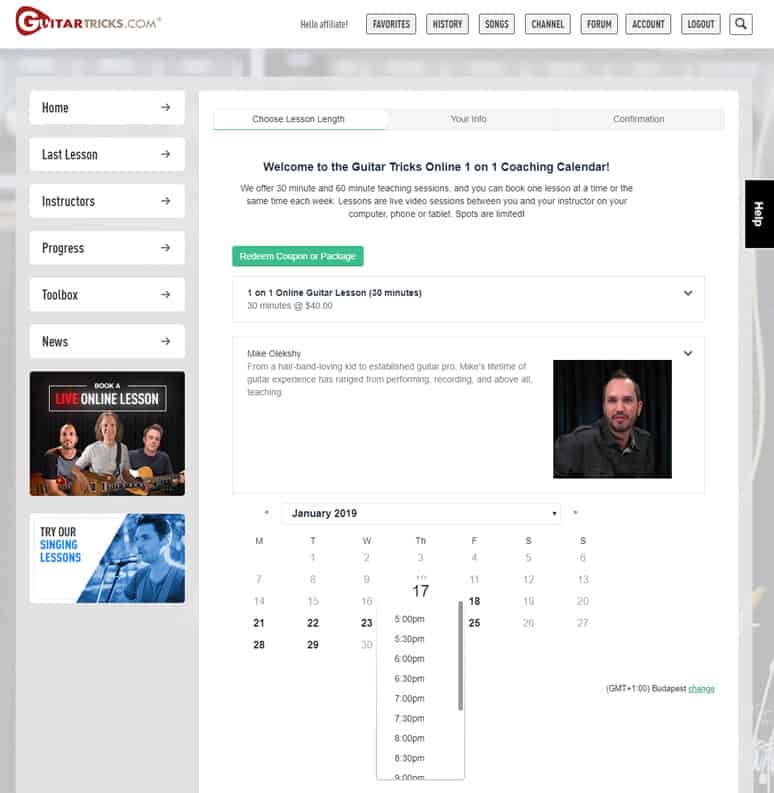 Learning guitar mostly from prerecorded online video lessons and having the means to talk with your online instructors is the best of both worlds.
Here is a video review of GuitarTricks, and a few screenshots below:
Who can get the most out of Guitar Tricks?
Are you a beginner or intermediate guitarist?
Then I can honestly recommend Guitar Tricks. Follow their lesson curriculum, be diligent, and you will learn guitar with this site.
If you are interested in signing up with Guitar Tricks.com, make sure you have a look at this Guitar Tricks discount, and their free trial offer as well. Just checked them both (September, 2023), and they are valid.
They have a 60-day money-back guarantee, the longest in the industry.
TrueFire.com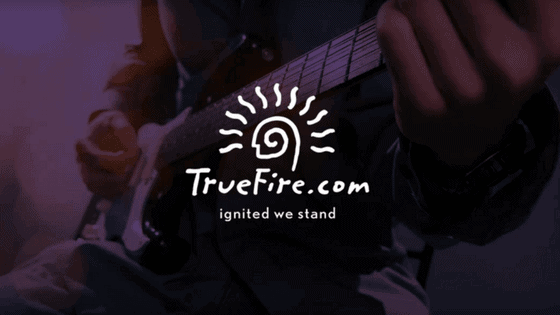 TrueFire was established in 1991 before the internet was a "thing". They initially dealt with creating and distributing VHS & DVDs and got into online guitar lessons later on.
Their catalog of video lessons is absolutely massive:
They supposedly have 35,000+ individual tutorials (I did not count)
They have collaborated with 600+ instructors (again, I did not count)
Their video tutorials cover every imaginable aspect of playing guitar, but the most unique thing about TrueFire is their educators.
They have big names like Tommy Emmanuel and Steve Vai, which is great news for advanced guitarists looking to learn the tricks of the pros.
TrueFire lesson structure
The lesson structure of TrueFire can be broken down into the following:
Courses (each one contains 30-60 individual videos)
Learning paths (each "path" is a collection of individual lessons from various courses)
Private lessons
In the jam (video jams)
The Courses section is a big melting pot of all of their educational material.
Having this many lessons means you have to have advanced search & filter functionality.
Thankfully they have one, albeit it's a bit slow. But it works.
Once you select the main topic, you can filter your results based on skill level, style, instructor, curriculum, and instrument.
The result of this will be that you hone in on a course that you are interested in.
As with Jamplay, many of the resulting courses have overlapping material taught by different instructors.
TrueFire "Learning Paths"
Having such a massive catalog of guitar tutorials means it's easy to get overwhelmed.
And as we know, too many choices are never a good thing for guitarists. They just end up jumping all over the place.
Perhaps this is the reason TrueFire introduced their so-called Learning Paths.
Presently they offer the following Learning Paths:
blues
jazz
rock
acoustic
country
bass
These paths are meant to take you from a newbie guitarist, all the way to an advanced guitar master in your chosen genre.
In practice, what TrueFire does is take individual video lessons from their various courses and structure them to form the Learning Path.
This way, you don't end up bouncing in between similar courses.
This results in very long Learning Paths. In fact, if a beginner were to start one and follow all of the lessons, it would probably take years to finish.
For example, I wrote a detailed review of their Blues Guitar Learning Path, which you can read here.
Another result is that there is no single instructor on a Path. Many instructors teach in each Path, as they are essentially compilations of various courses.
Song lessons on TrueFire
The song section of TrueFire is not very good. If you're looking to learn your favorite songs mostly, you should choose another website (Guitar Tricks specifically).
Truefire has "in the style of" tutorials and some songs by Tommy Emmanuel, but nothing to get excited about.
Private online lessons on TrueFire
The site offers 1-on-1 personalized lessons with a lot of its instructors.
These are not live lessons though. The way it works is:
You record a video of yourself playing, asking questions, etc., and upload it to TrueFire.
Your chosen instructor watches your video and responds with a video of his/her own.
This is an interesting approach to 1-on-1 teaching.
In the Jam jamming experience
TrueFire developed a nice piece of software called In the Jam.
It is hard to describe, so here is a video telling you about it:
You need to buy these In the Jam tracks separately though, they are not part of the monthly/yearly membership.
Who is TrueFire best for?
I can honestly recommend TrueFire to intermediate guitarists looking to get out of a guitar rut, and advanced guitarists who want to learn from great musicians.
In fact, I am an ongoing member at TrueFire myself. I gravitate towards the more advanced courses as my time permits.
Beginner guitarists can get a lot out of TrueFire as well. The beginner lessons are easy to follow, have lots of play-along lessons, and you are transitioned into genres smoothly with their Learning Paths. There is a problem though. A beginner guitarist needs to learn popular songs to stay motivated, but Truefire lacks in this department.
If you are thinking of signing up with TrueFire, here is a 25% coupon code.
They sometimes offer a free trial period, which you'll find on the link above.
Truefire provides a 14-day money-back guarantee.
JustinGuitar.com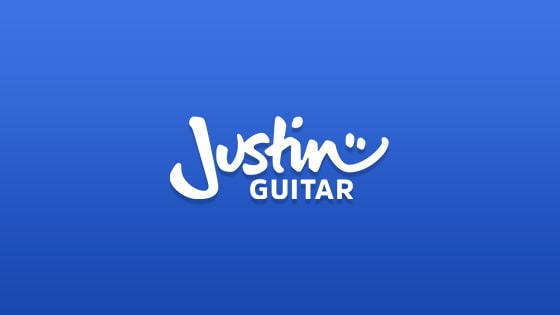 If you've typed anything guitar lesson related into Google, you will undoubtedly have come across Justin Sandercoe (aka Justin guitar). He has been creating YouTube guitar videos since 2006.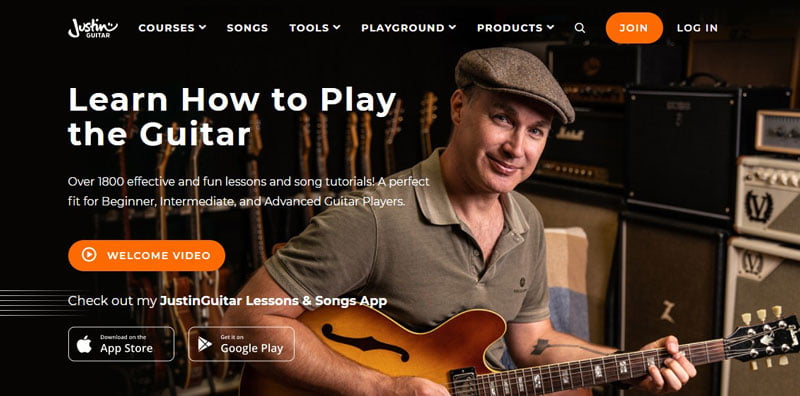 The thing that makes his lessons unique is that he structures them into modules on his website.
This means that he doesn't just offer random lessons.
He has interconnected tutorials published on YouTube, that all come together as guitar courses on his site.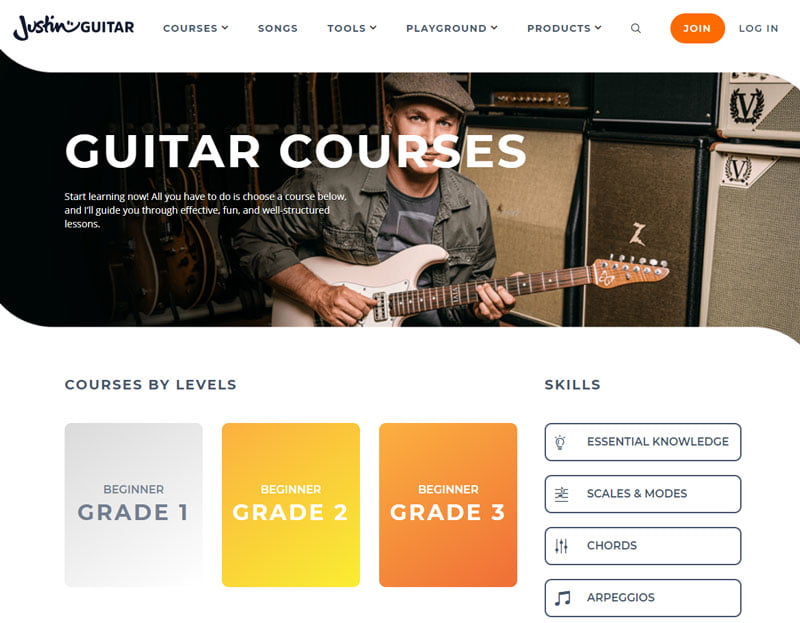 Justin creates good material. Informative and accurate. They are filled with loads of info and tips that not many teachers can provide.
The videos on Justin Guitar are free to watch, with a bit of fine print. There is no free lunch per see:
YouTube inserts ads over, before, and during the videos, so your viewership is being monetized. As you probably know, YouTube ads can be quite intrusive and come at the worst times.
Also, the tabs are only available if you buy books directly from the site, which are overpriced in my opinion at around $25 per book.
Regardless, if you want to spend $0, you can learn how to play guitar with Justin's free lessons, it'll just be a bit slower and more difficult.
Course structure
The lesson hierarchy on Justin Guitar is very logical. There are beginner modules, blues, simple jazz, and even a basic funk course.
As Justin is the only guitar teacher on the site, there is no real overlapping material, as you find on the larger websites.
Beginners have 9 modules to advance through, each with about 10 individual lessons.
Each module has a set of recommended songs to learn, which have their own dedicated video tutorials as well. As I mentioned before, if you want the tabs, you need to purchase that.
Song lessons
Justin has recorded hundreds of videos teaching songs.
There are about 600 of this type of video tutorials at the moment, but they are easy to navigate thanks to the nifty filtering system on his site.
As I mentioned before, the tutorials do not include the tablature. You would have to buy the tabs in a songbook or jot the tablature down yourself.
Who is JustinGuitar most suited for?
Newbies and early intermediate guitar students who are low on cash and are looking for free online lessons can learn to play on the site.
It will be a bit slower and less efficient than paid-for sites, but it might still be the only choice for you if you can't spend any money on guitar education at the moment.
TheGuitarLesson.com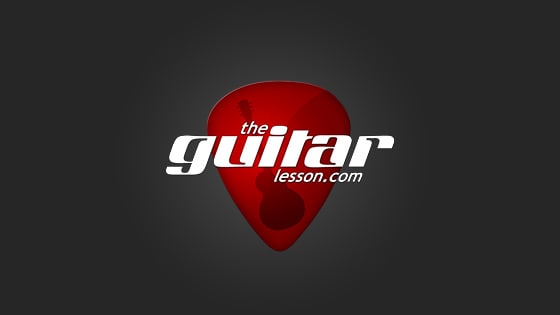 TheGuitarLesson.com was founded in 2008. The concept behind the site was to offer beginner guitar players a fun way to learn guitar, through learning songs.
Tom Fontana is the sole guitar teacher on TheGuitarLesson.com. This means that there aren't as many lessons as on sites with dozens of instructors.
Beginner lessons on TheGuitarLesson.com
The site's entire beginner's course is centered around popular hits. Each chapter teaches new techniques, which are meant to be practiced through learning a set of recommended songs.
Learning guitar songs early on helps keep beginners motivated and practicing more. One of the main reasons many newbies end up quitting is that they are made to do boring exercises. Practicing real songs helps keep each practice session fun and exciting.
TheGuitarLesson.com has a number of free lessons on the basics, but most of the video lessons on songs require membership.
Animated tablature
Perhaps the best part about the video guitar lessons on TheGuitarLesson.com is the animated tablature that runs on the screen as the tutorial progresses.
This really helps in keeping the lesson as simple and easy to follow as possible, which is very important to beginners.
The videos also have on-screen chord charts to take the guesswork out of each chord's fingering.
The site does not upload to YouTube often, but here is a video lesson that shows the animated tabs in action.
This is a unique feature that few guitar tutorials have.
Songs to learn
As I mentioned, learning popular songs is the main thesis behind TheGuitarLesson.com.
As such, it has a wide variety of song lessons. There are tutorials in every genre and difficulty level.
Beginner guitar theory
If you follow the course chapters and the supplementary material, you'll learn guitar-relevant music theory in a seamless way.
Tom sprinkles in a bit of theory with each lesson, and the extra material is worded in a way that makes it easy to comprehend.
Here are a few screenshots of the site I made for you, which illustrate what TheGuitarLesson.com is all about.
Who can benefit from TheGuitarLesson.com?
Beginners who are just starting out will get the most out of this site.
The animated tabs on every video make following each lesson as simple as possible, and Tom does a great job of breaking the more complicated guitar concepts down so newbie guitarists can understand.
ArtistWorks.com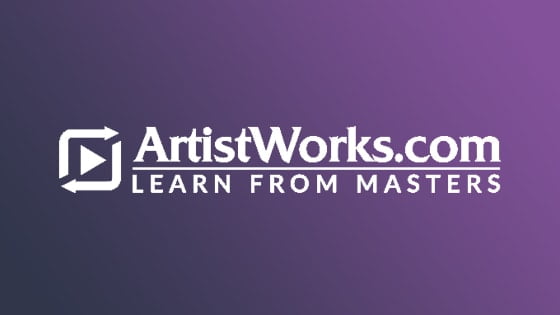 Artistworks is an interactive music lesson website that teaches guitar, and a wide variety of other instruments as well.
The site might be perfect for you if you want to become an even more skilled musician.
ArtistWorks provides students with a variety of courses. Students can choose from beginner, intermediate, advanced, and professional level lessons. Lessons are available 24/7 while the student's account is active, allowing them to learn anytime, anywhere.
Online learning is great because it allows you to learn at your own pace. You can watch videos, read articles, and even interact with other learners. However, there is no face-to-face interaction with an instructor. This means you won't get any feedback on your progress.
This is where ArtistWorks is different from other websites.It allows students to upload their own video creations and get feedback from other your instructors.
Your assigned instructor will review your playing, and he/she will point out the things you should change and thus improve on.
Instructors on ArtistWorks
The strongest selling point of this site is its instructor base.
You are taught by world-class performing artists like Andy McKee, Paul Gilbert, Andy Hall, Keith Wyatt, Martin Taylor, etc.
Video Exchange
Beside its instructors, the second unique feature ArtistWorks brings to the table is its video exchange system.
Depending on your subscription level, you can upload videos of yourself a specific number of times. An allocated teacher will watch your videos, and provide feedback on your playing.
Who is ArtistWorks best for?
Intermediate and advanced guitarists will get the most benefit from ArtistWorks.
At this price, you are really paying for the personal interaction you get from the video exchange system, and that is best for higher-level players looking to take their skills to the next level.
ArtistWorks.com does NOT offer a money-back guarantee, which is rare. I'm guessing it's because they have to pay their artists for each video exchange, so they would be making losses if people started requesting refunds after the exchanges.
Jamplay.com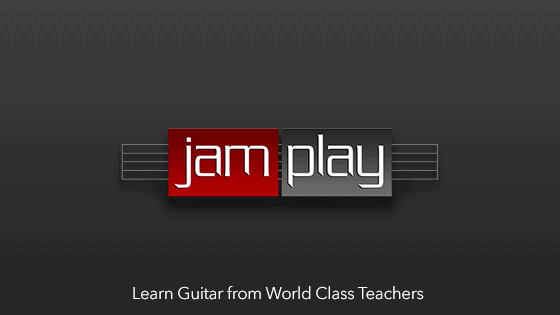 Jamplay is another large guitar lesson website. It was established in 2006 in Ohio and features video tutorials from about 70 guitar teachers and music professionals.
Besides publishing a large number of video tutorials, they also focus on innovation. For example, they employ the largest number of camera angles from any lesson site I've seen and have great online guitar tools.
They also contract established musicians to create educational material exclusive to Jamplay.
Jamplay lesson structure
Jamplay categorizes its lessons into 4 main categories:
Phase 1: Courses for beginners
Phase 2: Genres and various guitar skills
Phase 3: Song lessons
Phase 4: Songwriting
They take a vastly different approach as compared to GuitarTricks, I'll show you why in a second.
Let's have a look at the beginner guitar courses page on Jamplay.
They presently have 20 courses for beginner guitarists taught by different instructors.
Some are good, some are not.
I don't really think this approach is all that great though, because a guitar player who is just starting out needs a set path to follow, not 20 different paths to get lost on.
Genres taught on Jamplay
In my opinion, the genre sets are much better on Jamplay than their beginner tutorials.
They take the same approach: offer themed material by a number of instructors.
This is not a distracting factor though, since intermediate players need the variety the methods of different teachers can offer.
Again, with this many instructors, there are good ones and bad ones. You can weed out the bad ones very quickly.
Besides the more popular styles of music, such as rock, blues, and country, Jamplay also offers video tutorials on more "niche" styles (Celtic, Hawaiian, etc.). There are not many videos in these courses though.
Song lessons on Jamplay
The song lesson database is much smaller on Jamplay, and their songs are not as good as GuitarTricks' song lessons.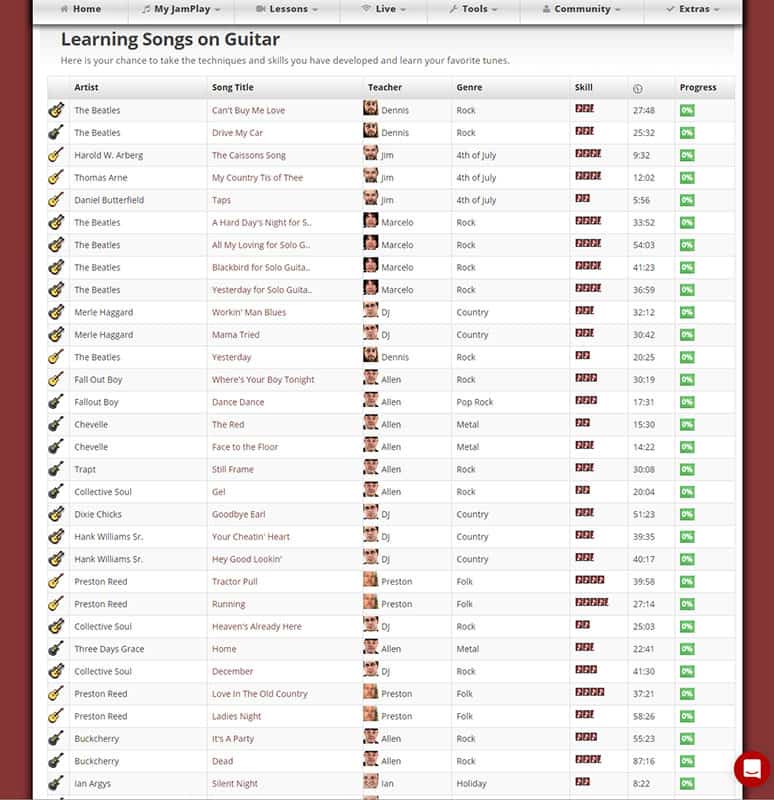 There are only a few famous artists to choose from, so this isn't one of Jamplay's strong points.
Tutorials for intermediate-advanced guitar students
This is where Jamplay really shines in my opinion.
They offer online guitar courses by real artists, which is great for advanced guitarists.
Also, they have a large number of lessons dedicated to mastering various skills on the guitar.
This is great because I myself have struggled with speed picking in the past.
The solution?
Jamplay's Speed and Technique courses, of which there are 8 at the moment.
If you have been playing for a while and want to focus on targeted topics, they will definitely have a course (or several) to help you out.
Instructors on Jamplay
As you have probably noticed during your school years, a lot depended on your instructors. If the material is taught by a teacher who is enthusiastic, knowledgeable, and maybe ever charismatic, it is much easier to learn a subject.
This is true with online guitar lessons as well.
There are many great instructors on Jamplay, but there are some that are not.
You will be able to weed them out very quickly though. All of them are good guitarists, but that does not always transfer to being a good instructor.
Live Webcam Lessons
You can interact with many of the instructors on Jamplay through their live webcam lessons. There is a set schedule with 2-hour lessons set for each teacher.
These are actual live lessons, but a bit hectic in my opinion. You can log on and ask any question you like via chat, and the teacher will answer.
Here are a few screenshots of Jamplay from my account panel.
Who is Jamplay best for?
While I think there are better sites for beginners, intermediate and advanced guitarists will really benefit from the barrage of lessons Jamplay has in store.
The chord and scale finder tools are also very useful to experienced players.
They are constantly releasing new courses, so you will never run out of things to learn if you choose to sign up with Jamplay.
Here are 2 coupon codes you can use on Jamplay (last checked September, 2023).
They also have a free trial offer for 30 days.
Jamplay offers a 30-day money-back guarantee.
What is the best guitar lesson site for beginners?
Now that you have read through what I believe to be the sites offering the best online lessons, you probably have an idea of which one is best for you, as a newbie guitarist.
Learning guitar with Guitar Tricks is a great choice. The beginner courses are well thought out and structured for acoustic guitar and electric guitar players alike. They can take you from 0 to upper-intermediate level in blues, rock, country, and acoustic styles.
Remember that Guitar Tricks has a free trial and coupon codes.
Which online guitar lessons should intermediate players use?
Many guitarists reach a certain level where they can play loads of things but get stuck at a certain point.
This is the intermediate level, where loads of players reach what is known as a "guitar rut".
The key to advancing from this stage is to start learning new things.
TrueFire has hundreds of great stand-alone courses, perfect for intermediate guitarists in need of new material to learn and practice.
I can honestly recommend both of these companies.
Here is a TrueFire coupon, it is great for intermediate players.
Extra tip: You are ready to start jamming with others at this level. Ask around your circle of friends, and look online for musician meetups or groups. Getting together with other musicians is very beneficial, and loads of fun of course.
Are there online lessons for advanced guitarists?
Finding tutorials that can challenge and further develop advanced guitar players is hard. Not many sites offer them.
JamPlay has a section called Artist Series, where they have in-depth tutorials taught by performing artists such as Mike Dawes and Erik Mongrain.
I prefer TrueFire though.
It has loads of courses for advanced players as well, called Masterclasses. Established musicians such as Steve Vai and Tommy Emmanuel teach some of them.
FAQS about learning guitar online
There are a lot of recurring questions I get at TheGuitarLesson.com, and that I see online in forums and even sites like Quora.
Here are answers to the most common questions, some of which you are probably asking yourself as well.
Can you learn how to play guitar online?
Yes, there is no question about it.
Find a course you like, stick to it, and practice daily.
Playing the guitar well requires regular practice. That is the secret.
Are private guitar teachers better than online courses?
No. Quality online tutorials are better than in-person guitar teachers in a lot of ways. And they are much much cheaper.
If you learn from one of the reputable online guitar lesson sites above, you can
choose to learn from a large number of instructors
move quickly or progress slowly
learn at any time of the day (or night)
learn as much as you want in a day
repeat a lesson as many times as you need
The cost aspect is important as well. A paid lesson from an in-person guitar instructor will cost around $40 for a 50-minute session. It adds up very quickly.
An online course will charge around $140 for unlimited access for a year.
Think about it. Would you get more out of a 50-minute weekly lesson with an instructor, or unlimited access to thousands of vetted video tutorials online...
The only advantage private instructors have is that you get to interact with them and possibly meet other guitar students, but that is not worth thousands of $ a year. You can meet other musicians in a lot of ways, they are open people: ask your friends; check meetup.com; hang out at a local music shop.
How long does it take to learn guitar online?
The time it takes to learn with guitar lessons online depends on how you practice, how much you practice, and what your goals have.
If you want to know the details, I have detailed my experience in this article on how long it takes to learn guitar.
Free or paid online tutorials?
You know the saying, "You get what you pay for."
Nobody works for free. Would you?
If you want to learn to play guitar quickly, you will need to pay for access to a paid guitar teaching site that has top-notch courses.
The only exception is JustinGuitar. You can access his videos in a structured manner on his site for free. You will still need to pay to get the tabs and songbooks though.
Not recommended guitar lesson sites
There are some websites I would not recommend learning guitar from/paying to.
Why?
Either because:
their tutorials are low quality,
not thorough enough,
or just not a good value for the money. Jamplay, GuitarTricks and Truefire really set the standard in terms of price/value, so websites charging similar amounts (or more) for much less material are expensive in my opinion.
They are:
Fender Play - While Fender makes great guitars, their journey into online teaching isn't good. The lessons on Fender Play are rehashed and not thorough enough to teach beginners.
Jamorama - The original version of Jamorama was an ebook, supplemented by video snippets. They have transformed into a membership site, where you get access to their courses. The thing is that for the $100 you would pay, they have too little material, no online tools, etc. What they have is good, I really like Mark (the guitar teacher), but you can get better value elsewhere.
Guitareo - Same problem as Jamorama. What they have is good, but at $100-$200, you can find more/better lessons elsewhere.
Yousician - See my full review of this app here. Be warned, it's not pretty.
How are you learning guitar?
After reading all of the above (good job if you made it this far by the way 🙂 ), you should be familiar with the best online guitar lesson providers.
Whichever you choose, you are in good hands, as the lessons are structured well and provide good content.
Now it's your turn to take action!
Choose a site, grab your guitar, and learn how to play guitar.
Remember that when it comes to learning guitar, practice is everything. If you are diligent and practice every day, you will advance your guitar skills and reach your goals.
If you have any experience of your own with the sites above, or just want to share how you are learning (or have learned) guitar, leave a comment below so that others can benefit from your experience.