GuitarTricks.com now offers a free trial membership for 14 days from signing up. After the trial period, you will automatically become a monthly member, and be billed $19.95 per month for the remainder of your membership at GuitarTricks.
How to get access to GuitarTricks's free trial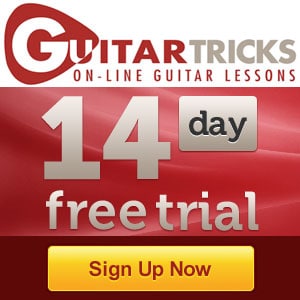 Here are the steps you need to take to get free access to GuitarTricks for 2 weeks.
Step 1: Access the free trial page
Click this link to access the GuitarTricks.com Free Trial page >>
Step 2: Create an account
Register an account for yourself using your email address or facebook.
Step 3: Provide info
The way the Guitar Tricks free trial works is that you need to give your credit card or PayPal info already during signup.
But you won't be billed anything until the 14-day free test period is over.
This is a risk-free process, so if you have been planning to give GuitarTricks a shot, now is the best time.
Step 4: Decide to continue or not
You have 2 weeks to test every aspect of GuitarTricks, including the thousands of lessons, online guitar tools, and guitar learning games.
If you don't like what GuitarTricks is about, you can cancel your trial membership easily anytime during the 2 weeks.
Canceling is easy, you simply log in to your profile on GuitarTricks, and click Cancel.
That's all there is to it.
But of course, if you like what the site is all about, you may want to save some money by signing up for a longer period, as can be read on this Guitar Tricks discount page.
We have spoken excessively about GuitarTricks in the past, and our findings can be read in this GuitarTricks review. There are also many other reviews of GuitarTricks.com available online.
Test Everything with the Guitar Tricks.com Free Trial Membership
If you are looking at studying the electric guitar on the internet, GuitarTricks is without a doubt a good choice. You can find video guitar lessons addressing all different guitar styles, therefore it caters to everyone from complete newbies to skilled guitarists as well. The video guitar lessons are structured and classified in several ways, which is a must, given the number of available guitar lessons.
A great feature for more knowledgeable guitarists is that the search function lets you find lessons in the styles of well-known guitar icons. This segment of GuitarTricks is called "By Inspiration," and this allows you to find tunes played by guitarists from Eric Clapton to BB King, Eddie Van Halen to Jack Johnson, and more.
The music styles you'll be able to learn at GuitarTricks:
The most beneficial things we found during our assessment of GuitarTricks:
Great structure, and all lessons are easy to locate.
Special courses designed to take guitarists step-by-step through many styles of guitar, including total beginner course, blues course, country course, etc.
Excellent search function, so that you can navigate the many video lessons.
One of the best attributes we found through our evaluation of GuitarTricks is that video clips on the website are downloadable, and you also get a cost-free video player to watch them with.
Inexpensive pricing (only $10.75 a month with the annual membership)
Downsides:
Because GuitarTricks was the earliest video guitar tutorials website online, about 2% of their total videos are older, and thus of lower quality.
Giving a try and signing up for the GuitarTricks free trial membership for 2 weeks is a no-brainer really.
Learning to play acoustic or electric guitar with the aid of GuitarTricks is actually a completely good alternative to hiring a private guitar teacher, since GuitarTricks offers a whole array of advantages, which a personal guitar tutor simply cannot offer.