Because of all the media hype around online lessons these days and after reading this GuitarTricks review, I decided to conduct a review of GuitarTricks, an online guitar instruction site. I just wanted to see what players of various skill levels could achieve on the site.
Disclosure: The reviews written on this site are carried out by professionals, who receive compensation from the companies whose products get reviewed. We test each product thoroughly and recommend only what we believe to be the very best. We are independently owned and the opinions expressed here are our own.

Tom's take on GuitarTricks.com
Guitar Tricks is an online guitar learning platform with a wide range of lessons for guitarists of all levels. The lessons are well structured and presented clearly and concisely. The site also offers a good selection of song lessons, which is an excellent bonus for those who want to learn to play along with their favorite songs. Overall, Guitar Tricks is a sound option for those looking for online guitar lessons.
Best for:
Price:
Discounts:
Free trial:
Guitar Tricks gives video guitar lessons for the rather inexpensive subscription cost of around $15 per month (using annual membership), which is really not much considering that a private guitar teacher costs about $40-$50 by the hour in 2023. In fact, it really is safe to say that GuitarTricks is better than a personal tutor.
They have over 15,000 video guitar lessons addressing just about all types of music, and in every difficulty level. Imagine what it would cost you to get that many lessons from a personal guitar teacher 🙂
Check out my video GuitarTricks review, then read all about the site afterward.
GuitarTricks for beginners, a.k.a. the Core Learning System
GuitarTricks created a so-called "Core Learning System", which is their set of lessons aimed at newbie guitarists. It's actually a full-fledged beginner guitar course, which can take a newbie to an early intermediate stage.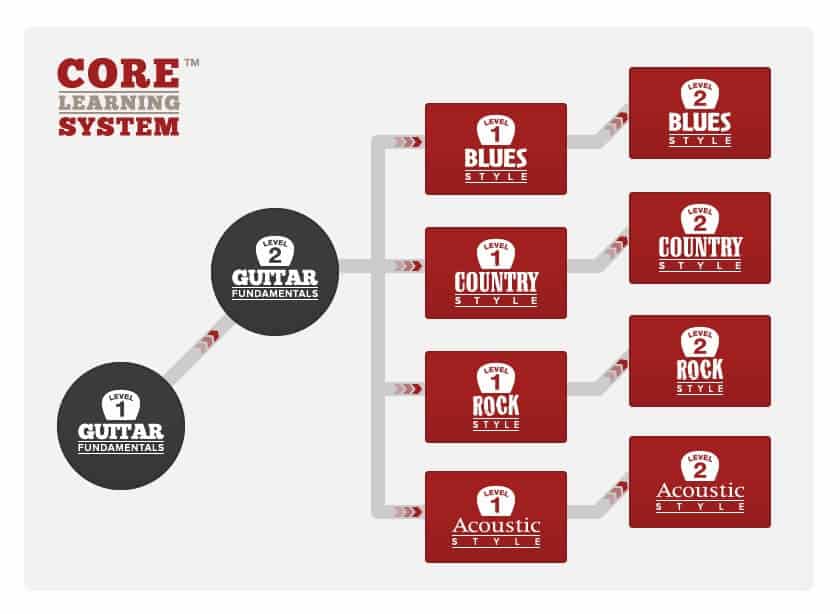 This is how it works:
Everyone starts on the very left at Guitar Fundamentals 1, and continues to Fundamentals 2. These 2 mini-courses teach the basics everyone needs to know.
Once you have mastered the Fundamental lesson sets, you can continue learning the specifics of blues, country, rock, or acoustic. Or all of them if you wish 🙂
All the video lessons have supplemental tabs to download and some have jam tracks to practice along with.
The Core Learning System is a very well-thought-out set of lessons.
It is structured well, the individual lessons are to-the-point, and the material is good. It will take complete beginners and teach them everything from music theory, to chord charts, to power chords, to playing in various styles of music.
The course is for both electric and acoustic guitar students, as the basic techniques are the same for electric guitars and acoustic guitars as well.
GuitarTricks for experienced players
If you've been playing a few years and are past the basics, you'll be able to advance your knowledge and skills with a barrage of lessons, covering everything from tone, different genres, etc.

If you're an advanced guitarist and want to take things to the next level, you'll really like the "Artist Studies" section of GuitarTricks. This is a major part of the site focused on looking at and mastering how the most famous guitarists played, and also the things they do to be able to make their songs sound the way they did.
This is a fantastic element I found in the course of my assessment of GuitarTricks, because even more advanced players will get years' worth of videos.
In the Artist Studies section, you'll learn the guitar tricks and signature styles of famous guitarists such as:
Django Reinhardt
B.B. King
AC/DC
Kirk Hammet
Albert King
Chet Atkins
and many more.
There aren't as many advanced lessons on GuitarTricks as some of the competition though, which I'll talk about later.
Styles covered at GuitarTricks
Besides the acoustic, blues, country, and rock beginner courses in the Core Learning System, GuitarTricks has thousands of videos covering other genres as well. Here is a list of the specific genres you'll be able to learn on their site.
Know, that some genres have a bunch of lessons and some only a few. For example, Surf and World have very few lessons, while the bigger categories like Blues have hundreds.
Song lessons gazillion
Unquestionably the best part of playing guitar is being able to play songs that you love. GuitarTricks has a huge catalog of song lessons, over 1500 songs at the moment, which is twice as many as the closest competition. I have many song tutorials as well, but not nearly this much.
Their list of artists is also impressive, including: Eric Clapton, Taylor Swift, The Beatles, Santana, The Eagles, B.B. King, Stevie Ray Vaugh, Pearl Jam, Jimi Hendrix, Lynyrd Skynyrd, Stone Temple Pilots, KISS, and lots more.
Online guitar tools
Guitar Tricks has a few online tools as well:
Online guitar tuner: this is a reference tuner, so it doesn't pick up the sound of your guitar.
Interactive scale and chord finders: which are useful and look nice.
Metronome: which is always useful.
Fretboard training game: the fretboard trainer will help you memorize the notes on the fretboard in a more enjoyable way.
Jam station: which is a huge collection of jam tracks.
Chord library: this handy tool can be accessed for free here.
Other than the Jam station, all the tools can be downloaded onto your PC. Here are a few images of the online tools: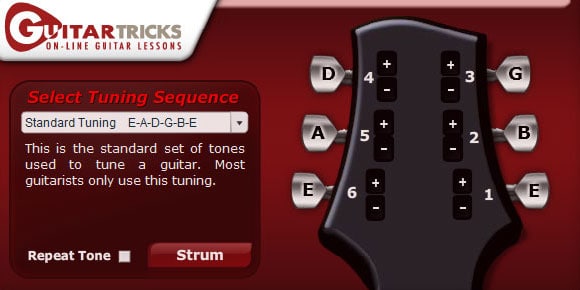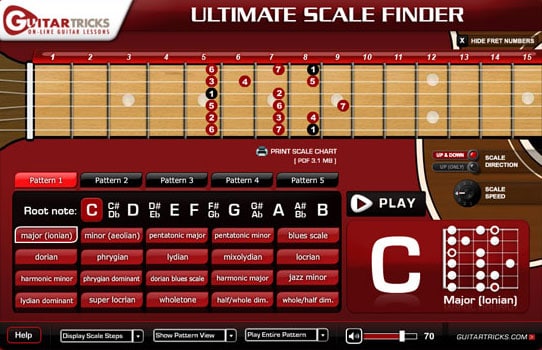 These tools can be of great help when learning guitar, however, I still tend to use the tools built into the Guitar Pro software instead of any online tool.
Real screenshots
Here are some real screenshots I took inside my GuitarTricks.com account. This is what you will see as well.
My opinion after reviewing GuitarTricks.com
GuitarTricks is definitely a high-quality site, which has lessons for all levels of guitar players. The volume of lessons they have on their site is gigantic, and they add more regularly.
What I definitely liked about GuitarTricks:
Good search and site structure, so that you can easily browse the 1000s of instructional videos.
Videos are downloadable (except the song lessons), which I did not find while reviewing any other guitar learning site.
The video player is good, it has an A-B looper and the ability to slow down (or speed up) the lesson.
Affordable pricing compared to the number of courses on the site. Getting this many lessons from a private guitar teacher would cost a great deal of money, yet only $15 a month at GuitarTricks.
Videos have a 3-angle view shot on HD cameras, so you always see what's going on in high-definition.
60-day money-back guarantee, so if you sign up but change your mind/don't have time/break your guitar, etc., you can just ask for a refund.
However, there are a few negative things I noticed at Guitar Tricks during my review:
Since GuitarTricks was the first video guitar instruction site on the web, a very small number of the video clips are old, which means their video quality is not up to 2023 standards. They are actively working on replacing the older videos though, so they won't be there for long.
Advanced players will find more lessons elsewhere.
Here is a sample video of a GuitarTricks.com lesson:
GuitarTricks is quite popular among beginner guitar players nowadays, have a look at what other people are saying about the site.
GuitarTricks Alternatives
Even though GuitarTricks is my #1 pick for beginner/intermediate players looking to improve their guitar playing, there are other sites out there that are almost as good.
Here is a detailed article on the best online guitar lesson sites, but specifically, the best alternatives to GuitarTricks are:
TrueFire.com
TheGuitarLesson.com
Jamplay.com
Truefire.com
Truefire.com is an online guitar lesson website that offers a wide variety of lessons for guitarists of all levels. They offer better lessons for advanced guitarists than GuitarTricks, but their beginner lessons are not as good. Also, the site isn't quite as easy to navigate.
The quality of the video lessons on TrueFire is excellent, and the instructors are all professional guitarists. Some of them are world-renowned artists, such as Tommy Emmanuel.
The lessons are also very reasonably priced if you buy a yearly membership.
Try TrueFire free for 2 weeks >>
TheGuitarLesson.com
If you're a beginner looking to learn how to play the guitar, theguitarlesson.com is a great resource. Like GuitarTricks, the site offers a variety of lessons for both beginners and intermediate players, covering topics such as chords, strumming, and fingerpicking. The video lessons are well-explained and easy to follow thanks to on-screen animated tablature.
The course concentrates on learning songs to progress at the guitar, which is slightly different from GuitarTricks' take on beginner lessons.
TryTheGuitarLesson.com for free >>
Jamplay.com
Jamplay is also viewed as an alternative to GuitarTricks. They also have thousands of lessons, useful online tools, etc. They even hold live lessons.
However, I think Jamplay is not as good as GuitarTricks, since their courses are not as concise and to-the-point. Also, they don't have as many popular song lessons as GuitarTricks. or TheGuitarLesson.com
Conclusion
Overall, GuitarTricks is a great site and I can honestly recommend it.
It has great lessons for beginner/intermediate guitarists
A catalog of song lessons like no other site
Useful, concise video tutorials
Well thought out courses
To save some money, make sure you have a look at this GuitarTricks discount, and their 14-day free trial period before signing up.