With online video guitar lessons becoming a viable alternative to in-person lessons, the price of guitar lessons has significantly decreased for beginner and advanced guitarists alike.
While in-person guitar lessons cost between $30-$60 per 45-minute session, you can sign up on a number of high-quality websites and receive online lessons for next to nothing.
Here is a table of the costs and benefits associated with guitar lessons comparing in-person, online, and DVD guitar lessons.
In-person guitar teachers
Online guitar lessons
DVD guitar lessons
Skill Level
Beginner to Advanced
Beginner to Advanced
Beginner to Intermediate
Video Lessons
No
Yes
Yes
Printed Lessons
Yes
Usually get printed material
Yes
Supplement to video lessons
Yes
Supplement to video lessons
Extras
- Tabs & chord charts
- Personal interaction
- Animated tabs & chord charts
- Jam tracks
- Online guitar tools
- Forum
- Jam tracks
Advantages
- Personal interaction
- Meeting other musicians
- Learn from home at any time
- Progress at your own pace
- Rewatch lessons
- Learn any aspect of playing guitar, choose from thousands of lessons
- Learn from home at any time
- Progress at your own pace
- Rewatch lessons
Cons
- Expensive
- Teacher may be good or not
- Unforeseen cancellations
- Limited time with teacher
- No personal interaction and feedback
- No personal interaction and feedback
- Limited set of lessons
Price
45 min: $45 (average in 2023)
Month (1x/week): $180
Year (1x/week): $2160
Monthly: $9 - $35
Year: $130 - $279
10 DVD set: $149
How much do in-person guitar lessons cost?
The average price for in-person guitar lessons is $45 for a 45-minute session, or $1 per minute. The exact cost will be anywhere between $30 to $80 per 45-minute session.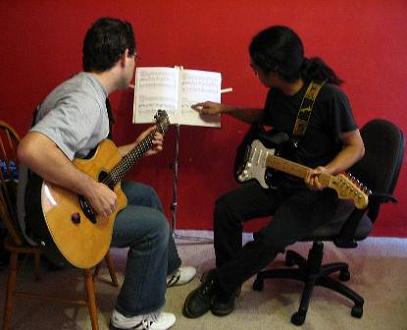 What determines private guitar lesson prices?
The cost of private guitar lessons is determined by a number of factors.
Teacher's experience: The most important factor is the level of experience of the guitar tutor. The more experience they have, the higher the price for their lessons. A music school student teaching guitar on the side will charge $30 per session, while an experienced musician will charge $80+.
Location: The second most important factor is the location. Cities that are highly populated or have a high cost of living like New York or London will be more expensive than those in less populated and affordable locations like Knoxville, Tennessee.
Length of the lesson: Private lessons typically last 30 - 60 minutes. As you can expect, a 1 hour lesson will cost more than a 45-minute one. The longer your lessons, the more you will pay.
Finally, there is a difference in prices for group lessons and individual lessons. Group lessons are often cheaper because they require less one-on-one time with instructors and students can share resources like guitars and amplifiers.
Are private Skype/Zoom lessons cheaper?
Yes, getting private Skype lessons from a guitar teacher tends to cost less: you'd save around 20% of the normal in-person price. They are more affordable than regular in-person classes and are still a great way to learn in a more personal setting.
You don't have to worry about commuting, parking, or any other expenses that come with traditional classes, but the downside is that there is no physical contact and you may not get the same level of support from an instructor as you would from in-person lessons.
How much do lessons from professional organizations cost?
Another method of learning guitar in-person is getting lessons from companies like Guitar Center, Sweetwater, or School of Rock. Guitar lessons from these organizations cost approximately the same as private lessons from an individual tutor, depending on the location.
You can save some money by paying monthly in advance.
How much do online guitar lessons cost?
The average prices of online guitar lessons range from $9-$35 per month, which you can reduce by 30% - 50% by paying for a year in advance.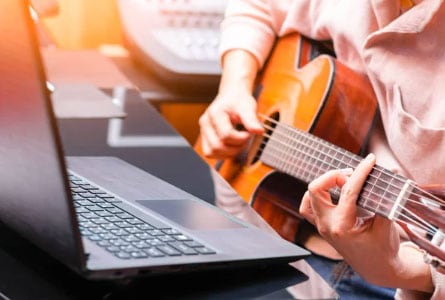 As you can see, online tutorials are more affordable than traditional lessons. They are a great way to get started with the instrument from the comfort of your own home, and you can take them at your own pace.
You can find detailed reviews of the best online guitar lessons websites in this article, but here is a concise list of the cost on reputable sites:
GuitarTricks.com
TheGuitarLesson.com
TrueFire.com
Monthly: $19.95
Yearly: $143.20 after coupon
Monthly: $9
Yearly: $108 (+6 months free offer)
Monthly: $19
Yearly: $150 after coupon
Why are online guitar lessons so much cheaper than private lessons?
Online lessons are cheaper because they are not as time-consuming or expensive to produce as private lessons. They are recorded in a studio, edited, and delivered to a larger number of students, which allows the teachers to spread their costs over a larger number of students.
The cost of private guitar lessons is high, and their availability is limited. Online lessons, on the other hand, are much cheaper and more accessible.
Comparing the costs of learning guitar online and in-person
To illustrate how large the difference in lesson prices becomes, let's have a look at Toby's example:
He is a typical teenager looking to learn electric guitar.
Toby is a beginner and has never played guitar before.
He aims to reach an intermediate level after 1 year of lessons.
Here are what his costs would look like with a private tutor vs online lessons.
In-person lessons
Online lessons
$45 / lesson
1 lesson / week for a year
Total = $900 for 20 sessions
$129 / year
Total = $129 for unlimited sessions
As you can see, the price difference is enormous. And this is just for weekly lessons...
If you are an absolute beginner, you don't need to empty your wallets to learn the guitar. The introduction of multimedia elements into online education, in our case, video guitar lessons, offers almost everything a personal teacher could give you, but usually more. For instance, guitar teaching sites have lessons for acoustic guitars, electric guitars, and classical guitars alike. A private teacher may not be experienced in all 3 guitar types, while a big site like Guitar Tricks has thousands of lessons on each.
The only thing online lessons don't offer is the personal interaction you have with private teachers. They can correct your mistakes, so you don't develop bad habits, and provide valuable feedback.
A guitar teacher who left a comment noted that 1-on-1 lessons also allow guitar students to connect with their peers, which is somewhat true. Many private guitar tutors organize quarterly concerts with their students, which is nice for kids since they get to perform in front of others.
However, if you're an adult, check out meetup.com for musician meetups in your area. These are free to join, and give you a great chance to connect with other guitar players. For example, here are the musician meetups in Miami.
How much do DVD guitar tutorials cost?
Guitar lesson DVDs used to be popular, but in 2023, few companies still produce DVDs.
The only one worth mentioning is Learn and Master Guitar, whose 10-piece DVD set sells for $149.95. With the proliferation of online streaming, DVDs are rapidly becoming obsolete.
Conclusion
If you're looking for guitar lessons, you have two main options: private guitar lessons or online guitar lessons.
Both options have their pros and cons, but which one is right for you depends on your budget, your learning style, and your goals:
Private guitar lessons are typically more expensive than online lessons, but you get the benefit of one-on-one attention from your instructor.
Online guitar lessons are more affordable, but you'll need to be self-motivated and disciplined to get the most out of them.
So, which option is right for you?
You'll benefit from individualized attention and instruction if you're willing to invest the time and money in private guitar lessons. If you're looking for a more affordable option, signing up for guitar lessons on a reputable website might be the way to go.
Either way, with a little effort and practice, you'll be playing the guitar like a pro in no time!