The 7th generation of the famous tablature-editor software has been long in the works, and it is better than ever. Guitar Pro 6 was already a huge step forward from GP5, which might be the reason GP7 took so long to develop.
Just so you know, GP5 was released in 2005, and GP6 in 2010, GP7 in 2017, and the newest version, GP7.5 in 2019.
There is lots to cover in this Guitar Pro 7.5 review, so let's get started.
What is Guitar Pro?
Guitar Pro 7.5 is a software tool that allows its user to edit and play sheet music and tablature for the guitar, bass or other types of stringed instruments. In addition to that, it can also be used to edit sheet music for other types of instruments, such as keyboards or drums.
If you are looking for a tool that will get your playing to the next level, or you want to compose your own songs, look no further than Guitar Pro. Not only will your playing improve, but you will also develop as a composer.
GP 7.5 is available on Windows, macOS in its software form. You can also get the iPhone and Android version of Guitar Pro as a standalone app, which is not included in the price of the software.
The main interface
When you first fire up the software, you may be overwhelmed by all the buttons and tabs. It's very easy to get used to though. There are a lot of things you can do with Guitar Pro, but everything is laid out as intuitively as possible in my opinion.
This is the main interface of Guitar Pro.
The screen is split up into several main areas.
At the top, you have your main controls.
On the left side of the interface, you will find everything you need to compose a song. This is where you interact with the music sheet and adjust note duration, add guitar techniques, and so on. All of these techniques make a difference in how the sound engine renders the song. This also lets you grow as a guitarist, since there might be techniques here you haven't even heard of before.

On the other side of the interface, you have the Song and Track Inspector. This panel allows you to adjust the written attributes of the song (title, band, copyright info, etc.), as well as the tonal attributes of each track (tuning, change guitar type, add effects pedals, etc.)

On the bottom, you will find the tracks of the song. You can mute any given track, change its volume, panning, and see when it is played within the song overall.
Most important features of Guitar Pro
Guitar Pro is very versatile, Arobas (the developer) has really fine-tuned this version of the program.
Here are the features that you will use most often.
Tablature editing
There is nothing quite like the array of notes and tabs that you can create and work with on Guitar Pro. It is a multipurpose tool to learn how to play the instrument and to write music of your own. It has every type of music notation, plus it also includes attributes that make it the perfect tool to advance your knowledge of the guitar. These special attributes include fingering, bends, slaps, hammer-ons, etc. You can select all of these guitar techniques and hear how they sound after pressing play.
There is not a single type of music that you will not be able to write on this program.
Aspiring songwriters can add their lyrics to the tracks with ease.
One of the prime features of this software is the ability to add chords charts directly into the score. This way you can help and collaborate with other musicians.
Tabs/music sheet player
Packed with instruments of every kind, Guitar Pro 7 gives you ultimate control over the arrangement of your musical composition.
Once you get familiar with the simple and effective features of this program, you will be able to hear what your mind has created in the shortest time imaginable. Of course, nothing tops playing music live, but Guitar Pro 7 comes as close to having your music played live as possible.
Working with software like this one will allow you to adjust your mixtape up to the last important detail.
Speed tools and looper
You can adjust the tempo of the track with magnificent precision in Guitar Pro.
A feature that is great for practicing any given part of a song is called Progressive speed. You can choose a part of a song, set it to start playing at 70% for example, and with each loop, Guitar Pro increases the playback speed until you reach 100%.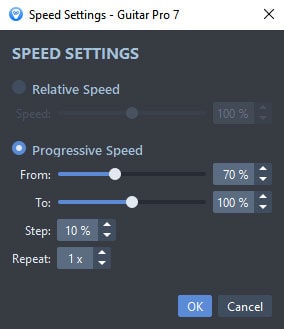 Chord and scale tools
The chord and scale generation tools are important not only to beginners learning chords and scales, but also to artists composing songs.
The chord tool allows you to generate a seemingly unlimited number of voicings for any given chord.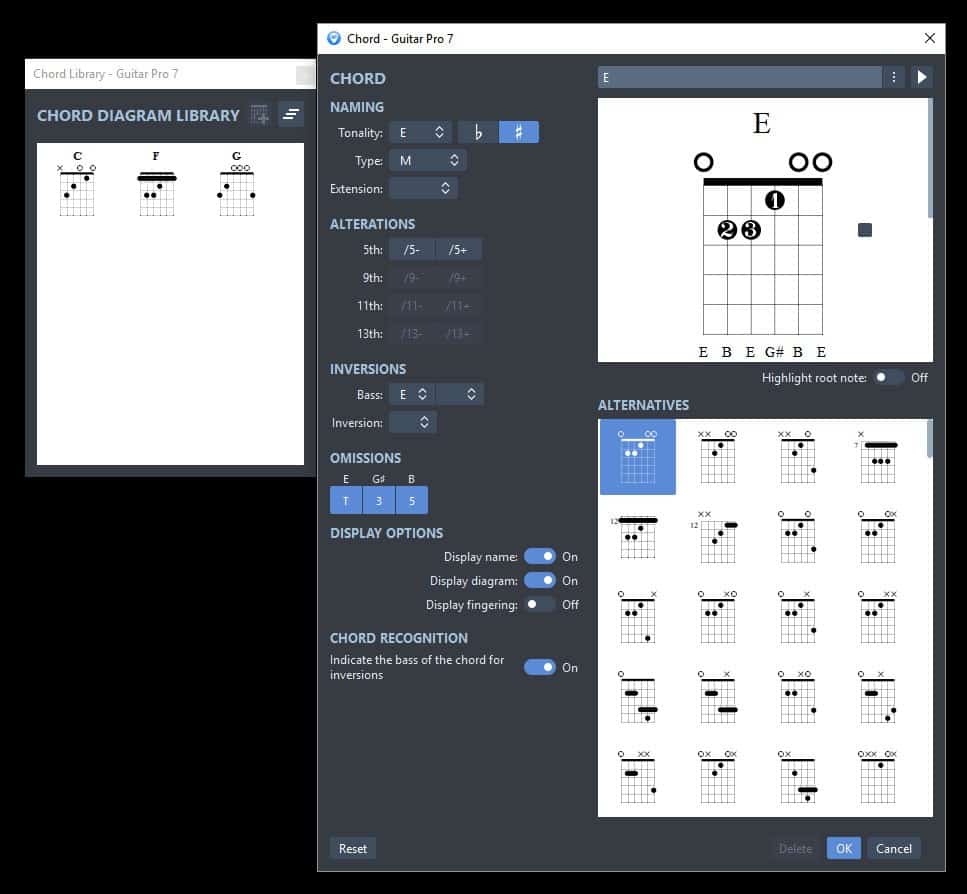 And the scale tool displays not only the notes of any scale, but also the scale's position on the fretboard at the click of a button.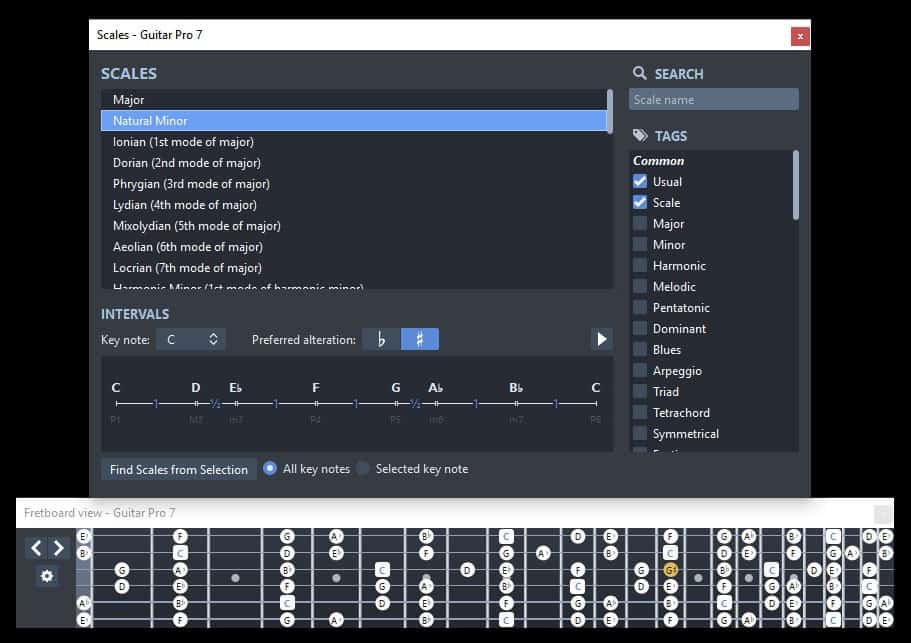 Export features
No software that before Guitar Pro 7 has had this many features that deal with exporting and sharing your musical work.
You can export your composition in a wide variety of file extensions. Naturally, this means you can export it as an MP3, or even as some of the other types of files that have been becoming more and more popular in the last few years (such as FLAC). The quality of your composition will not suffer while exporting it to this or that file extension.
And of course, you can export your composition into MIDI as well.
For those who are looking for input from another fellow guitarist or someone who reviews music, they are best suited to export their creations using the MusicXML files or Guitar Pro. This is the best way to keep your notes and tabs in order while you export your composition.
If you're looking to export your tabs only, you can do so using the most used extension for documents, PDF. Or you can also use the PNG file format that is most commonly used to share high-quality images.
Advanced Guitar Pro features
While most users will stick with the general features of Guitar Pro from above, the software has many very advanced features that advanced musicians and composers can use to speed up their work.
Without going into detail on them in this general Guitar Pro 7.5 review, they include:
Composition help through the bar checker and arranger
Alternate tunings
Support for 3-10 stringed instruments
Who is Guitar Pro 7.5 for?
Thanks to the large array of functions built into Guitar Pro, the software can be used by guitar players of all levels.
Beginner guitarists will get a lot out of the program, I even met a person who learned to play guitar exclusively through Guitar Pro. I think the most useful features of Guitar Pro for beginners are:
The musical playback of their favorite songs.
The ability to slow down playback, which makes learning songs much easier.
The looper feature, to learn a part of a song via repetition.
The chord and scale library is also very useful for beginners who are just diving into learning guitar theory.
Advanced musicians who compose can also make good use of Guitar Pro's advanced composing features:
Composing of not just guitar tracks, but also drums, piano, wind instruments, etc. The playback quality may be a little lower than the sound generated by Audition, but hey. Guitar Pro costs 1/10th of the price.
The program helps create compositions with the chord and scale generator.
It also checks to make sure each bar is of correct duration and lets you know if there are any mistakes.
Music teachers can also make use of Guitar Pro's features:
Sharing and exporting of tabs to printable PDF
Simultaneously teach tablature and standard notation
Chord diagrams right above the tablature
In truth, the vast number of features included in Guitar Pro makes it useful to pretty much anybody involved with music.
Where can you download Guitar Pro tablature files?
Thanks to the enormous community of Guitar Pro users, you can find the Guitar Pro tablature file to basically any song ever written.
Guitar Pro 7 uses the .gp file extension. It can import Guitar Pro files of previous versions as well, which had the following extensions: .gtp, .gp3, .gp4, .gp5, .gpx.
If you are looking for a specific song, it's easiest to head to Google and type in the title of the song you are looking for + guitar pro tabs. Here is an example:
"Sweet Child of Mine guitar pro tabs"
You can also browse enormous tablature databases on several sites for free:
The world is your oyster when it comes to GP tabs.
Free Guitar Pro trial version
You can download Guitar Pro and use it for free for 30 days.
https://www.guitar-pro.com/en/index.php?pg=download
After the 30 days are up, the program will disable itself if you don't buy a license key.
How much does Guitar Pro cost?
A new license to Guitar Pro 7.5 costs EUR 69.95 in Europe, and $69.95 in the USA. If you are updating from a previous version, you will buy a discounted upgrade license for EUR 34.95.
Are there any discounts on Guitar Pro 7.5?
Yes, students at TheGuitarLesson.com receive a 10% discount to Guitar Pro 7.5.
Guitar Pro alternatives
During my research for this Guitar Pro 7.5 review article, I found some software that could, in theory, replace Guitar Pro.
However, it quickly became evident that Guitar Pro is really in a league of its own when you look at what you can accomplish with it, and how much it costs. All competitors are either low quality or very expensive.
PowerTab
It is quite cruel to compare one to the other, but here we go. Powertab only runs on Windows and hasn't been updated since the year 2006...
Compared to Guitar Pro, everything looks amateurish and outdated, especially the offered features.
TuxGuitar
This software is closer to the abilities of Guitar Pro than the aforementioned PowerTab. It has been updated once in the last three years and it works on Windows and Mac.
But, on the other hand, Tuxguitar has much poorer interface, with many features, that are standard for Guitar Pro missing.
And finally, it does not bode well if you are looking to export your music. You can fiddle around with it, but it is not suited for serious composition.
Finale
This is one of the best software to compose music with. Finale is one of the rare programs that offer more features and instruments than Guitar Pro. Many professionals use it.
But if you are a struggling musician or someone who has just started working on their music you might get scared away by the huge price tag of over $600.
Also, like the other alternatives to GP, Finale is not updated very often either.
My opinion about GP7.5
If you've read the above paragraphs, I think you already know what I think about Guitar Pro. Others think highly of it as well.
Before this program, it was far more difficult to learn to play guitar. The traditional way meant you would have to listen, study and try to repeat the notes you heard in a song. Many students found this stale and boring. It also took so much time just to learn the most basic of chords.
With Guitar Pro, everything is much more simple. You open the software, download the song and examine it in GP's interface. You can listen to any part of the song, slow it down, repeat it, or even transpose it with the click of the mouse.
Thanks to Guitar Pro, you can learn any song you can think of, or write your own tracks in a simple manner. I really think Guitar Pro is a must-have for all guitar players.
Again, here is the link to the free trial download: