All TheGuitarLesson.com premium members are entitled to a 10% discount code upon purchasing Guitar Pro 7.
It's as simple as 1 and 2. When you become a TheGuitarLesson.com premium member, you'll not only have access to the best beginner guitar lessons on the net for the best price, you'll also be able to save 10% on buying the newly released Guitar Pro 7.
Here is how to use the code once you get it:
Step 1
Click here to open the relevant discount page on the GP7 website >>
Step 2
Your 10% discount on Guitar Pro 7 is automatically applied to your cart on the Guitar Pro website.
If not, enter "guitarlesson" in the discount code box.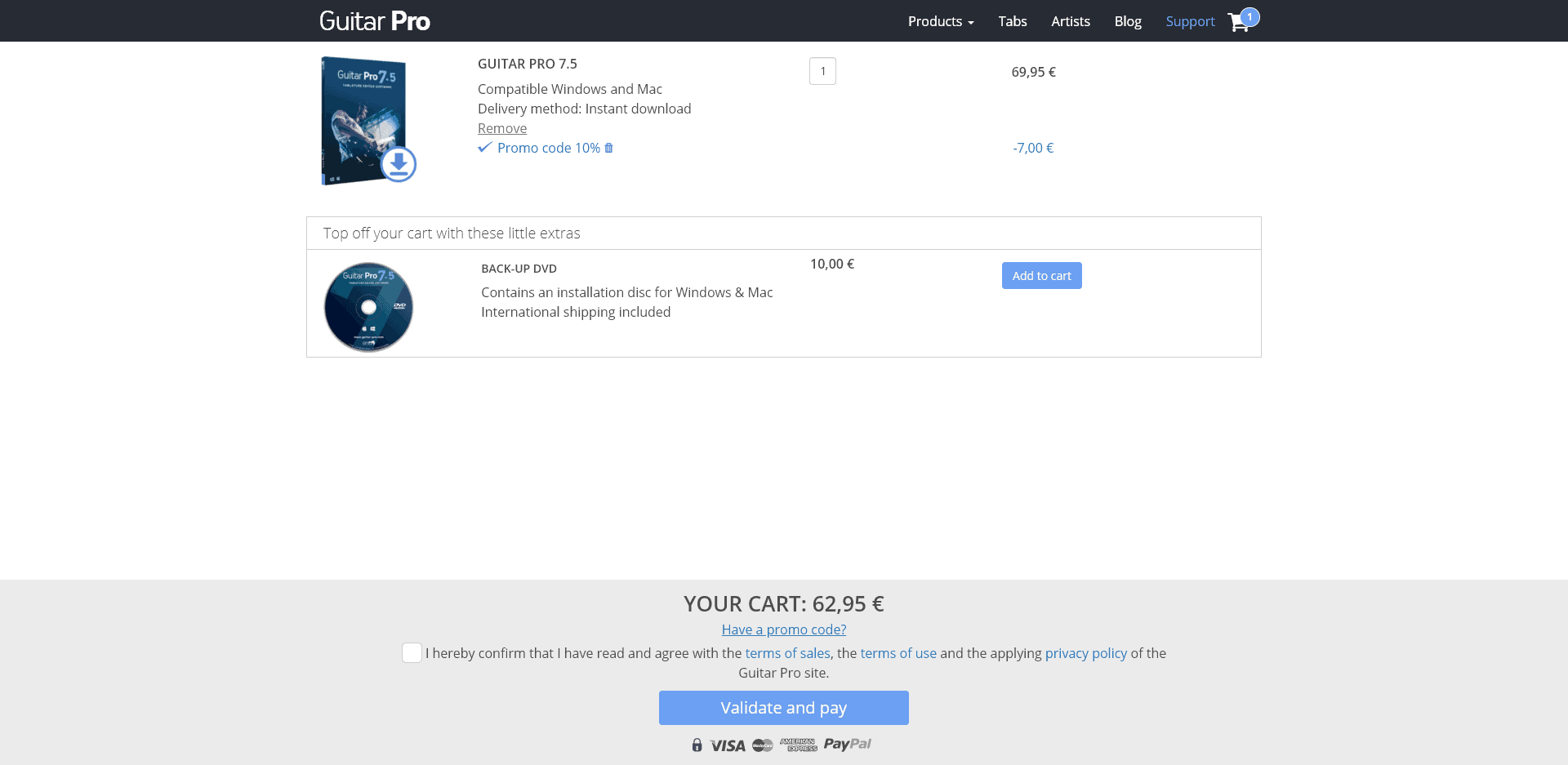 If you are on the lookout for more advanced online video guitar lessons, you might want to read our JamPlay.com vs GuitarTricks.com comparison.
If you decide on either one, you'll be glad to know that you can save a couple of bucks on both memberships with our JamPlay coupon code or the GuitarTricks discount coupon.
What is Guitar Pro 7?
I would say that Guitar Pro 7 is probably the most useful guitar tool ever created. It started out as a tablature playback software, but is so much more than that. It includes, among other things:
Huge chord library
Even bigger scale library
Composition helping features
Text tab import
Guitar tuner
Guitar metronome
and many more useful things that would be too long to list here.
I kid you not when I say that GP7 is pretty much the only piece of guitar software I ever use. Not because there aren't many others, but because GP7 is so complete in every respect and works well each time I start it up.
The only area where they could maybe improve a little is their customer support, I sometimes hear people complaining that their support reps are a bit slow to respond. I for one have never had anything go wrong, so never had to contact support in the first place.
GP7 Tutorials
If you want to check out GP7 in person, have a look at the tutorials I created not long ago.
You'll get an overview of the most important functions of Guitar Pro 7, as well as find out where you can download all the GP7 tabs you could ever ask for.
And remember, if you decide to purchase GP7 and you are a premium member at TheGuitarLesson.com, you get to save 10% off the price of the software when you enter our exclusive GP7 discount code.