Do you think you're too old for games? Think again!
Guitar games are great for getting you to learn several guitar concepts, that you would otherwise have to learn by mending over a book and studying/memorizing. And no, they're not just for children, adult guitar students use guitar games all the time as well.
For example, think about how you would learn the notes on the fretboard. You need to learn the very basics of course, and if you have a fun online game, where you can even compete against others, you'll be sure to learn the notes much faster than just trying to memorize everything.
I'll list several great guitar games for all to enjoy in this article, and if you know of any more, please leave a comment and I'll add it to the list after reviewing it.
1. GuitarTricks games
GuitarTricks has a pretty cool fretboard trainer game, which is available to all of its paying members, even on their new free trial membership.
The point of the game is to tell which note the program is asking for. So for the example above, the question mark is on the A string at fret 1, and you have to click on which note you think it is.
Your answers are timed and stored, so you can compete against other GuitarTricks members:
Sign up for a GuitarTricks membership here, or have a look at their free trial.
2. Rocksmith
Rocksmith is a pretty innovative way to learn guitar, it's sort of an evolution of Guitar Hero, only with a real guitar. You can usually find a console version set up at Guitar Center, if you want to give it a go.
It teaches guitar through learning songs. It doesn't slow down the song though but gives you very few notes to play as a beginner, and progressively gives you more and more notes.
Also, lots of people experience a lag between plucking a note and the song, which defeats the whole purpose. This lag is worse when you use an HDMI cable for audio (which is how most people use their gaming console).
The game is on discount at Amazon right now, check it out.
3. DouglasNiedt.com
This website has 8 online guitar games for you to try. The games are not fancy by any means, nor are they simple, but they can be effective if you want to learn guitar theory.
This site is more for the intermediate to advanced player, who wants exercises to test and further his knowledge. Check it out: http://douglasniedt.com/guitartheoryandeartraining.html
4. Yousician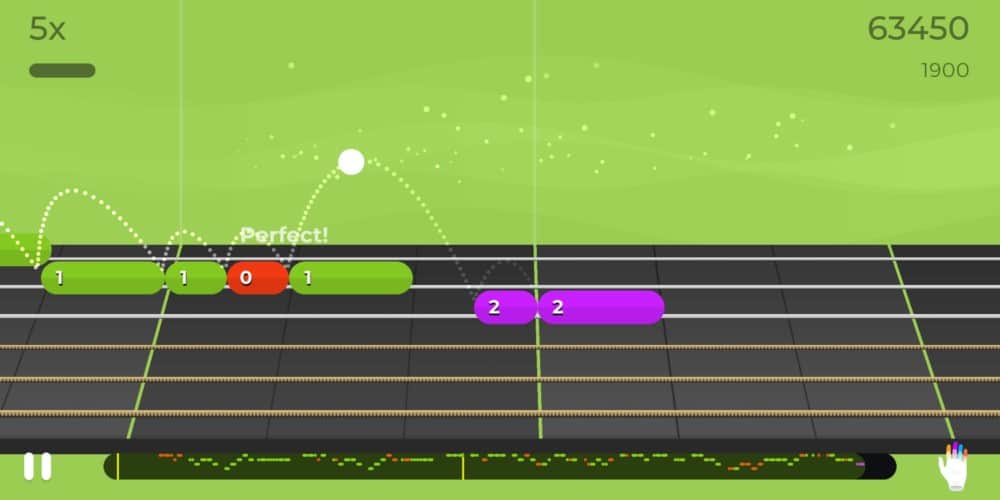 Yousician is a smartphone app that I affectionately refer to as a "metronome with ears". I am not a fan of it for learning guitar, but it can be useful in your guitar-learning arsenal. Just watch out with their billing practices.
Here is my detailed review of Yousician.
So there you have it, several guitar games to get you learning. There are different instances where you would want to use each type, for example:
the full-fledged console games act as entire guitar lesson courses,
the more targeted games will be able to help you with specific areas of the guitar.
I can honestly say that games make learning the guitar fun for everyone. Of course, you can't rely on these games completely, but they will help make the learning experience just a bit easier.
There are also loads of guitar-related apps available for mobile devices, but that will be the topic of another post.