The Holidays are upon us, which means peak seasonality in the guitar industry.
Why?
'Tis the season of giving!
Many people receive a guitar as a gift, but of course, can't play it. Yet...
This is where online lessons come into play.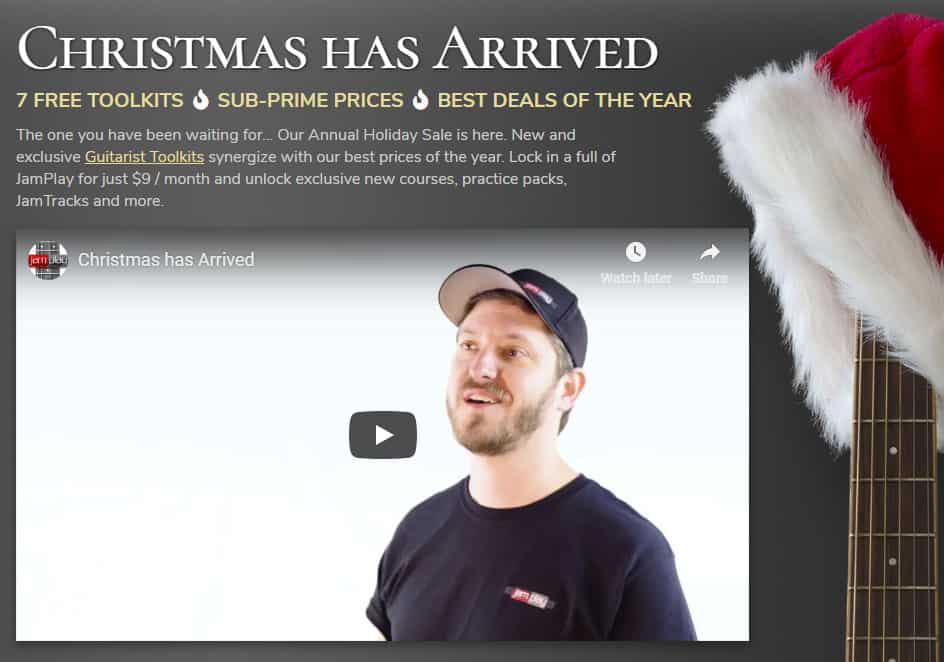 As I mentioned in my article on how to teach yourself guitar, the best way to learn guitar from home is through online lessons.
Theyare:
efficient
allow you to learn from home, at your own pace
super cheap compared to a real live teacher
JamPlay is one of the biggest guitar teaching websites on the internet.
They just launched their 2018 X-mas sale, which provides nice savings over their regular pricing, as well as some extra bonuses.
Click here to view the sale, or read on to find out my take on it.
Price reduction
First off, they cut their price from around $160-ish to $109 for the Standard annual membership. They also have a "Plus" and "Pro" version, which get you a few extra things.
This comes out to around $9 per month. You need to pay ahead for the entire year, but this is a really good deal nevertheless.
Just think that a regular teacher costs around $40 per HOUR...
Choose from 7 toolkits
JamPlay has been developing these so called "toolkits" on various topics. These are aimed at intermediate and advanced players, and provide solutions to common problems guitarists face, in order to boost your skills and playing.
The toolkits are:
Acoustic guitarist toolkit
Electric guitarist toolkit
Technique and theory toolkit
Chords and grooves toolkit
Blues guitarist toolkit
Country guitarist toolkit
Rock guitarist toolkit
If you are at an intermediate level and feel like you're in a rut, these toolkits will definitely help.
Check out the details of their sale to read the description of each toolkit.
Extra perks
As I mentioned, you can get the Standard ($109), Plus ($150) and Pro($200) variant of the annual membership.
The number of toolkits you can choose depends on what kind of membership you buy:
Standard annual membership - $109 - get 1 toolkit of your choice
Plus annual membership - $150 - get 3 toolkits of your choice
Pro annual membership - $200 - get all 7 toolkits
With the Plus and Pro variant, you also get "ownership credits", which allow you to download a given lesson and keep it for life. I don't think this is too useful, since you can download the tabs either way. I doubt you will watch a lesson again a few years down the line.
With the Pro variant, you also get a Jamplay T-shirt sent to you, wherever you are in the world.
It's nice, but nothing special. They sell it for $20 plus shipping, if you want to get it separately.
If you've been thinking about joining JamPlay, this is a great time to do so. Their yearly Christmas sale is as cheap as it gets, and they do provide nice bonuses with the toolkits.
Here is the Christmas signup page page.
If you miss the sale, you can still save a bit of cash by using these Jamplay discount codes.