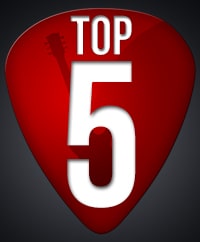 Hello everybody, welcome to this month's installment of the Top 5 Guitar Tutorials on TheGuitarLesson.com. As you may (or may not) know, each month, I dive into Google Analytics to check what my online students have been watching, and I make the most viewed lessons public.
"But Tom, why don't you just record new lessons instead?", you may be asking. Good question my young grasshopper!
The reason is simple. By telling you what other guitar students are presently playing, I'm trying to motivate you to start playing those songs as well. The more you play, the more you learn.
So have a look at what your peers have been up to lately, grab your guitar, and start playing!