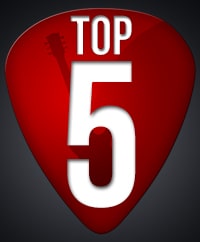 Hello everybody, welcome to this month's edition of the most watched video tutorials on TheGuitarLesson.com.
If you're a regular reader of this series of posts, you might notice something different with the site. We implemented a new design 🙂 I'll write a separate post on this though, let's stick to what you're here for right now.
So January is an exiting month, since there are lots of new guitarists (people who got a guitar for Christmas) looking for how they can learn guitar in 10 days. Lot's of google searches going on right now. To demonstrate, my post on How long it takes to learn guitar was the most viewed page on the site by a looooooong shot. But really, ridiculously long shot.
Lot's of new people signed up for lessons on the site, and also on GuitarTricks and Jamplay, the other 2 popular guitar learning sites.
Now let's have a look at what you guys have been up to. It goes without saying, that the most watched lessons were the ultra beginner ones on how to read guitar tabs, how to read chord charts, and the 1st basic lesson.
Here are the most watched song lessons though.
https://www.theguitarlesson.com/wp-content/uploads/the-guitar-lesson-logo.png
0
0
Tom - TheGuitarLesson.com
https://www.theguitarlesson.com/wp-content/uploads/the-guitar-lesson-logo.png
Tom - TheGuitarLesson.com
2018-02-02 12:06:05
2018-02-02 12:06:05
5 most watched guitar lessons -January 2018