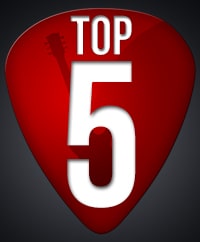 Hello my young Padawans! It's that time of the month again, time to review what you guys have been up to on TheGuitarLesson.com, what you've been learning, watching, sharing.
While I was getting ready to write this post, I realized that I forgot to create the Top 5 post for October. My bad, sorry about that to everyone who anxiously awaits this series of articles. No but seriously, I don't even know what happened, I have my Google calendar set to remind me in the beginning of every month to write this post, I don't know how I didn't notice.
Anyhow, the show must go on!
The holidays are coming up, which is always a big time of the year in the guitar world. Lots of people get guitars, start practicing, and start becoming the guitarist they've always dreamed of being.
Now let's have a look at the most popular guitar lessons of October.