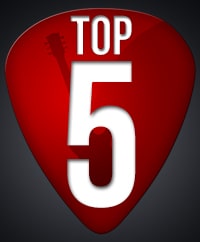 Hello everybody, welcome to this month's report of the most popular song lessons on TheGuitarLesson.com.
We're right smack in the middle of summer. Vacation time, beaches, pools, parties, BBQ. Summer is probably my favorite time of year.
Most guitar players tend to slack off a bit during the summer months, when there are so many other things to do. I know I haven't been playing as much as I would want to. It's best to play your guitar every day for at least an hour. It is undoubtedly hard to get that practice time in during summer, but try.
The visitor stats for the site also shows that it's summer, there had been a dip in traffic, which is to be expected.
I just realized that I forgot to write the Top 5 post last month (May). My apologies to our regular readers, must have been the summer heat clouding my mind...
Now let's have a look at those stats now.
https://www.theguitarlesson.com/wp-content/uploads/the-guitar-lesson-logo.png
0
0
Tom - TheGuitarLesson.com
https://www.theguitarlesson.com/wp-content/uploads/the-guitar-lesson-logo.png
Tom - TheGuitarLesson.com
2018-07-09 08:21:01
2018-07-09 08:21:30
Top 5 Guitar Lessons - June 2018