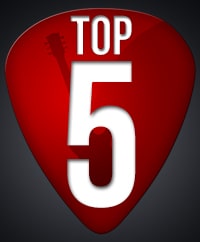 Hello everybody, welcome to another edition of the top 5 guitar lessons on TheGuitarLesson.com.
If you are new to this series of posts, here is a quick run down.
Every month, I jump into my website analytics program to dig into what has been working, and what hasn't. This involves analyzing which lessons you guys watch.
Hoping to motivate you to pick up the guitar and practice more, I share my findings with you every month.
Last months was a very exciting one. We had our annual Cyber Monday sale, which was a massive hit as always. Loads of people jumped on the discounted annual membership.
Why do we have a Cyber Monday sale instead of a Black Friday sale? No reason really. Most companies have a sale on both occasions, but I wanted to keep it simple. I chose Monday since it's Cyber 🙂
Leading up to the sale, we also released several new lessons in November.
Let's see if they made it to the top of the Most Watched list.
https://www.theguitarlesson.com/wp-content/uploads/the-guitar-lesson-logo.png
0
0
Tom - TheGuitarLesson.com
https://www.theguitarlesson.com/wp-content/uploads/the-guitar-lesson-logo.png
Tom - TheGuitarLesson.com
2018-12-06 15:03:23
2018-12-06 15:03:23
5 Most Watched Lessons - November 2018