For guitarists, receiving a thoughtful gift tailored to their musical passion is incredibly exciting. Believe me, all guitar players love getting guitar-related surprises. I've been playing for almost 30 years, and I still love every single guitar gift I get. And I've gotten many.
The vest part is that it doesn't have to be expensive either (unless you want to spoil someone).
I arranged the gift list below based on category and budget:
Budget: $$$$ - $1-$10
Budget: $$$$ - $10-$60
Budget: $$$$ - $60-$150
Budget: $$$$ - $150+
So from custom picks to state-of-the-art gear, here are 50+ of the best gifts for guitar players in 2023. Whether it's a Christmas present, for a birthday, or just for fun, any of these will put a smile on their face.
Personal Items
One of the best gifts you can give a guitarist is a personal item that relates to their passion for playing guitar. This could be several things including:
Guitar-themed clothing
Budget: $$$$ | Site: Amazon
Any guitarist would appreciate receiving a t-shirt or hat printed with a cool guitar logo or music reference. Browse online for shirts with vintage guitar brands, iconic album covers, or clever music puns. Go for a baseball cap embroidered with their favorite guitar manufacturer or a funny phrase like "Eat Sleep Play Guitar Repeat".
Or one of the best Christmas gifts for guitar players, is an ugly guitar Christmas sweater.
They'll love wearing guitar apparel that shows off their passion while out and about. For example, my buddy Jake lit up when he got a vintage-looking Rolling Stones shirt with a graphic of Keith Richards shredding. He wears it too often though (sorry Jake 🙂 ).
If you want to go all out, you could design a shirt in their personal style, many webshops on the Internet deal with personalized T-shirts.
These websites have easy-to-use design software, which means you'll be able to personalize the color of the shirt, image printed, sleeve type, and even the buttons. Great stuff!
Guitar Keychain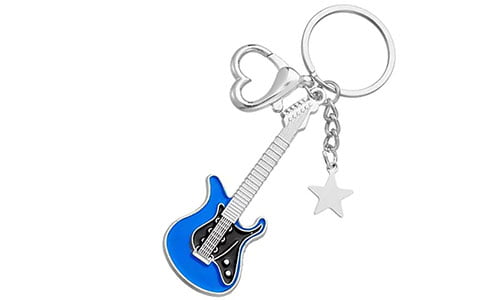 Budget: $$$$ | Site: Guitarmetrics
For something inexpensive yet unique, get them a keychain shaped like a mini guitar or guitar plectrum.
Guitar keychains like this one from Guitarmetrics make for an affordable and handy gift that guitarists will appreciate.
Guitar Jewelry
Budget: $$$$ | Site: theguitarwrist.co.uk
Subtle guitar jewelry like pick necklaces and earrings make for unique accessories. Look for sterling silver or stainless steel chains with a personalized guitar pick pendant.
You can also find bracelets and rings engraved with custom music notes or guitar fretboard designs for a thoughtful gift.
Guitar jewelry allows them to take their love for the instrument wherever they go.
Guitar String Bracelet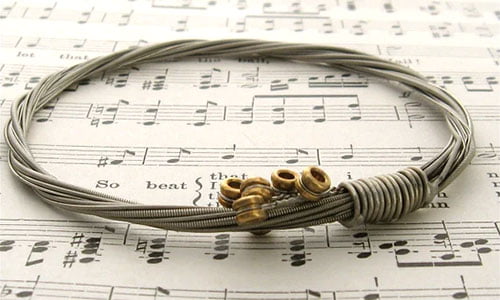 Budget: $$$$ | Site:
Intricate bracelets handcrafted from real guitar strings make beautiful accessories for guitarists.
The metal wires are twisted and woven into chic designs that celebrate their passion for the instrument.
These are not just for girls either, guys love wearing bracelets, and even necklaces made out of guitar strings. Remember, anything "guitar" is cool to guitar players.
It may not be made out of gold, but it is classy and cool.
Guitar Mug
Budget: $$$$ | Site: Cafepress
Sipping morning coffee or tea from a customized guitar mug is a fun and practical gift idea.
Look for oversized mugs shaped like the instrument itself or printed with guitar designs.
Go for a glossy finish that shows the details of guitar diagrams and models. Your guitarist will get a kick out of using their new mug daily.
Tabs Notebook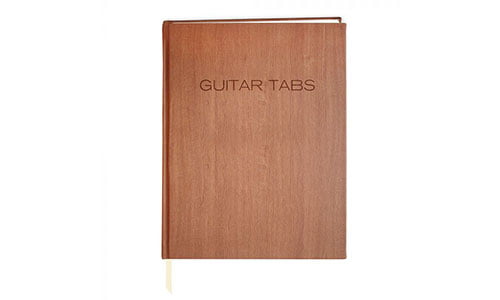 Budget: $$$$ | Site: Bookfactory.com
Gift your guitarist a practical notebook covered in guitar artwork or designs. It's perfect for jotting down lyrics, chord progressions, and song ideas whenever inspiration strikes.
Find notebooks with vintage guitar patent designs, abstract fretboard patterns, or their favorite guitar brands on the cover. You can even get leather-bound ones for that elegant touch.
The pages inside can hold all their ideas and practice notes, but this one is suited for the intermediate-advanced guitarist.
Guitar-Themed Phone Case
Budget: $$$$ | Site: Woodgrip
For an inexpensive but fun gift, customize a phone case printed with their favorite guitar brand or music reference. Or go all out, and get a Koa wood case (made out of the same wood some guitars are made of).
Everybody needs a phone case, so this makes for a practical and thoughtful gift at the same time.
My phone case has a classic Stratocaster graphic that sparks conversations with fellow guitarists. It's an affordable way to show off my musical passion and protect my phone.
Guitar-Themed Puzzle
Budget: $$$ | Site: Amazon
For some quiet downtime between practice sessions, give them a challenging guitar-themed puzzle.
Look for intricate artwork of famous guitars, musicians, or music icons. I got this collage a while back, it took quite a bit of time to complete, but it was worth it in the end. I wanted to fuze it together and frame it, but a piece fell off, and I just didn't have the willpower to start over.
But anyhow, puzzles are nice gifts as well.
Miniature Guitars, So They Never Leave Home Without It
Budget: $$$$ | Site: Axeheaven
You can get miniature guitars, which make for great table decoration at the office, in the home studio, or anywhere else.
Their guitars are about 10 inches tall, and you can get replicas of basically any type of guitar. You can even get DIY kits, that have to be assembled.
Since guitarists are usually in love with their guitar, getting a mini version, which they can showcase at the office will make them very happy.
Wall Hanger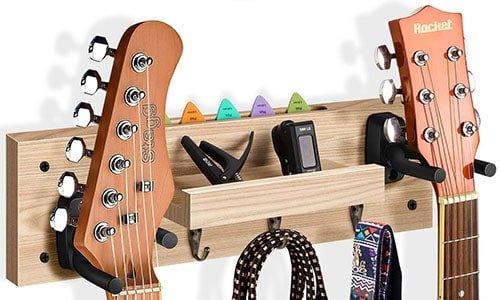 Budget: $$$$ | Site: Amazon
Help your guitarist neatly and safely display their favorite instrument at home with a customized guitar wall mount. Look for solid wood hangers with padded hooks to securely hold the guitar without causing damage.
Consider a customized shape like a treble clef or their name. A quality hanger shows off their prized guitar as functional wall art.
You can get versatile wall hangers as well, with space to put plucks, capos, or even keys.
Artwork
Budget: $$$$ | Site: Abposters
Consider buying and framing a print or poster featuring an elegant guitar illustration or diagram to make for cool wall art.
Any guitar player would appreciate a quality piece to hang in their home studio or music room.
You need to know the style preferences of the giftee, but it's safe to go for vintage patent prints of historic guitar models or abstract mixed media pieces with guitar strings incorporated.
Custom Wall Led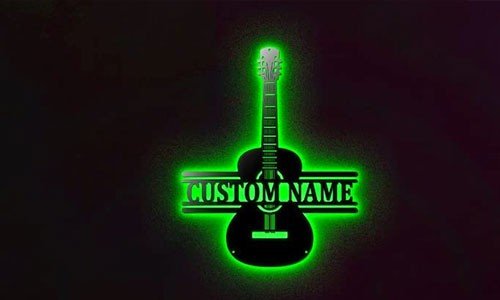 Budget: $$$$ | Site: Amazon
Gifting home decorative items has always been popular, which is why creating a customized, led-backlit wall decoration is a great idea.
If you know for sure that your favorite guitarist like these types of items (and who doesn't), this makes for a great gift.
You can get them custom cut to any logo/shape you like, and they are really cool to look at.
Learning Materials
Learning guitar is a never-ending journey. Even the best guitarists learn new things all the time. So here are some gift ideas for helping your favorite guitarist get better and better, day by day.
Online Guitar Lessons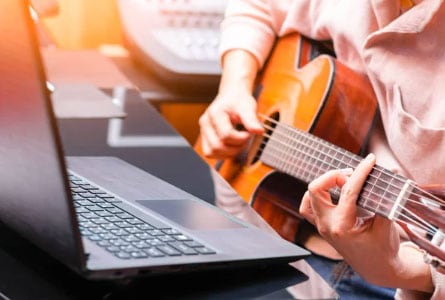 Budget: $$$$ | Site:
For guitarists who prefer learning from videos, an online guitar lesson subscription is an engaging gift that keeps on giving.
The best online guitar lesson sites like Fender Play and Guitar Tricks offer high-quality, step-by-step video lessons for all skill levels, so these are suitable for everybody.
Online lessons allow guitarists to learn from expert teachers, take lessons anywhere, and try different styles like rock, blues, acoustic, and more.
The interactive format reinforces techniques and keeps guitarists motivated with personalized feedback.
Guitar Lesson Books
Budget: $$$$ | Site:
Guitar lesson books are a great gift for new players or experienced guitarists looking to improve their skills. They provide structured lessons that cover everything from holding the guitar properly to learning advanced techniques.
Lesson books allow guitarists to learn at their own pace and refer back to concepts.
Consider the recipient's skill level when selecting a lesson book so they don't get overwhelmed or bored.
Music Theory Book
Budget: $$$$ | Site: Berklee Press
Understanding music theory helps advanced guitarists get the most out of their instrument.
Music theory books explain the patterns and structures in music so guitarists can confidently improvise, write songs, and communicate with other musicians.
After hitting a plateau in my guitar skills a while back, I decided to learn music theory to gain a deeper understanding of how chords and scales work together. It was an enlightening experience that unlocked my creativity.
I recommend music theory books as a present to any guitarist wanting to go beyond just reading tabs.
Guitar Song Tablature Books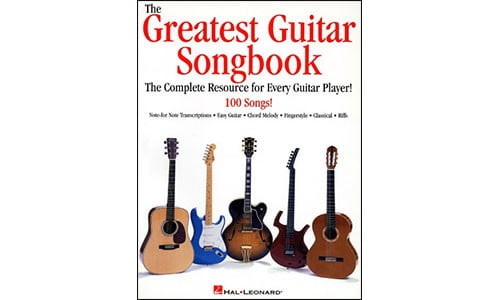 Budget: $$$$ | Site: Hal Leonard
Guitar tab books allow players to learn songs quickly without having to read standard musical notation.
Tablature shows guitarists exactly which strings and frets to play by using easy-to-follow diagrams.
Tab books come in all genres and skill levels, so get one featuring the recipient's favorite band or style of music so they can have fun jamming along.
DVD Lessons
Budget: $$$$ | Site: Learn and Master
Even though online video has mostly replaced DVD, some still like learning from DVD lessons, as an alternative to books and online lessons. DVDs allow guitarists to watch lessons anywhere without an internet connection.
Many DVDs include jam tracks, song tutorials, and exercises. DVD lessons work well for guitarists who like rewatching sections at their own pace. Consider DVD lessons for guitarists without reliable internet access.
The only DVD lesson set I can recommend is the Learn and Master series, at a discount here.
Chord Dictionary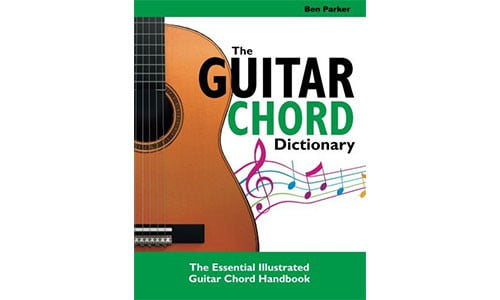 Budget: $$$$ | Site: Goodreads
A chord dictionary or reference guide is a handy tool for beginner guitarists still finding their way around the fretboard.
These books contain thousands of chord diagrams across various keys.
Guitarists can quickly look up any chord variation and see how to play it with this tool, as well as seamlessly transition between chords during songs, and encourage experimentation with new chord voicings.
I would recommend these to beginners.
Guitar Magazine Subscription
Budget: $$$$ | Site:
Guitar magazines help inspire guitarists and keep their interest piqued with fresh lessons and gear reviews monthly.
Magazines like Guitar World offer tips, tabs, and advice from famous guitarists across all styles. The variety provides well-rounded instruction and exposure to new techniques.
Reading Guitar World as a teenager expanded my musical horizons and exposed me to playing styles beyond just rock and blues. The interviews and lessons from famous guitarists provided inspiration that kept me excited to pick up my guitar.
Guitar Accessories
Small, cheap guitar accessories have flooded the guitar market. Some of them are trash, but some are very useful and make for a great gift idea.
Custom Guitar Picks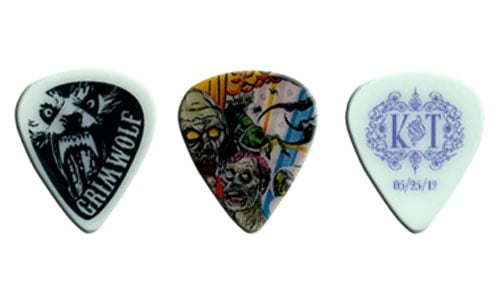 Budget: $$$$ | Site: claytoncustom.com
You can get personalized guitar picks, which make great presents for any guitarist.
They are very-very cool, your favorite guitarist will be showing it off to his/her friends, colleagues, and even people on the street for a long time 🙂
Make sure the pick really is truly personalized, meaning it has the recipient's nickname, face, logo, or some other form of personal detail printed or engraved onto the pick.
I remember how excited I was when a band I played in got custom picks made with our logo - it made us feel so official. The band didn't last long, but I still have the picks 🙂
Cool Guitar Strap
Budget: $$$$ | Site: Couch, Etsy
A guitar strap is both a functional tool and a fashion statement, so look for one-of-a-kind straps made from leather, suede, or other eye-catching materials.
An embroidered, woven, or hand-painted strap will help your guitarist stand out on stage.
You can even have custom guitar straps made, but I don't think it's necessary, since the selection of straps is infinite. You are sure to find something online that fits the style of the person you're giving it to.
Guitar Pick Punch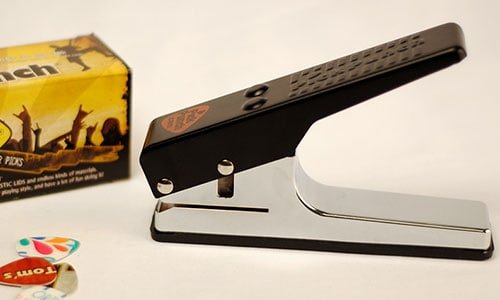 Budget: $$$ | Site: Pickpunch
For the eco-conscious guitarist, a guitar pick punch allows them to transform old gift cards, credit cards, or discarded plastics into brand new guitar picks.
This nifty device empowers creativity and sustainability, and means never being left without a pick.
The recipient can even save money, since if they decide to punch their credit card, they won't be able to spend any more money 😉
Guitar Grip Hand Exerciser
Budget: $$$ | Site:
Guitar requires finger dexterity and strength, so gift your guitarist a grip exerciser to build their hand muscles.
Squeezing this portable tool will help them play faster, longer, and with greater endurance.
Guitar Pick Holder Bracelet
Budget: $$$ | Site:
Never lose a pick mid-song again! This practical bracelet stores picks within its leather band, keeping them handy during practice and performances.
It's both stylish and functional.
Guitar Soundhole Cover
Budget: $$$ | Site:
Cut down on feedback and enhance the acoustic tone by gifting a personalized soundhole cover.
Made of leather or other materials, it's essential for gigging guitarists who play on electric-acoustic guitars with Piezo pickups. 
This sounds a bit technical, but in Layman's terms, if your guitarist plays an acoustic guitar, but you see him/her plug a cable into it from time to time, the soundhole cover will be of use.
There are various sizes in soundholes though, so you will have to measure it to make sure the cover fits.
Clip-On Guitar Tuner
Budget: $$$ | Site:
There are many ways to tune your guitar, but tuning on stage can be a nightmare.
An advanced clip-on tuner makes tuning fast and convenient though, since it clips discretely onto the guitar headstock, providing precise tuning even in noisy environments. It doesn't use sound, but rather the vibration of the guitar for tuning.
Guitar Slide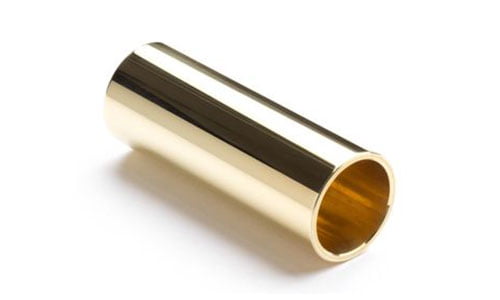 Budget: $$$$ | Site:
Help your favorite guitar player add new tones and techniques with a glass, metal, or ceramic guitar slide.
Ideal for blues and rock guitarists, slides worn on a finger can create emotive solos and riffs. You hear it used in tons of classic guitar songs.
Slide guitar is an easier style of music, so even beginners will be able to benefit from this gift.
Guitar Capo
Budget: $$$$ | Site: g7th
A capo is a tool that helps guitarists play in different keys, without having to form intricate chord shapes and barre chords. They definitely have their place in the gear arsenal of both electric and acoustic players, but as such, most already have a capo.
Nevertheless, getting another one is never a bad idea, since they get lost. I also find it great to have a few laying around the house, so I don't have to go get them all the time.
Maintenance and Care
The guitars owned by guitarists are their pride and joy. Help them take care of their babies with these items.
Guitar Cleaning Kit
Budget: $$$ | Site:
A guitar cleaning kit is an essential gift for any guitarist who wants to keep their instrument looking its best. I remember when I got my first guitar as a teenager and never cleaned it - the strings got so grimy and the fretboard so sticky. A basic cleaning kit would have kept it in much better condition.
I'm a lot smarter about these things now, but many newbies still are not.
These kits contain polishes, cloths, and cleaning solutions specifically formulated for the finishes and materials used on guitars. With a quality cleaning kit, guitarists can remove dirt, grime, and residue from their guitars and keep the wood, metal, and other components in pristine condition.
String Cleaner
Budget: $$$ | Site:
Over time, guitar strings accumulate dirt, skin oils, and corrosion which can degrade their tone and playability.
Even after a single playing session, when you pull a white tissue over your strings, the tissue will become blackish.
A string cleaner allows guitarists to remove this buildup and restore their strings' brightness and resonance. Regular string cleaning with a quality cleaner can also prolong string life by reducing corrosive effects.
This makes a string cleaner a thoughtful gift idea for the guitarist looking to get the most out of their strings.
Guitar Humidifier
Budget: $$$ | Site:
For guitarists in dry climates, a humidifier prevents cracking, warping, and other damage by regulating interior humidity. This maintenance essential preserves the guitar's structure and tone.
I know a guy who cracked his prized Martin because he didn't humidify it during touring in Nevada. A humidifier could've prevented the damage.
Hardshell Guitar Case
Budget: $$$$ | Site: GuitarEuroShop
For guitarists on the go, a hardshell case is an invaluable gift to protect their prized instrument. I still cringe thinking about the time I just used a soft gig bag and my guitar got a big chip in it from being knocked over backstage...
The hard exterior provides superior impact and crush protection compared to soft cases. The plush interior safely cradles the guitar during transport and storage.
But you have to be prepared here, as hardshell cases come in various shapes and sizes to accommodate different guitar body styles. You need to know the exact type of guitar you're buying the case for, otherwise, it might not fit.
Guitar Tool Kit
Budget: $$$ | Site:
More advanced guitarists who like performing their own instrument maintenance and adjustments will appreciate an Ernie Ball guitar tool kit. These kits contain useful tools like hex wrenches, screwdrivers, and pliers designed specifically for guitar repair.
With a comprehensive kit, guitarists can fine-tune intonation, adjust the truss rod, swap out pickups, and perform many other tweaks and fixes.
The convenience of having all the right tools in one kit makes this a great gift for the hands-on guitarist.
Premium String Set
Budget: $$$ | Site:
You can never go wrong gifting a guitarist extra strings, as they break or wear out regularly.
Premium string sets are made from higher quality materials for improved tone, tuning stability, and longevity compared to basic strings.
Options include coated strings to resist corrosion, nickel-plated steel for brightness, and flatwound strings for a vintage tone. Experimenting with premium string brands and gauges allows guitarists to find their perfect sound, so getting new strings will be appreciated.
Fretboard Oil
Budget: $$$ | Site:
The fretboard is a commonly overlooked part of the guitar that requires conditioning to prevent drying out.
Fretboard oil moisturizes the wood, preventing cracks and maintaining smooth playability. It also cleans and polishes the fretboard back to a rich, natural luster.
With regular oiling, the fretboard will look and play like new. Guitarists who want to keep their fretboards in top playing condition will appreciate a bottle of quality fretboard oil.
Practicing, Recording, Performance
Some guitar players will stay at the hobby level, some will form a band, but all of them will need some way to record and amplify their playing sooner or later, especially electric guitar players. This is why the following guitar gear ideas work well.
Wireless Guitar System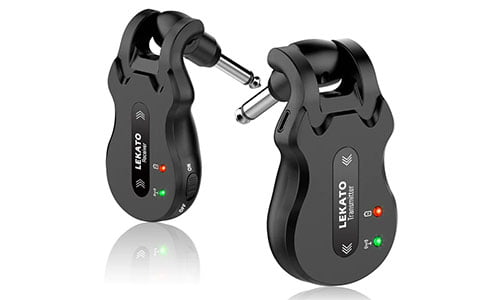 Budget: $$$$ | Site:
If you've ever seen the gear of electric guitarists, you'll know that they are flooded with cables everywhere. They make moving around hard, you always have to be careful.
Thankfully, wireless guitar systems in 2023 are now at the level where their sound quality is indistinguishable from cables. The cheaper ones have a short range and can be hit or miss, but the ones above $70 reach longer distances without lag, and can even by used at gigs.
They are easy to use and are definitely one of the best gifts for guitarists.
Microphone
Budget: $$$ | Site:
A high-quality microphone like the Shure SM57 or Audio-Technica AT2020 is essential for any guitarist looking to record demos or album-quality tracks.
I'll never forget the first time I upgraded from a cheap mic to a professional large diaphragm condenser - I couldn't believe the rich, detailed sound quality.
The right mic can accurately capture the nuances and tones of an electric or acoustic guitar sound. Consider a large diaphragm condenser mic for rich acoustic guitar recording.
Loop Pedal
Budget: $$$$ | Site: Lekato
Loop pedals allow guitarists to create layered guitar arrangements and soundscapes. They are great for solo practice, songwriting, and live performance as well.
The Boss RC-30 and TC Electronic Ditto X4 are two great options with dual stereo loops, onboard effects, and intuitive controls, but you can find good ones at lower prices as well.
The Lekato looper pedal I have as well is perfect for your everyday guitar player and will add variety and fun to his/her practice sessions.
Guitar Amp for Practicing
Budget: $$$$ | Site: GuitarCenter
Small guitar amps like the Fender Mustang LT25 or Vox VX series provide great tone in a compact package.
They have a variety of amp models and effects built-in so guitarists can experiment with different sounds at low volumes, but the headphone jack is perfect for silent practice sessions without disturbing the neighbors.
Quality headphones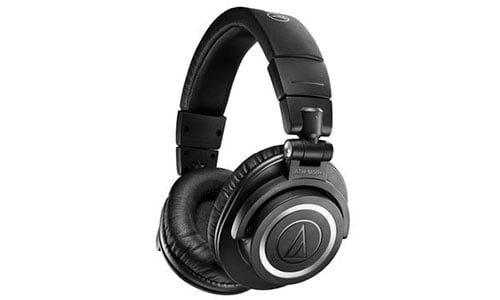 Budget: $$$$ | Site:
Talking about amps, I also want to throw the idea of headphones out there.
There are huge differences in the quality of headphones, and they truly increase the quality and enjoyment factor of playing with them.
These are pricier gifts though, but they are a sure hit. And if you live in the same household with the recipient, you'll be able to use the headphones to listen to music yourself.
A win-win situation if you ask me 🙂
Unique Guitar Pedals
Budget: $$$ | Site:
Boutique guitar pedals can completely change a guitar's tone and allow for creative sound design. Some examples are the EarthQuaker Devices Rainbow Machine for psychedelic modulation effects or the Red Panda Particle granular delay pedal.
Gift certificates for unique pedals make great presents. I would probably not buy one outright, since you would really have to know the musical preference of the giftee to get this one right. There are so many pedals out there, it's better they choose themselves.
High-Quality Guitar Cable
Budget: $$$ | Site:
A high-quality guitar cable makes a noticeable difference in tone and clarity compared to a cheap cable.
Consider Mogami or Lava brand cables with high-end connectors. For vintage tone, try a cloth-wrapped cable.
This idea is best for advanced guitarists though, a beginner may not hear the difference in tone yet.
Alpine MusicSafe Pro Earplugs
Budget: $$$ | Site:
Protecting hearing is crucial for all musicians, including guitar players.
These comfortable earplugs lower volumes while preserving sound quality for safe listening at loud concerts or band practice.
Tinnitus is a struggle many guitar player will face if they do not start using some kind of ear protection.
Multi-Guitar Rack
Budget: $$$ | Site:
As my guitar collection has grown over the years, storage space has become an issue.
Having multiple single guitar stands is not very convenient once you have 3+ guitars in an area, which is the reason guitar racks were invented. You can store 6+ guitars on a single rack, which is super convenient in a home studio or on stage.
It also makes selecting a different guitar a breeze. Every guitarist with more than a few instrument needs a quality rack.
Luxury Items
These gifts for guitar players are not cheap, but they are guaranteed to be a hit.
Custom Guitar Strap
Budget: $$$ | Site:
Personalized with their name (in small) and a special design that shows their personality and style, a guitar strap is one of the best gifts for guitar players I can think of.
Granted, there are a lot of great designs ready to go out there, but having their name embroidered on the strap makes a world of difference.
Guitar Pick Wallet
Budget: $$$ | Site:
An unwritten rule of life is that every guitarist needs to have a pick in their wallet. You never know when you have to play.
On top of that, guitarists are always losing picks, so a special wallet designed to hold picks is a very practical gift.
Leather pick wallets have slots to organize and store picks of different thicknesses. It will keep their picks neatly in one place so they always have a pick handy when inspiration strikes.
Guitar String Ring
Budget: $$$ | Site:
For the guitarist who has everything, a ring spun from real guitar strings is a unique and meaningful gift.
Skilled artisans carefully wind and shape the strings into a wearable ring with a slight musical imprint remaining in the metal.
It's a cool, one-of-a-kind way to keep their passion close.
High-End Guitar Stand
Budget: $$$ | Site:
For proudly and safely displaying their guitar collection at home, treat them to a high-end stand.
Look for solid wood construction, soft padding to protect instrument finishes, and high-quality hardware.
It will keep their guitars secure while looking great.
Guitar Lessons with a Renowned Local Musician
Budget: $$$ | Site:
What guitarist wouldn't love personalized lessons from an iconic guitar star? Some famous players do tours and offer group guitar sessions.
It's a special experience they'll never forget, but they are a rare find.
Stars like Slash do not offer these, but smaller guitar greats definitely do. For example, my uncle Steven is a Jazz musician, and he has been to several of these with Jazz stars like Pat Metheny.
Concert Tickets
Budget: $$$ | Site:
Surprising someone with front row tickets to see their favorite guitarist is a guaranteed jaw-dropper.
They will rave about the experience years later.
I got to see BB King this way, when my father gifted me tickets to see the legend play live in Budapest. I will never forget it.
Travel Guitar
Budget: $$$ | Site:
I can tell you from first-hand experience that guitar lovers never want to be without their instrument.
Taking their main guitar on vacations is not practical most of the time, which is why getting a small travel guitar for the guitarist in your life is a great idea.
Travel guitars are not as expensive as full-sized models, but they do cost hundreds of dollars, so this would be one of the most expensive gifts on this list.
Which gift for guitar players is your favorite?
You now have an extensive list of the best possible presents you could get for acoustic or electric guitar players. I know that most of these items are not that great for bass players though, but that is another instrument in itself.
So, which is your favorite? Or did you see any other ideas that I could add to this list? Let me know in a comment below!