You might not know that GuitarTricks was the first ever online video guitar lesson site. Things have really developed since then, not just on their site, but all across the Internet.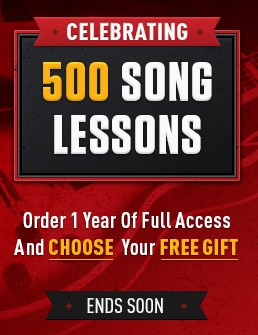 They've been busy, and it really shows. They've managed to build a huge database of video lessons, both dedicated courses, and lately, specific guitar songs.
This week, they hit the 500 song lesson mark. Now that's a lot! Check out the songs here.
To celebrate, they are having a pretty big promotion, here are the details.
If you buy an annual membership to access their video lessons for $129, you can choose to get a nice bonus gift, anything from the list below:
Vox AC30 Amplug - normal price: $54.99
Marshall Red Micro Amp - normal price: $80.00
RP55 Multi-Effects Processor - normal price: $79.95
GuitarTricks fun Box - normal price around $100.00
Mystery box - the contents are a mystery
Click here to get access to these gifts and the GuitarTricks lessons >>
The song list is pretty impressive as well, I don't know of any other site online that has this many lessons. They have songs from artists, like:
The Beatles
Johnny Cash
The Eagles
Jimi Hendrix
Lynyrd Skynyrd
The Police
Nirvana
KISS
ZZ Top
SRV
Tom Petty
and a bunch more...
Their video lessons are great, even though they don't have animated tablature like my lessons, but hey, you can't have everything.
You might not know that I am a huge advocate of learning to learn to play through learning songs. Of course, you need to learn the very basics at first, so things like how to hold the guitar, and how to read tabs and chord charts.
But after this, I believe every beginner guitarist should start learning songs straight away. Why?
Because learning guitar is hard, but playing songs is fun. Aiming to play a song, even if it's a very simple 3 chord strumming song will give you an extra boost of motivation, that boring exercise drills just can not. This is coming from 10+ years of experience teaching beginners, so I'm pretty confident I know what I'm talking about.
Lots of people want to play guitar, but only a few actually make it. I've had many "restarting" students, so people who learned at one time already, but quit. Out of those who had a previous teacher, they pretty much all said that it was too hard and boring, but my method, that of learning songs, is much more interesting.
Yes it is!
When someone decides to learn to play, they basically have one goal in mind. To play songs to themselves and others. It's as simple as that. And since there are loads of very popular songs that beginners can learn, I really don't know why all teachers don't start with them.
All right, sorry about the rant, so let's get back to GuitarTricks's 500 songs. Here is their list of songs, you can see that they cover a lot of artists and popular songs: GuitarTricks song list >>
They also have 2 versions of a few songs, one for beginners, and the other the full version. I think it's a great time to get access to GuitarTricks, all the songs and the free gift makes for a great offer.
Click here to get access to these gifts and the GuitarTricks lessons >>