What do you need to do to learn blues guitar? Not much actually! In my honest opinion, I think it's one of the easiest styles to play on the guitar, which is great news for beginner-intermediate players. If you are already somewhat familiar with basic lead guitar techniques, you could be playing the blues very soon.
You just need to learn the tricks of the trade, combine it with a hint of music theory, and you could be improvising to blues backing tracks very quickly.
And no, that's not a typo. You'll be IMPROVISING and making up your own music on the fly. Now, how cool would that be? 🙂
I found many blues guitar courses available on the net, bought 4 which seemed worth the money, and narrowed the list of best blues guitar DVD courses down to 1 final contender, Blues Guitar Spotlight.
I wish I could offer more variety, but there aren't any other all-encompassing DVD courses worth noting.
Here are the details:

Learn and Master Guitar: Blues Guitar Spotlight
The Blues Guitar Spotlight is by Steve Krenz, who also made the famous Learn and Master Guitar DVD course.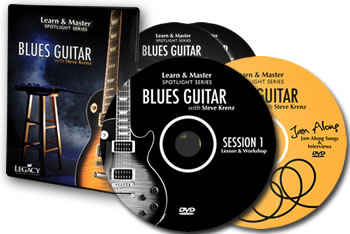 It is a DVD video course that consists of
6 DVDs
a book
a jam track DVD-CD hybrid
The instructor, Steve Krenz, does a good job of explaining everything you need to start playing the blues quickly, in a step-by-step manner, tailored to the needs of beginner guitarists.
The video editing is very professional in nature as well, and they have added on-screen tabs to make the lessons easy to follow.
The lesson plan is very well put together, taking you from the very basics, and advancing as you progress through the videos. It teaches not just a couple of blues riffs and techniques, but also the underlying theory as well, which is what guarantees that you'll be able to start improvising to blues jam tracks very soon after starting the course.
Learn more on Blues Guitar Spotlight >>
Which Blues Guitar Lesson DVD Course to Choose?
Steve Krenz's Blues Spotlight is detailed and covers many aspects of blues guitar, but it might be just a bit too much for beginners. Here is a detailed review of Blues Guitar Spotlight.
The course is well thought out, presents the material in a linear manner where each lesson builds on the previous, has great editing with on-screen diagrams, and the content of the course is great and perfectly able to get you jammin' to the blues.
Yes, it is a DVD-based blues guitar lesson, so it will cost money.
But if you think about the fact that a private guitar teacher charges around $30-50/hour, you'll see that learning the blues via DVDs is much cheaper in the long run, and so much more effective than trying to find free lessons on YouTube.
Consider Online Blues Lessons
If you are not adamant about learning from DVD, you might want to think about learning the blues online.
There are 3 big guitar lesson websites I can recommend that offer high-quality blues lessons, here they are.