'Tis Christmas time again, stores start filling, people start shopping for gifts. Giving is a great joy, especially when you know that the gift will make the recipient happy, so Christmas shopping can get a bit difficult and stressful when you don't have any ideas. Luckily, guitarists will always be happy to receive guitar-related stuff, no matter how small or large.
Here are a couple of guitar-related Christmas gift ideas for you:
1. Personalized Picks Make a Great Christmas Present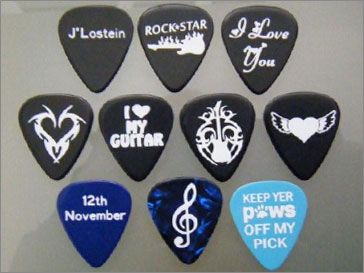 You can get totally personalized guitar picks, which make great Christmas presents for any guitarist. They are very very cool, your favorite guitarist will be showing it off to his/her friends, colleagues, people on the street for a long time 🙂
Make sure the pick really is personalized, meaning it has the recipient's nickname, face, logo, or some other form of personal detail printed or engraved onto the pick.
If your favorite guitarist is into jewelry, you can also get silver guitar pick medals to put onto necklaces.
2. Personalized Guitar T-shirt for Your Fashion Conscious Guitarist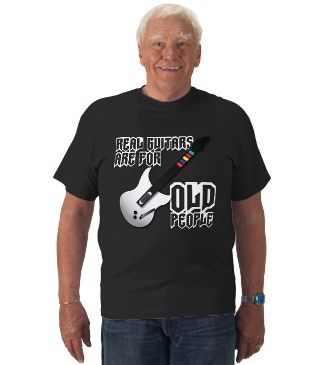 I know a guitarist that has just 1 guitar T-shirt, and he wears it about 4 days per week (yes, pretty stinky afterward).
Get your favorite guitarist a cool guitar T-shirt, and you'll certainly make them happy. Just make sure they don't wear it every day...
If you want to go all out, you could design their own personal style shirt, there are many webshops on the Internet that deal with personalized T-shirts.
These websites have easy-to-use design software, which means you'll be able to personalize the color of the shirt, image printed, sleeve type, and even the buttons. Great stuff!
3. A Custom Guitar Strap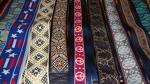 Getting a new, great-looking guitar strap
is for a guitarist just like when women get new shoes. It's awesome! You can also have it custom-made to your specifications, check out Souldier.com.
When choosing the strap, make sure the design is in line with the taste of your guitarist, you don't want to get a strap with skulls on it if the recipient is into classical music. Also, mind the color set of the strap. Straps look best when they include the color of the guitar they are holding.
4. Miniature Guitars, So They Never Leave Home Without It
You can get miniature guitars, which make for great table decoration at the office. Their guitars are about 10 inches tall, and you can get replicas of basically any type of guitar. Since guitarists are usually in love with their own guitar, getting a mini version, which they can showcase at the office will make them very happy.
5. Guitar Lessons, the Gift of Music
And lastly, if your favorite music and guitar enthusiast is still just starting out, why not give him/her the best online guitar lessons?!
Giving the gift of music is the ultimate Christmas present 🙂