Rock & Roll is not as popular as it used to be, but lots of people still love listening to it. If you're one of them, you'll be happy to know that we have several Rock n Roll guitar lessons on TheGuitarLesson.com, which will have you playing these songs in no time.
Just as a primer, Rock & Roll started developing in the late '40s, early '50s. Initially, the lead instruments were either the piano or saxophone, which was later replaced by the guitar as the lead instrument. True Rock n Roll is played with a lead and a rhythm electric guitar, an electric bass guitar, and a drum kit. And of course, the singer's voice.
Rock and Roll wasn't just about music, it influenced lifestyle, people's attitudes, dance style, and fashion as well, set by the most famous Rock & Roll legends, such as Elvis Presley, Buddy Holly, Little Richard, Chuck Berry, The Beatles, etc.
Our Rock and Roll guitar tutorials
Playing Rock and Roll on guitar is pretty easy actually. As you might remember from 2 paragraphs ago, there is a rhythm guitarist and a lead guitarist. Rhythm guitar can be played by beginner guitar students as well, while the lead guitar parts will need a bit more training and experience. But rest assured, I'll walk you through everything in the following lessons.
You Never Can Tell by Chuck Berry
This classic rock n roll hit was made popular again in the movie Pulp Fiction, so the younger generation knows it as well.
I think the intro can be called one of the most popular rock & roll riffs of all time, it's just 1 measure long, but everyone knows it instinctively.
The rest of the song is cool as well, you'll learn a cool rock and roll chord progression, along with a nice solo at the end. Watch lesson >>
Jailhouse Rock by Elvis Presley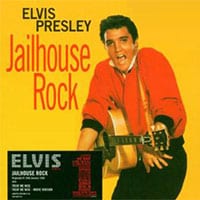 Not many people know this, but the music video to Jailhouse Rock is considered to be the first-ever music video. Interesting to see how things got started, and where it all evolved to.
Jailhouse Rock is another legendary Rock n Roll song, its elements are very descriptive of the genre.
You'll learn a number of really cool guitar techniques you'll be able to use in lots of other rock n roll songs as well, so if you're into the genre, make sure you hit this lesson. Watch lesson >>
Rumble by Link Wray
Rumble is an instrumental rock n roll piece, it has no singing at all. It was one of the first songs to use distortion, which gives it a harsh vibe. This was the reason it was banned on radio when it was released, which is really saying something, considering it is purely instrumental.
All this makes it a piece of Rock n Roll history as well.
Learning to play this song isn't difficult at all, it's all in the timing actually. There are just a few chords, so it's more than suitable for beginners. Watch lesson >>
Johnny B. Goode by Chuck Berry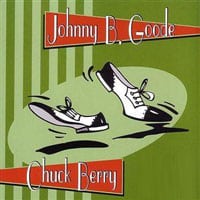 Johnny B Goode is arguably one of the most famous Rock n Roll songs ever written, so if you want to learn Rock n Roll guitar, you absolutely have to learn this song as well.
It's a lead guitar song, so it's a bit more difficult than the rest of the Rock & Roll guitar tutorials we have on our website. This means you should be at around an intermediate level before learning this song.
But once you get there, it'll be more than worth it. This fast-paced song is a staple of the Rock n Roll genre as well. Watch lesson >>
Twist and Shout by The Beatles
Feel like "twisting and turning"? Then you're in the right place my friend.
Twist and Shout as recorded by The Beatles is considered to be the best British Rock and Roll song of all time, for good reason. It moved a whole generation onto the dance floor in the '60s and made sure people did the Twist.
The song is pretty easy to play on the guitar as well, it's comprised of a few basic chords and strumming patterns typical of the Rock and Roll genre. Make sure you check out this video lesson as well! Watch lesson >>
Wipeout by The Surfaris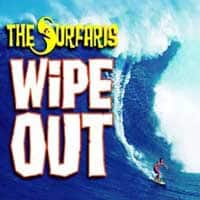 Wipeout is has a genre of its own, it's called Surf Rock n Roll. The basic elements of the genre can be found in this song as well, but the mood and vibe move it to the more specific surf rock sub-genre.
Again, this is a super famous song, which you'll be able to easily learn without video guitar tutorial.
It's great for beginners looking to advance their plucking skills since you'll be performing alternate plucking all throughout the lesson. Watch lesson >>
So there you have it, these are the Rock n Roll guitar tutorials we have on the site at the moment. If there are any other popular Rock and Roll songs you'd like to learn, please drop your suggestions in the comments below.