One of the most common questions I get from new guitar players is to answer the epic question once and for all, and decide whether
Is it best for beginners to learn on an acoustic guitar or an electric guitar?
This is a very interesting question that causes many disagreements between us, guitar teachers as well.
There are advantages and disadvantages of learning on either type of guitar, so I will try to list them all, and after you get a chance to read the pros and cons of both sides.
I'll give my opinion as well, but don't skip forward, please. Read the article in full, I want you to see things objectively before you hear my subjectivity.
Let's start off with the differences between the 2 types of guitar, as the pros and cons derive from here.
What are the differences between acoustic and electric guitars?
As a newbie to the world of guitars, you may be wondering just how are electric guitars different from acoustic ones.
| | Electric guitar | Acoustic guitar |
| --- | --- | --- |
| Body | Solid body which requires electric amplification to produce sound. | Hollow body. The vibration from the strings vibrates the entire guitar. The resonation is passed into the air inside the body, where it resonates and is naturally amplified to become sound, which exits through the soundhole. |
| Size and weight | Generally smaller, but much heavier than acoustic guitars. | Larger than electric guitars, because the body has to be relatively larger for the sound waves to get amplified. However, they are usually lighter, since they are hollow. |
| Neck | Usually slightly thinner, strings seem closer together. | Usually a bit thicker, strings are further apart. Classical guitars have even wider necks. |
| Strings | Thinner, lighter steel strings, easy on the fingers. Strings on electric guitars don't need to be heavy, because the sound is amplified. The thin strings make lead guitar techniques, like vibratos and bends easy. | Heavy steel strings that need to vibrate stronger, therefore they are harder to hold down. Lead guitar techniques are difficult to carry out. Lighter nylon strings are also used on acoustic guitars, which are easier to play, but have a more subdued tone. |
| String action | Since the strings are thinner than on the acoustic guitar, they don't need that much space to resonate. Because of this, the string action can be set lower, meaning the strings are closer to the neck. This makes them easier to fret. | The thicker strings on acoustic guitars need more room to vibrate, so they are a bit further from the neck. This makes them harder to hold down. |
| Tone | Thanks to the multiple pickups, the tone and volume knobs on the guitar, plus the effects you can apply with an amp, the tonal possibilities of electric guitars are endless. | Acoustic guitars without amplification have a single tone. There are tonal differences between the different acoustic guitars as well, which depends on the materials the acoustic guitar is manufactured with and the size of the guitar. |
| Music | Since electric guitars are amplified and effects are added to create a final tone, you can basically play any type of music with them (other than classical and folk). | The lack of amplification limits the use of acoustic guitars to music where the clean acoustic tone sounds good. These include country, classical, blues, pop, folk. |
Electric Guitar Pros and Cons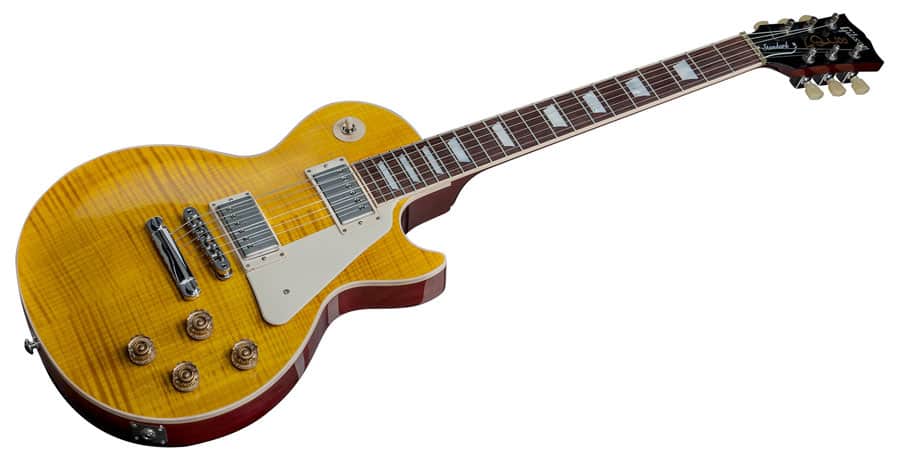 There are some definite benefits to starting on an electric guitar, but also some drawbacks.
Advantages of learning on an Electric Guitar
Holding down chords is easier, as the width of the neck will usually be narrower on electric guitars.
The strings on electric guitars are much softer than acoustic guitars, which makes playing the guitar easier on your fingers.
Learning to play barre chords is easier on the electric because of the lightness of the strings.
You can plug headphones into your amplifier, so you won't drive your household crazy 😉
Disadvantages of learning on an Electric Guitar
You need to buy an amplifier as well, which is extra $$$.
Finding the right tone is not that easy for beginners who know nothing about electric guitars and amps, and a bad sounding guitar might put them off.
Being able to play something on an electric will not mean that you can play it on the acoustic guitar as well.
Acoustic Guitar Advantages and Disadvantages
As with the electric, there are some advantages of starting to learn guitar on an acoustic, as well as some drawbacks.
Pros of learning on an Acoustic Guitar
If you can play something on a steel-string acoustic guitar, you'll be able to play it without any problems on an electric, something that cannot be said vice versa.
Many people (your household) will prefer the naturally soothing, calmer tone of the acoustic over the distorted, amplified electric.
You don't need to buy any cables or an amplifier to start playing.
Cons of learning on an Acoustic Guitar
Much tougher on your fingers than an electric. Absolute beginners will probably only be able to play for about 20 minutes before not being able to fret any strings anymore, due to the immense pain shooting in their fingertips. Of course, this only lasts a couple of weeks, until you start developing calluses.
The harder strings also mean that playing chords, especially barre chords will be much harder.
More string buzzing due to the harder strings.
Wider fretboard, something beginners will not always enjoy.
More brittle than electric guitars.
So which type of guitar should you learn on?
So, now you know both sides of the story. Do you want to know my opinion as a guitar teacher of 15+ years?
Ask yourself what kind of music you like, from there you'll be able to decide what type of guitar is used most in that genre.
If you like rock and metal, you should obviously get an electric. If you are into country, classical, or maybe aim to be a "campfire guitarist", get an acoustic. It's simple.
Either way you go, if you stick with the guitar, you'll naturally develop an interest in the other type of guitar as well, so you'll get one sooner or later 🙂
If you absolutely can't make up your mind, read on.
My opinion if you can't make up your mind
I learned to play on an acoustic guitar initially and started playing an electric later on. I am quite comfortable with the fact that even someone like me, with over 2 decades of experience, sometimes can't play something on an acoustic, but gets it on the first go on an electric. Sort of wants me to take beginner guitar lessons all over again 🙂
No, seriously, the electric is much easier to play physically, there's no doubt about it. So why is it, that I still recommend that beginners learn on acoustic guitars?
Simple. At the very beginning of your guitar journey, your single aim is to learn very basic guitar techniques, that you will be building on later on, regardless of the fact that you'll be playing the acoustic or electric guitar. As you read in the pros section of the acoustic guitar,
If you can play something on an acoustic, you'll be able to play it on the electric, but not necessarily vice versa...
The biggest frustration I, as a guitar teacher, have with recommending the acoustic as a starter guitar, is the fact that I know how many beginners give up really quickly after a very short period of time, simply because they find the whole concept of learning the guitar too hard. I am tempted to think that if I recommend the electric, which is easier to play, I might be able to save some of the "quitters". But this is probably not the case.
Teaching yourself to play the guitar takes perseverance and dedication, since you will run into problems on both types of guitars. If your personality is not such as to hurdle these challenges, or you are just not that in love with the guitar, then it will not have mattered that you started learning on an easier to play electric.
People who stick with it, and actually become guitarists, all have dedication towards music and the instrument itself. For them, initially learning on an acoustic will not mean an excessive challenge, but a chance to develop calluses quicker, strengthen their fingers faster (and stronger), and develop their guitar technique at a more advanced level. They know that building a sound set of skills is more important than taking the short road, since it might backfire later on.
So that's my 2 cents, but listen, I always say that if you are unsure, don't listen to anyone. Read up, gather some opinions, then decide for yourself based on simple logic and intuition. Always the best way to go.