All right, so you know how to read tabs (if not, learn to read tabs now), and you're ready to make some music. Fortunately there are thousands of easy guitar tabs for beginner guitarists, ready for your plucking.
The one's you'll end up loving to play will depend on what genre of music you're most in to. Please keep in mind that at a beginner stage, you can't really go wrong with any song tablature you end up learning, since everything you do is still aimed at getting better at the guitar.
With enough practice (and I mean like 30 minutes per day, so not much), you'll be able to play pretty much anything.
But for now, have a look at 10 of the easiest and popular beginner tablature my students love.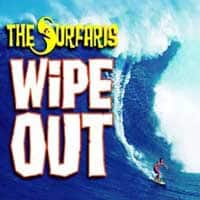 Wipeout - The Surfaris
A great beginner piece for practicing lead guitar.
No special guitar skills needed here, but the awesome surf vibe will have you heading for the waves 😉
Someone Like You - Adele
This mega popular hit actually consists of just a few basic chords. Who would've thought!
Again, the tablature is nice and simple, and have you practice some fingerstyle.
House of the Rising Sun - The Animals
Another classic fingerstyle song you won't want to miss, the tabs to House of the Rising Sun is very easy and fun to play.
There is a chord arpeggio part and a lead part to it as well, why not learn them both.
Good Riddance - Green Day
Also known as Time of Your Life, this Green Day hit is another example of how a simple song can be great.
Just a few chords and strumming, you'll have the Time of Your Life with this one 😉
Sunshine of Your Love - Eric Clapton
This one is back from Clapton's Cream era, and will give you a nice intro to the pentatonic scale, as well as some other lead techniques.
It's super simple to play, and if you get your distortion just right, you'll sound just like Eric Clapton!
Smoke on the Water - Deep Purple
The tabs to this song is popular with all beginner guitarists, it's probably the first song 70% of people learn to play on the electric.
The intro riff is easy to play and perfectly suitable for beginners, so give it a go.
Pink Panther theme
Who doesn't know the Pink Panther theme, right? Well, it turns out it's pretty easy to play.
This song will have you doing a couple of more challenging things, but don't worry, everything is detailed in the tabs and the lesson.
Hurt - Johnny Cash
Hurt is a really wonderful song to learn as a beginner, and if you feel like singing to it, you're more than welcome.
The tablature will show you the exact chords you'll need to play, so have a look.
Twist and Shout - Beatles
Basically all early Beatles songs are suitable for beginners, which is interesting when you think about it. Were they just learning guitar as well? 🙂
No, seriously, have a go at Twist and Shout, you'll find the exact strumming pattern in the tabs as well.
Hallelujah - Rufus Wainwright
Made popular in Shrek, Hallelujah is a wonderful song as well. It is just a tad more difficult than the rest of the songs above, but hey, you're here to improve, right?
If you have any more recommendations on tabs to easy beginner songs, please leave a comment, and I'll do my best to create a lesson for it.
Recommended tabs sites
Can't get enough? No problem, here are a couple of ways you can download all the tabs you need for several lifetimes: