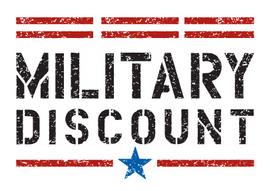 While society can never repay the debt we owe our veterans, we can all do our part. I personally would like to honor the bravery and sacrifice of the members of the military the best way I can, by helping them learn the guitar.
Numerous studies have shown that playing music helps relieve stress, boosts brain function, fosters self-expression, and generally promotes happiness in the musician's life, and those around them.
It does take discipline since learning guitar does take some time, but once you learn your first songs, you'll never look back.
72% discount to military members on our guitar lessons
I want to make the experience of learning guitar as affordable as I possibly can, so I'm offering a 72% discount over our regular pricing to veterans and military members who would like to learn guitar at TheGuitarLesson.com. This lowers the membership price to $29 per year ($2.41/month, regularly $9/month).
Here is a little video of what TheGuitarLesson.com is all about, check out our beginner's guitar guide as well.
Thank you!
Tom Fontana
Ps: If you already have an account on TheGuitarLesson.com, please log in before pressing the button above. If you don't have an account yet, then just press the button, and you'll be asked to create an account after payment.