B 13 chord intervals and notes
Intervals
1 - 3 - 5 - b7 - 9 - (11) - 13
Notes in B 13
B - D# (Eb) - F# (Gb) - A - C# (Db) - E - G# (Ab)
13th chords are formed by adding a 13th (6th) interval note to a dominant 11th chord, so adding the 13 to 1 - 2(9) - 3 - 4(11) - 5 - b7) to form 1 - 2(9) - 3 - 4 - 5 - 6(13) - b7. Notice that this results in 7 notes, but only 6 strings on the guitar, meaning at least one of the notes needs to be emited. The most important degrees in this chord are 1 3 6(13) b7, and in general the first note you would leave out is the 11th (4th).
B 13 Chord Charts, Fingering, Voicings
Here are 6 voicings of the B13 guitar chord, with a chord chart to each voicings' fingering.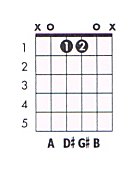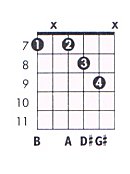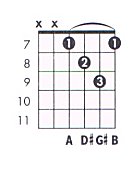 These B 13 guitar chord variations can be interchanged freely. If it sounds good, it is good!
Our chord library contains hundreds of popular chords you'll want to learn, so have at some more of our free guitar chords. Remember that learning chords is most effective through using them in songs.
Make sure you don't tuck your pinky away, even if you're not using it for a particular chord. It might come in handy for the next chord, but bringing it
Check out more B guitar chords, or go back and have a look at our entire free guitar chords library.