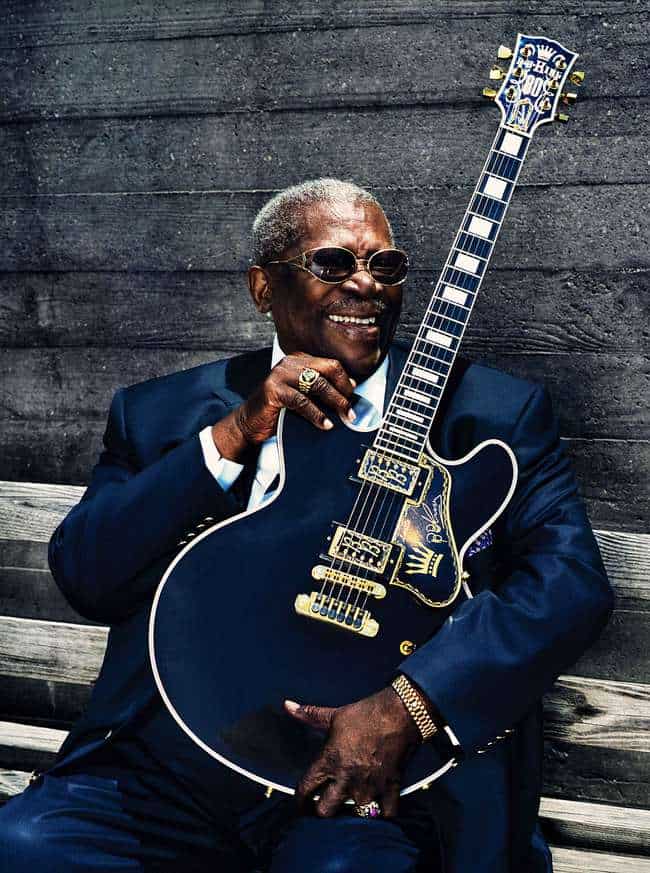 Birth name: Riley B. King
Born: September 16, 1925, Itta Bena, Mississippi, USA
Died: May 15, 2015 (age 89)
Years active: 1948 - 2015
Official site: http://www.bbking.com
The legendary B.B. King is unquestionably the King of the Blues. He is one of the most important electric guitarists of the last 50 years, shaping music as we know it, influencing thousands of players, like Eric Clapton, George Harrison, and Jeff Beck. Since he started recording in the 1940s, he has released over fifty albums, many of them classics.
[tab_container initial_open="1"]
[tab title="Bio"]
Playing style
Through the years, B.B. has perfected a uniquely identifiable guitar style. He was influenced by Blind Lemon Jefferson, T-Bone Walker and other blues greats, and added his precise string bends and vibrato, both of which have become indispensable components of a blues and rock guitarists' technique library. He has said that when he plays guitar, he aims to emulate a person singing.
He is a master of making each note count. He doesn't play super complicated riffs or solos, but his every note counts phrasing style has been an influence on tens of thousands of players, including names like Jeff Beck, Eric Clapton, and many more.
B.B. has created a unique sound, mixing traditional blues, swing, pop and jazz.
Life story
B.B. King's real name is actually Riley B. King, we'll get to how he got his nickname in a minute. He was born on a Mississippi cotton plantation in a small shed on September 16, 1925. His father left their family in 1930, after which, his mother remarried. B.B. was mostly raised by his maternal grandmother.
Legend has it, that B.B. bought his first guitar at the age of 12 for $15. He sung in a local gospel group as a child. When he turned 18, B.B. got a job as a tractor driver. At the age of 21, he moved to Memphis, Tennessee, the musical capital of the South, to live with his cousin, Bukka White, who was an accomplished blues musician. He became one of B.B. King's first inspirations.
B.B. started working as a singer and DJ for a local radio station in Memphis. This is where he actually got his nickname, B.B. At the station, they called him "Beale Street Blues Boy", hence B.B.
King made his first recording in 1949, and hasn't stopped since.
He was the first African American blues player to go on tour in the USSR in 1979, by which time, he had already achieved fame, and was one of the most sought after musicians. He played on average 250 gigs per year, with a whopping 340 gigs in 1956.
B.B. was inducted into the Blues Hall of Fame in 1980, and into the Rock and Roll Hall of Fame in 1987.
He has collaborated with dozens of music stars, including Eric Clapton, U2, and many more.
He has released over 50 studio albums, and has amassed a large collection of awards and honors for his music.
BB King passed away on May 15, 2015. He passed in his sleep, with no pain.
I am filled with regret, since even though BB toured non-stop even in his old age, I never got to see him perform live.
Eric Clapton drew inspiration, like many, from BB. He posted a touching video on YouTube after BB passed, here it is.
Lucille, B.B. King's guitar
Anyone familiar with B.B. King knows, that his guitar is called Lucille. It's not actually a single guitar he's been playing for decades, there have been many Lucilles since that day in 1949, when he started naming his guitars after a lady, he didn't even know.
The story behind it was that B.B. was playing at a club in Arkansas, where they still used a barrel of burning kerosene as heating. 2 men got into a fight, knocked the barrel over, sending burning kerosene across the club, which quickly caught on fire.
B.B. evacuated the burning building, but as he left realized that he had left his guitar inside. Without a second though, he ran back into the burning building to get it. Not smart, but thankfully it ended well.
He found out that the 2 men were fighting over a woman named Lucille, so he gave his guitar that name "remind me never to do a thing like that again".
Family life
King has been married 2 times during his life, both marriages ended because B.B. was always on the road gigging. His wifes were:
Martha Lee Denton, 1946 to 1952
Sue Carol Hall, 1958 to 1966.
B.B. has 15 children and more than 50 grandchildren.
B.B. King's businesses
Besides his music franchise (singles, albums, product licensing), he is also the owner of several blues clubs across the US, aptly names "B.B King's Blues Club".
[/tab]
[tab title="Gear"]
You will be surprised at just how simple King's guitar rig is. He basically just has his guitar going direct to an amp.
He is loved by club owners, since he never makes a big deal out of the amp they give him. He makes do with whatever they have.
Guitars: B.B. started out by playing the Fender Telecaster, but switched to the Gibson ES-355 in the '70s, and has been playing this ever since. Gibson released a B.B. King signature guitar as well.
Amps: His main choice is the Lab Series L5 2x12" combo amp, which was made by Norlin Industries for Gibson '70s and '80s. It is no longer produced.
His second amp choice is a Fender Twin Reverb.
[/tab]
[tab title="Pictures"]
[/tab]
[tab title="Videos"]
First of all, check out this awesome set of interviews and lessons with B.B. himself.
B.B. King Live, full concert
http://www.youtube.com/watch?v=eLbYTdmaJZU
B.B. and his friends
The Thrill is Gone (one of his best songs I think)
[/tab]
[/tab_container]
https://www.theguitarlesson.com/wp-content/uploads/2014/03/bb-king-12.jpg
873
650
Tom - TheGuitarLesson.com
https://www.theguitarlesson.com/wp-content/uploads/the-guitar-lesson-logo.png
Tom - TheGuitarLesson.com
2014-03-11 21:16:58
2019-06-04 13:16:09
B.B. King