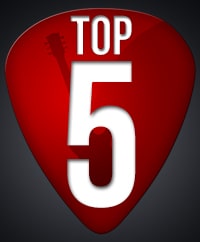 Hello everybody, welcome to this month's post on the most viewed lessons on TheGuitarLesson.com. Every month, I like to share a bit of the viewership statistics of my site, with the intent of motivating you to grab your guitar and start practicing a few songs.
May is the precursor to June, the beginning of summer. Traditionally the summer is an off-season for guitar teachers, since most students are out in the open, traveling, vacationing, doing summer things.
This year, I'm hoping to see less of a drop in viewership. Hopefully after reading this post, you will want to learn a few of these popular songs. These are the guitar lessons that were viewed most often last month, so I'm sure you'll have fun with them, just like my other students did.
The 5 top guitar lessons of May, 2017
5. Father and Son - Cat Stevens
Father and Son is a very heartfelt song written several decades ago. Nevertheless, it will never fall out of favor, because all fathers can, and will relate with the song. You'll be learning lots of chords and strumming techniques with this song, along with a great solo line you can play on your acoustic.
4. Lullaby - Johannes Brahms
Lullaby is the original cradle song, the first one ever written. If you are a parent, you'll definitely know the melody, as you've probably heard it a few hundred times. Our lullaby guitar lesson will teach you a very nice fingerpicking version of the song, your baby will love it.
3. Somewhere Over The Rainbow – IZ Kamakawiwoʻole
This has got to be one of my favorite songs of all time. Actually, it's probably one of the favorite songs of lots of people 🙂 The mellow Hawaiian vibe that IZ brings to the Judy Garland classic is hard to beat in it's genre. This lesson will teach you a unique strumming technique that emulates the Ukulele well, so make sure you learn it.
2. Don't Worry Be Happy - Bobby McFerrin
This is another feel good song, which will give you the chance to learn a bit of reggae strumming. Bobby McFerrin created this a capella, so we are cheating a bit here. Don't worry be happy is a very popular lesson among my students, so I'm sure you'll love learning it as well. 
1. Summer of 69 - Bryan Adams
If you haven't heard the news, summer is here 🙂 Nothing shows it more, than the fact that our Summer of '69 guitar lesson became the most watch tutorial in May. I have to admit, it is an awesome song, and what's more, it'll teach you a lot of techniques you'll be able to use in other songs as well.

Now that you have seen what other students have been learning lately, isn't it time to grab your guitar and start learning? You were probably thinking the same things 🙂
Have fun, and I'll see you in one of the lessons!
https://www.theguitarlesson.com/wp-content/uploads/the-guitar-lesson-logo.png
0
0
Tom - TheGuitarLesson.com
https://www.theguitarlesson.com/wp-content/uploads/the-guitar-lesson-logo.png
Tom - TheGuitarLesson.com
2017-06-09 14:57:50
2018-05-16 07:44:20
Most watched lessons - May 2017