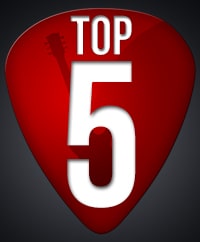 Hi guys, welcome to this month's review of the most popular tutorials. Every month, I analyze what my online students learned the most, to get a feel for what you like, and what sort of lessons are popular.
I have always done this for myself, but the reason I'm making this info public, is that I hope it will garner a sort of social-practice effect. I'm hoping that if you guys see what other students have been playing, it will get you playing those songs as well, so you'll practice that much more.
If you like this series of posts, make sure you check back at the beginning of every month to see what the newest "trends" are, with regard to the most popular videos. While there are some tutorials that are on the list 90% of the time, there are always new ones as well.
Top lessons in September, 2014
Now let's have a look at which were the most watched lessons last month.
5. Love Me Again - John Newman
I published this song almost at the end of the month, so it might have climbed up higher than the no. 5. position. We'll see how it performs next month, especially since it's a really fun song to play along with the original. It's made up of just 4 chords which you strum non-stop, so if you're into rhythm guitar, this one's for you.
4. Samba Pa Ti - Santana
This Santana classic is one of those songs that is usually in the top 5 list. It's a great song to learn if you're getting started with the electric guitar and want to learn a bit of lead. If that is the case, you'll also want to read up on Santana's bio, he's had an amazing life.
3. You Never Can Tell - Chuck Berry
Chuck Berry is known as the father of Rock n Roll, due to songs like this one. You Never Can Tell is one of his most famous hits, and if you like it, you should learn more of his songs, like Johnny B Goode. These are the songs that helped shape contemporary music.
2. Spanish Guitar Lesson
This is another lesson that is always popular among my students, so if you have a classical guitar, this is a must learn for you. If you have an electric guitar, you might not get the full effect of playing this song, but you can still try it. Just turn off your distortion 😉
1. Lullaby
The most watched lesson (by far) was a new lesson last month, Lullaby by Brahms. This was a very special lesson for me, since it features by son, while I play guitar for him 🙂 He is 16 months old right now, and loves listening to the guitar, so if you have a baby/toddler at home, you really have to give this lesson a shot. You'll need to practice it a bit, but once the song gets under your fingers, it's actually simple to play.
Thanks for reading this post, I hope it has inspired you to pick up your guitar right now, and learn one of the songs above. Have fun!
https://www.theguitarlesson.com/wp-content/uploads/the-guitar-lesson-logo.png
0
0
Tom - TheGuitarLesson.com
https://www.theguitarlesson.com/wp-content/uploads/the-guitar-lesson-logo.png
Tom - TheGuitarLesson.com
2014-10-05 12:12:59
2016-07-01 09:38:22
Top 5 lessons of September, 2014