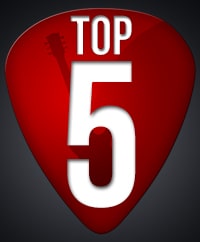 Hello everybody, welcome to another Top 5 Lessons post. If you have been following this series, you'll know that every month, I drill through my website's statistics looking through how you guys have been using the site, and I publish the top 5 most watched video lessons.
Why? To give you motivation! Seeing what your peers are doing will get you practicing more as well.
There are a lot of people around the world dreaming of being able to play guitar, but few take action. You have taken action, and you should be proud. Know, that your dreams of becoming a good guitarist depend on just 1 thing. Your practice diligence. The more you practice, the better you'll get. It's a simple equation really.
All great guitarists were once beginners, but their passion for the instrument and towards music got them where they are today. You too, can achieve anything!
The 5 top tutorials of October, 2015
5. Samba Pa Ti - Santana
Samba Pa Ti is an all time classic Santana masterpiece, which is actually not that difficult to play. Before you learn this song, check out Santanas very own explanation on what he was trying to express with this song.
4. Stand by Me - Ben E King
Stand By Me is a barre chord song, and usually isn't on the top 5 list. I'm guessing since the summer is over, people are starting to pick up the guitar again. This song is great for practicing your barre chords. It is actually my top pick for beginners looking to learn barre chords.
3. You Never Can Tell - Chuck Berry
You Never Can Tell is a real Rock N Roll classic by Chuck Berry, giving you a taste of Chuck Berry's style of music. The original song has of course has a full band playing, so the guitar part on it's own isn't that exciting, but you can really grove out if you play it along with the original or a backing track.
2. Home - Phillip Phillips
This song was new this month, and as such, it was bound to be on the top 5 list. Home is a fairly advanced song. If you have been playing guitar for a while, I really encourage you to learn this song, your technique will advance by leaps and bounds.
1. All of Me - John Legend
Just like Home, All of Me was freshly released in October as well. The song was one of the most successful songs of 2014, and it's pretty easy to play. The song was written for piano, but since it is very simple, we can play a semi authentic sounding guitar cover.
So there you have it, you have now had a peek inside the practice sessions of other beginner-intermediate guitarists. I urge you to keep at it, take action, and learn these songs as well. Each will develop your guitar skills in unique ways, making you a better guitarist.
https://www.theguitarlesson.com/wp-content/uploads/the-guitar-lesson-logo.png
0
0
Tom - TheGuitarLesson.com
https://www.theguitarlesson.com/wp-content/uploads/the-guitar-lesson-logo.png
Tom - TheGuitarLesson.com
2015-11-07 12:15:25
2016-07-01 09:30:08
Top Lessons of October, 2015