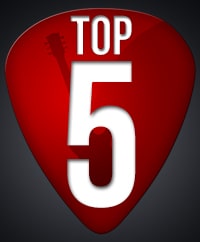 Hi there, and welcome to our regular post on the most watched video tutorials of the month. If you have been following this series of posts, you'll know that at the beginning of every month, I compile the view statistics for our video guitar lessons, and make them public.
I do this hoping that you will be motivated to practice the songs other guitar students are practicing, thereby get you to practice more.
February is a very interesting month, not just because it's the shortest month of the year, but also because a lot of people, who got a guitar for Christmas, will quit by February. It's sad but true...
But of course, you are still here, which is what really counts. Good job, keep it up! Learning guitar is not the easiest thing in the world, but hey, when was anything good ever easy? You need dedication and patience, and you will be richly rewarded.
I love it when my 19 month old son watched with amazement as I play guitar for him. How times change, a few years ago, I used to love it when girls at gigs used to watch me with amazement 🙂
Top 5 lessons in February, 2015
All right, now let's have a look at what my online students have been practicing in the cold winter month of February.
5. Samba Pa Ti - Santana
Santana is one of the best guitarists in the world, and has been pumping out great music for decades. He is actually one of my favorite guitar personalities, since he is a very kind person, and very spiritual. Check out the poems he posts on his Facebook page after you learn to play Samba Pa Ti.
4. You Never Can Tell - Chuck Berry
This song is an all time classic by Chuck Berry, the father of Rock n Roll. The song is consistently on the top 5 list, for good reason. If you want to be a well rounded guitarist, this song is a must learn.
3. Paint It Black - The Rolling Stones
This lesson was released in February, and new songs usually make it into the Top 5 list. It is always interesting to see whether they hold their position, or gradually fall off. Paint It Black is a really cool, classic Rolling Stones song. If you like it, make sure you check out some other Rolling Stones lessons as well.
2. Wipe Out - Surfaris
This was actually the very first song I learned to play after I got my first electric guitar. If you are a beginner, make sure you have a go at this one. It will give you instant satisfaction, since it's pretty easy to play, you'll pick it up very quickly, and it sounds great. Especially when you play it along with the provided backing track.
1. Wonderful Tonight - Eric Clapton
Wonderful Tonight by Eric Clapton was released in January, and it looks like it managed to hold on to it's no. 1 spot in February as well. This sounds like the making of a new favorite song on the site. That's great, I'm always looking for songs that my students will love. The song is perfect for beginners, it has easy open chords you can strum or arpeggiate. If you like Eric Clapton songs, I've got more lessons by him.
And this concludes the Top 5 list for February, these were the songs that a lot of my students were playing. Did you see anything you like? Good! Now go grab your guitar, and start playing 🙂
https://www.theguitarlesson.com/wp-content/uploads/the-guitar-lesson-logo.png
0
0
Tom - TheGuitarLesson.com
https://www.theguitarlesson.com/wp-content/uploads/the-guitar-lesson-logo.png
Tom - TheGuitarLesson.com
2015-03-04 12:14:42
2016-07-01 09:32:37
Top 5 lessons of February, 2015