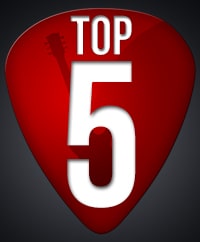 Hi guys, welcome to another installment of my "regular" TOP 5 posts. I used quotation marks, since I didn't write last month's post. Too many things going on during the summer for my family.
We were on 2 vacations, camps for the kids, fun at the beach. It's been a great summer!
Autumn is hitting us with a bang. Lots of rain, which means lots of practice time. Visitor stats have already started climbing, which is natural due to the seasonality of the guitar biz.
I hope you didn't neglect our guitar during the summer (like me), but if you did, it's time to jump back into it.
Here are the most viewed lessons of last month.
5 most viewed guitar lessons of August, 2018
5. Smoke on the Water - Deep Purple
Smoke on the Water is a perfect song for beginners looking to learn the electric guitar. It has an amazing, yet amazingly simple riff that all beginners love playing. This is really one of those songs that all newbies have to learn, since it provides a lot of motivation to keep on practicing and advancing. You'll learn double stops, power chords, and more. 
4. Tush - ZZ Top
It looks like more electric guitar lovers visited the site last month, since the 4th song on the list is also a great electric guitar song. Tush is an awesome blues rock song. It is a level III song, so it's not for beginners. There are a lot of more advanced things going on in the lesson, but if you're at an intermediate level and haven't learned this song yet, just get your guitar now and click on the link.
3. 12 Bar Blues in E
Blues is one of the most popular guitar genres, and I have to admit, I don't have enough blues lessons on the site. This, however, is my favorite one. It's a 12 bar blues in the key of E. I play it on the acoustic, but you can play it on the electric as well. It'll teach you a lot of blues guitar techniques that you'll be able to use in other songs, beyond the simple blues shuffle. If you want to dive deeper into the world of blues guitar and learn the genre, check out my new post on the best blues guitar lessons and courses.
2. Ring of Fire - Johnny Cash
This song is another great song beginners can practice. Just like Smoke on the Water, it's easy to play, and thus provides a lot of motivation to keep on going. After all, learning guitar is about playing music, right? No boring scales or exercises here, as you'll be learning how to play one of Johnny Cash's greatest hits, even if you just started playing guitar a few weeks ago.
1. Pink Panther Theme Song - Henry Mancini
Pink Panther is a very popular song on TheGuitarLesson.com. It is recommended as one of the early songs to learn in our Beginner's guitar guide, so loads of students hit it up every day to learn it. It is great for learning basic guitar skills, such as alternate picking, power chords, hammer ons, and many more.
This concludes the Top 5 list for August, I hope your found something to start learning right now. Remember that other students just like you are learning to play these songs right now, so why not join them?
Have fun, and I'll see you in one of the lessons!
https://www.theguitarlesson.com/wp-content/uploads/the-guitar-lesson-logo.png
0
0
Tom - TheGuitarLesson.com
https://www.theguitarlesson.com/wp-content/uploads/the-guitar-lesson-logo.png
Tom - TheGuitarLesson.com
2018-09-03 13:32:00
2018-09-03 13:32:00
Top Guitar Lessons - August, 2018