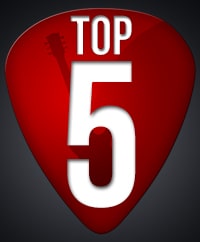 Hello my young Padawans, welcome to this month's edition of the most watched guitar lessons on TheGuitarLesson.com. Every month for the last few years now, I've let you peep inside my site statistics, and shown you exactly what your peers are playing and practicing a lot.
Why do I do this? To get you motivated to practice more, as much as possible. We have some great lessons on very popular songs. Learning to play them is fun, and it helps develop your skills as a guitarist.
So drum-roll please, let's see what you guys have been up to.
The 5 top tutorials of October, 2016
5. Thinking Out Loud - Ed Sheeran
This great Ed Sheeran song is a new entrant in the prestigious Top 5 list. The last time it was here was the month of it's release, but that is to be expected. I think the reason this song was so popular this month, was the #2 song below. It was co-written by Ed Sheeran, and people wanted to see what other songs he has. Either way, I'm glad it's here. This is, of course, a great song, and it will teach you a really cool slap strumming technique. Check it out!
4. Somewhere Over the Rainbow - Israel IZ Kamakawiwoʻole
Undoubtedly one of my favorite songs, Somewhere Over the Rainbow by IZ is becoming a timeless classic, even bigger than the original Judy Garland version from The Wizard of Oz. IZ plays it on the Uke, but we can get a very authentic Uke effect by using a capo and a finger strumming pattern, I'll show you in the video. Make sure you learn this one!
3. Stay With Me - Sam Smith
This song was actually released in September, and it made the October top 5 list again. That means you like it, you really like it 😉 But seriously, I didn't think this one would be such a hit. I didn't even get any requests for this song, I just wanted to make a lesson on it because it was a good one for beginners, and the song itself was really popular.
2. Love Yourself - Justin Bieber
This was a new lesson released in October. To be honest, I thought more people would like it, but it turns out Justin Bieber isn't very popular with my students. I even got a few hate letters about it, I don't think I've ever received negative letters after releasing a lesson 🙂 Nevertheless, I still think Love Yourself is a good song to learn. It's catchy, and easy to play, even for guitar newbies.
1. You Never Can Tell - Chuck Berry
You Never Can Tell is consistently one of the most watched lessons on our site. It's a great song to learn not just because it's awesome, but also because it will develop your guitar skills in a number of ways. There's the cool intro at the beginning, the chords, strumming, and of course, if you're up for it, you can even sing along with the song.
We are quickly coming up on the holidays, just a few more weeks. If you want to surprise your family and friends with a few Christmas songs, make sure you have a look at our Christmas guitar lessons page as well, beside the great songs listed on the top 5 list. Have fun!
https://www.theguitarlesson.com/wp-content/uploads/the-guitar-lesson-logo.png
0
0
Tom - TheGuitarLesson.com
https://www.theguitarlesson.com/wp-content/uploads/the-guitar-lesson-logo.png
Tom - TheGuitarLesson.com
2016-11-11 08:24:20
2018-05-16 07:44:21
Top 5 Video Lessons: October, 2016