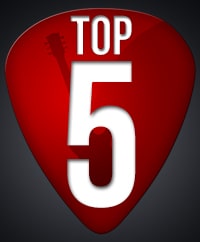 Hello gals and guys, hope your summer is going great! I know it's hard to find time to practice during the summer, everything else is more important. If all else fails, grab your guitar at night before going to bed, or while watching TV, and just doodle along.
Keep in mind that regular practice will pay off in the short and long term, so taking a few months off for the summer is not cool 😉
The reason I'm talking about this so much is that the guitar lesson business is a seasonal one, be it live lessons or online. It's been a super hot summer in the US, and I can really see it in the statistics. A lot of you aren't practicing as much as you should. You know who you are 🙂
To give you some motivation to practice more, have a look at what other TheGuitarLesson.com members have been learning in the month of July.
The 5 top tutorials of July, 2015
5. Wipe Out - Surfaris
This song is now a constant member of the elite Top 5 club. The reason I think so many people learn it month after month is that it is very easy, compared to how it sounds. This is actually the song I recommend beginners use, to improve their plucking skills.
4. You Never Can Tell - Chuck Berry
You Never Can Tell by the legendary Chuck Berry will never get old. This song is also among the top 5 list at least 1 out of 2 times, which just goes to show you that classics will never die.
3. Samba Pa Ti - Santana
Santana's Samba Pa Ti is another great song to learn, if you want to advance in the direction of lead guitar. It's more of an intermediate level lesson, and as such, will have you bending and sliding and skipping strings non stop. In short, it'll really improve your guitar lead guitar skills, while teaching you a great song.
2. She Will Be Loved - Maroon 5
The Pink Panther Theme is a great beginner tune, and as such, if you're just starting out on the guitar, learning it is a must. It'll teach you a lot of techniques, from power chords to various lead techniques, string skipping, alternate plucking, etc.
1. Redemption Song - Bob Marley
The most watched guitar lesson in July was another new lesson, one Bob Marley's greatest works, Redemption Song. I am not at all surprised that this tutorial was view 3x more than the runner up, She Will Be loved, since it is one of the most famous songs in the world, especially among people who have something to do with the guitar, at least an infatuation. The song is very easy, so have a look and sing along with the backing track.
All right, you know the drill. Go grab your guitar, and start learning already 🙂 And remember, play everything you learn to your friends and family!
https://www.theguitarlesson.com/wp-content/uploads/the-guitar-lesson-logo.png
0
0
Tom - TheGuitarLesson.com
https://www.theguitarlesson.com/wp-content/uploads/the-guitar-lesson-logo.png
Tom - TheGuitarLesson.com
2015-08-11 12:15:23
2016-07-01 09:30:22
Top 5 Tutorials - July, 2015