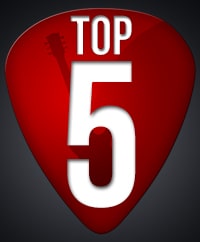 Oh my, another month has passed, which means not just that I'm getting older, but also that it's time to publish another monthly report on the most watched guitar lessons on TheGuitarLesson.com.
Every month, I analyze my website's analytics, to see what is hot, and what is not. I write a post about the 5 most popular lessons of the month, in the hopes of motivating you to learn the songs, that other beginner guitarists are learning as well. Sort of like a social push, if you will.
September means the end of summer, school starts, and in general, guitar students start practicing again. Let's see what you all were learning in September.
The 5 top tutorials of September, 2015
5. Spanish guitar lesson
If I were to make an all time top list watched lessons list, this Spanish guitar lesson would definitely be on it. Sometimes it slips off of the monthly top 5, sometimes it gets back on it. This one is definitely a constant favorite of my students.
4. Wipe Out - Surfaris
If you are just starting out on the electric guitar, this song should be one of the first ones you learn. It will dramatically improve your alternate picking, and string jumping skills. But of course, if you've been playing for a while, but haven't learned this song yet, make sure you do. It's loads of fun, especially with a backing track.
3. Stand by Me - Ben E King
Stand By Me is a barre chord song, and usually isn't on the top 5 list. I'm guessing since the summer is over, people are starting to pick up the guitar again. This song is great for practicing your barre chords. It is actually my top pick for beginners looking to learn barre chords.
2. Creep - Radiohead
This song was freshly released in September, and was another lesson I recorded based on a request. Looking at the detailed analytics, it doesn't look like this one will be sticking around in the top 5 list, which is a shame. Regardless, if you play the electric guitar, and have a good grasp of barre chords already, give it a go.
1. Sugar - Maroon 5
The most watched lesson on TheGuitarLesson.com in the month of September was another freshly released lesson, Sugar by Maroon 5. I have several Maroon 5 lessons on the site, and had to add this one as well. It was very popular for a long time after it's release, and it gives us a chance to practice playing rhythm guitar.
That concludes this month's list, hope you enjoyed reading about what other students have been doing. And now it's time to take action. Grab your guitar, and learn one of the songs from the list. Have fun!
https://www.theguitarlesson.com/wp-content/uploads/the-guitar-lesson-logo.png
0
0
Tom - TheGuitarLesson.com
https://www.theguitarlesson.com/wp-content/uploads/the-guitar-lesson-logo.png
Tom - TheGuitarLesson.com
2015-09-04 12:12:53
2016-07-01 09:39:02
Top 5 lessons of September - 2015