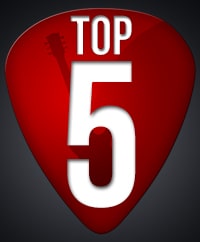 Hello there, welcome to this month's edition of my ongoing series covering the most watched lessons on TheGuitarLesson.com. Every month, I dive into Google Analytics, and analyze what you guys have been doing on the site for the last month.
And why do I make this part of my findings public? Simple. I want you to see what your peers have been learning. Real people from all over the world are in your shoes right now, learning the guitar, and these are the songs they have been practicing.
Go through this list, and let it motivate you to learn the songs you haven't covered yet, practice more often, and reach your guitar goals.
The 5 most viewed lesson pages in May, 2015
Here are the most watched tutorials of May.
5. Pink Panther theme - Henry Mancini
This was one of the first songs I ever learned, and as such, it's great for beginners. It will teach you a ton of important guitar skills, which you'll use very often. Oh, and it's a great song as well 😉
4. Spanish guitar lesson
One of the most popular songs on TheGuitarLesson.com, this Spanish guitar lesson will introduce you to some of the basics of playing Spanish guitar. If you haven't watched this lesson yet, do so right now. The song itself sounds amazing, and it's easier than you think.
3. Wipe Out - Surfaris
If I was asked to choose which song to recommend to a total beginner, it would be this song. It teaches basic fretting and plucking skills, which all beginners need to master to be able to move on. If you are just starting out on the guitar, you'd be wise to learn Wipe Out. Also, if you are an established player and don't know this song yet, learn it, it's loads of fun.
2. Samba Pa Ti - Santana
The runner up in our top 5 list for the month of May is an old favorite, Samba Pa Ti, by the great Carlos Santana. This is an electric guitar song, which teaches important lead guitar techniques, so if that's your genre, you know what to do next 🙂
1. You Never Can Tell - Chuck Berry
This Chuck Berry classic takes spot number 1 in this month's top 5 list for good reason. It's a very popular song, and even though it is one of the oldest in our catalog of song lessons, it's one of the most enjoyable ones to play.
And there you have it, these were the songs most of my students chose to learn last month. Of course, I do not include the basic lessons in the top 5 list, since those would dominate the top 5 list. I only include lessons on real songs, after all, that's why you started learning the guitar as well. To learn to play the songs you love.
Now go grab your guitar, and start practicing!
https://www.theguitarlesson.com/wp-content/uploads/the-guitar-lesson-logo.png
0
0
Tom - TheGuitarLesson.com
https://www.theguitarlesson.com/wp-content/uploads/the-guitar-lesson-logo.png
Tom - TheGuitarLesson.com
2015-06-03 12:14:53
2016-07-01 09:31:40
Top 5 Lessons of May 2015