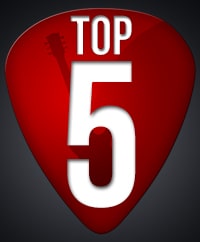 Hello my young Padawans! It's that time of the month again, time to review what you guys have been up to on TheGuitarLesson.com, what you've been learning, watching, sharing.
While I was getting ready to write this post, I realized that I forgot to create the Top 5 post for October. My bad, sorry about that to everyone who anxiously awaits this series of articles. No but seriously, I don't even know what happened, I have my Google calendar set to remind me in the beginning of every month to write this post, I don't know how I didn't notice.
Anyhow, the show must go on!
The holidays are coming up, which is always a big time of the year in the guitar world. Lots of people get guitars, start practicing, and start becoming the guitarist they've always dreamed of being.
Now let's have a look at the most popular guitar lessons of October.
The 5 top guitar lessons of October, 2017
5. Jingle Bells
Hohoho 🙂 What could be more festive, than learning to play Christmas songs for your family on Christmas eve. Or day. Depending on where you celebrate it. This guitar lesson on Jingle Bells is very easy, so early beginners can show off their stuff.
4. Jingle Bell Rock - Bobby Helms
Wow, 2 Xmas songs on the top 5 list for November? You guys are really starting to feel the holidays. And great choice with this one, it's a classic Christmas tune that everyone knows. It's amazing that Bobby Helms released this song exactly 60 years ago! And it still brings a smile to everyone's face. What a song!
3. One Love - Bob Marley
I released 3 new song lessons in November, and One Love was one of them. To be honest, I was expecting a bit more from this one. Maybe since this song uses barre chords all the way through, lots of beginners were discouraged. Don't be! Barre chords are hard at first, but they will get easy with practice. What's more, learning them will open the gates to tens of thousands of songs, and many genres that require you to be able to hold down barre chords.
2. Say You Won't Let Go – James Arthur
Say you won't let go was another new lesson in November, and it beat One Love by just a bit. 1 view actually, so you could say that is statistically insignificant. If you like fingerstyle songs and jamming on the acoustic, this one's for you. It's loads of fun, and will teach you many new guitar skills.
1. Tush - ZZ Top
All right, now we're talking 🙂 This awesome blues rock song was released towards the end of the month, but it still beat all other contestants out for the most popular guitar lesson in the month of October. This is a great song if you love electric blues. I'm not going to say it's super easy, there's lots to it actually, so take it one day at a time.
Now it's your turn. Grab your guitar, start practicing, and let me know how it goes. Oh, and make sure you watch some of our Christmas guitar lessons as well.
https://www.theguitarlesson.com/wp-content/uploads/the-guitar-lesson-logo.png
0
0
Tom - TheGuitarLesson.com
https://www.theguitarlesson.com/wp-content/uploads/the-guitar-lesson-logo.png
Tom - TheGuitarLesson.com
2017-12-01 13:42:54
2018-05-16 07:44:18
Top 5 Lessons - November 2017