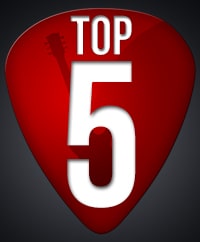 Hey guys and gals, welcome to this month's roundup of the 5 most watched lessons. Every month, I dig through my Google Analytics dashboard, to find the most popular videos.
I do this not just to learn about your viewing habits, but also to share it with my students here, so that you can get some motivation out of knowing what other people have been playing.
The month of March turned out to be an interesting one, since I had a 5 day free access special, where every registered member got access to the premium lessons. Loads of free members came to learn from the premium lessons, which shifted things a bit towards the easier videos.
Have a look below.
5 most popular lessons in March, 2015
Because of the flood of free members coming to see premium content, several new lessons have made it into the top 5 list in March.
5. Pink Panther theme - Henry Mancini
Even though this is a great lesson and a really fun song to learn for beginners, the Pink Panther theme has never been part of the Top 5 list. If you are a beginner and haven't learned this, do yourself a favor, and head on over to this lesson. You won't regret it.
4. Wipe Out - Surfaris
Ever hear the expression "Oldie but goodie"? Well, Wipe Out would more than qualify for this title. This is another beginner lesson suitable for absolute newbies, and as with Pink Panther, this one is a lot of fun to play as well. Once you know the riffs, make sure you play it along with the original song or the backing track.
3. You Never Can Tell - Chuck Berry
This great song by Chuck Berry is usually part of the Top list, which is very interesting, since I don't think you would guess that such an old song would still be so popular. Don't get me wrong, this is a great song, and I guess it just goes to show you that great music will never die.
2. Paint It Black - The Rolling Stones
Paint It Black is the newest Rolling Stones lesson we have on the site, and it seems to be doing really well. Lots of people are learning it daily. It's more of an intermediate song, and it'll teach you a lot of new techniques, and perfect some vital guitar skills you'll need to progress as a musician.
1. Wonderful Tonight - Eric Clapton
This lesson was released on TheGuitarLesson.com in January, and it's still holding on to it's no. 1 spot. If you like Eric Clapton songs, here are some more video tutorials I've recorded in the past.
And this concludes the most popular tutorials list for the month of March, I hope you're eager to grab your guitar and start practicing some of the songs from above. Have fun!
https://www.theguitarlesson.com/wp-content/uploads/the-guitar-lesson-logo.png
0
0
Tom - TheGuitarLesson.com
https://www.theguitarlesson.com/wp-content/uploads/the-guitar-lesson-logo.png
Tom - TheGuitarLesson.com
2015-04-02 12:15:35
2016-07-01 09:29:13
Top 5 lessons - March 2015