If you follow my site regularly, you'll know that I share the most watched guitar lessons on the site every month. I hope the added social factor of knowing what your peers are up to is enough, to get you practicing more.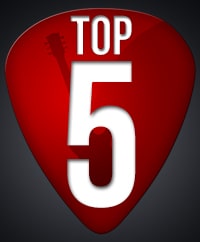 Be it the songs other students are practicing, or not, the point is to realize that other's are in your shoes as well, and they know that the only way to move forward, is to practice as much as possible.
The sooner you realize this and act upon it, the sooner you'll become an awesome guitarist.
Top lessons in March, 2014
You may already know, that among the top lessons of every month, we will find several basic lessons as well. Those lessons are important, but the song lessons are where the fun really begins, so every month, I expand the list to as many as needed for it to include the top 5 song lessons.
In March, we had 4 basic lessons as such, so I'm expanding the list to the "Top 9 lessons of March".
9. Stand By Me - Ben E. King
This is a really fun song, and it's great for learning to play barre chords. The song revolves around 4 barre chords actually, 2 E shaped barre chords, and 2 A shaped barre chords.
8. Ring of Fire - Johnny Cash
Not a month goes by where this Johnny Cash song is not in the Top 5. Or Top 9. Or Top X... You know, it depends 😉 This is a really simple song perfect for beginners who want to perfect their strumming and chord changing skills.
7. Basic guitar lesson #2
The second lesson in our series of 10 basic guitar lessons dives into the most popular chords beginners need to master. These chords are pretty much the alpha and omega of playing guitar, so you need to be able to play them and form the instinctively, without even thinking about it. This takes practice of course, lots of it, but you'll get there.
6. Spanish Guitar Lesson
I have to admit that the Spanish guitar lesson is one of my favorite song lessons. It sounds great, it's really simple to master, and that's exactly why beginners love learning it. This is another song that is among the top lessons month after month.
5. Samba Pa Ti - Santana
When you first read about this song's background, you'll be surprised to learn that this song has nothing to do with Samba. But it doesn't really matter, that's not why we love it. The reason is that it's a great beginner's lead guitar lesson, which you really should learn if you're into the electric guitar.
4. You Never Can Tell
Chuck Berry formed rock and roll with songs like this one. He's over 80 years old, but still active, playing live and touring. He's not what he once was, but still, if you ever have a chance to see him, you'll be seeing a legend. He's actually one of the few remaining living legends that shaped music as we know it.
3. Basic lesson #1
As usual, the top 3 spots are held by the initial 3 beginner lessons on the site. They are always in top place, it's just their ordering that varies, but not by much. For example, this lesson was beaten by the next in the list by just 8 views.
2. Basic lesson - How to read chord charts
Being able to read chord charts is like being able to read and write. You can't get anywhere without it. This is a fundamental lesson, which you must know inside out, before being able to advance.
1. Basic lesson - How to read guitar tabs
Just like the lesson on reading chord charts, this lesson is also fundamental to being able to advance your guitar skills. You must know how to read tablature, period. From a guitarist point of view, it's more important than being able to read standard music notation. I know some would start arguing about this, but it's true.
So there we have it, another month of great stats from my guitar students. Play as much as you can my young Padawans, and let me know how you progress.
https://www.theguitarlesson.com/wp-content/uploads/the-guitar-lesson-logo.png
0
0
Tom - TheGuitarLesson.com
https://www.theguitarlesson.com/wp-content/uploads/the-guitar-lesson-logo.png
Tom - TheGuitarLesson.com
2014-05-02 12:14:43
2016-07-01 09:32:29
Top 5 lessons of March 2014