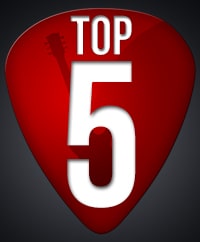 Hey everyone! I hope you've been enjoying he beginning of the summer months, but also remember to keep practicing the guitar.
Summer is usually the period when a lot of guitar students forget about their guitar for a while. I know, the weather's great, the days are extra long, and vacation time is here (or just around the corner). It can also be a great opportunity to grab your guitar more often:
Take your acoustic with you to the beach, park, or wherever, and play to your friends
Take your guitar on road trips. It's not heavy (get a good gig bag though), and guitarists always get a lot of attention from members of the opposite sex 😉
In the evening, when you're tired and want to relax, it's always nice to play something mellow to yourself, and family if applicable.
So remember, the summer can be made even better with the guitar!
The 5 top lessons of June, 2015
And with that, let's get down to business. Here are the most watched guitar lessons from the month of June:
5. Pink Panther theme - Henry Mancini
The Pink Panther Theme is a great beginner tune, and as such, if you're just starting out on the guitar, learning it is a must. It'll teach you a lot of techniques, from power chords to various lead techniques, string skipping, alternate plucking, etc.
4. Spanish guitar lesson
This Spanish guitar song is a perfect example of what you could play to your friends during pleasant summer evenings. It's not complicated at all, even though it seems like it, so you're sure to impress your audience.
3. Samba Pa Ti - Santana
If you're more into the electric guitar, Santana's classic, Samba Pa Ti, will really help solidify many lead guitar skills you'll need to learn on your road to becoming a lead guitarist. Even if you're at a more advanced level, you'll love learning this great song.
2. You Never Can Tell - Chuck Berry
Some classics never get old, for example, You Never Can Tell by the legendary Chuck Berry. I have several Chuck Berry lessons on the site, so if you are into this genre, you'll love learning those songs as well.
1. Wipe Out - Surfaris
Wipe Out is the winner in the month of June, for good reason. It is one of the easiest, yet funnest songs a beginner will learn. If you are just starting out playing guitar, you'll be able to play this classic in no time. I also have a great jam track on the lesson page for you, so make sure you play along with that once you can.
And this concludes the top 5 list of the most popular guitar videos of June. I publish this list every month, so you can see what other students have been practicing, and to inspire you to go pick up your guitar, and learn some of these songs as well.
Still here? 😉
https://www.theguitarlesson.com/wp-content/uploads/the-guitar-lesson-logo.png
0
0
Tom - TheGuitarLesson.com
https://www.theguitarlesson.com/wp-content/uploads/the-guitar-lesson-logo.png
Tom - TheGuitarLesson.com
2015-07-03 12:13:18
2016-07-01 09:37:08
Top 5 Lessons - June 2015