Hey guys, welcome to our latest Top 5 post. Today we'll be going through the most viewed lessons of June, which is the first summer month, meaning that things start slowing down in the guitar business.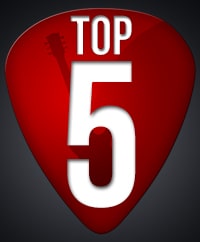 People head off on holidays, they spend more time outside, so they have less time for playing guitar. Guitar loses it's importance to a lot of beginners during the summer months, but a lot will return during fall.
But of course, if you're reading this my young Padawan, your passion for the guitar burns even stronger than the summer sun. Very good!
So with that said, let's just get into it and have a look at which lessons my students viewed the most in June.
Top lessons in June, 2014
As always, you should know that this series of top lesson posts was intended to be a top 5 song lesson list, but since the beginner lessons are consistently among the most watched lesson, I always expand the list to as many as needed, until 5 songs are represented. Wow, that seems complicated, but you'll see what I mean soon 🙂
In June, we had 3 basic lessons among the top lessons, which means I'll be expanding the list to the "Top 8 video lessons of June".
8. Spanish Guitar Lesson
The Spanish guitar lesson usually hovers around spot 5-8 every month. It's a really cool lesson that has influenced a lot of you to learn more Spanish style songs. I totally agree, Latin guitar songs are wonderful to listen to. A bit difficult to master though.
7. Samba Pa Ti - Santana
Oh my, is Santana slipping back? He is usually among in position 2-4. Interesting turn of events, which I'll keep an eye on. I can't really make any major conclusions after just 1 month of Santana slipping back, let's see what happens in July.
6. You Never Can Tell - Chuck Berry
Chuck Berry is over 80, and he's still rockin' and rollin' even today. His songs powered an entire generation, creating timeless classics that guitarists love even today. This song slipped back a few positions as well from last month.
5. Wake Me Up - Avicii
This is a new song I released this month, so it's only natural that it is among the top songs for the month. The real test for Avicii will come in the following months, we'll see whether he can stay in the top songs list.
4. Basic lesson - How to read chord charts
Reading chord charts is fundamental in learning the guitar, this is exactly why so many people watch in month after month. This lesson is up on youtube as well, so if I were to include those numbers, this lesson might just be the most viewed lesson each month.
3. Basic lesson #1
This lesson is the 1st among the 10 beginner lessons, which goes through the very fundamentals of playing the guitar. This lesson teaches how to hold the guitar, the name of the strings, how to pluck, so the very basics.
2. Basic lesson - How to read guitar tabs
Being able to read tabs is not as easy as it first seems, but is all the more important. This is the lesson you should start out with, before learning guitar.
1. Don't Worry Be Happy - Bobby McFerrin
My tutorial on Don't Worry Be Happy was released in June as well, so it's a new lesson, but nevertheless, I'm surprised to see it at the top of the list. It's a fun, popular song, let's see if it can hold it's position next month.
What is the takeaway from all of this? The main reason I publish this list every month is to motivate you to play more. Now you know what others are up to on the site, so it's all the more reason to grab your guitar and learn one of these songs.
See you in one of the lessons!
https://www.theguitarlesson.com/wp-content/uploads/the-guitar-lesson-logo.png
0
0
Tom - TheGuitarLesson.com
https://www.theguitarlesson.com/wp-content/uploads/the-guitar-lesson-logo.png
Tom - TheGuitarLesson.com
2014-07-02 12:13:32
2016-07-01 09:35:53
Top 5 Lessons of June, 2014