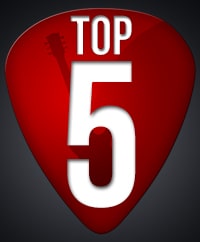 The first month of January went by incredibly quickly for me. Lots of things happened, including the birth of my 2nd child, Lena 🙂 Actually, she was born on December 31, which means her birthday will always be a party!
So shifting to the guitar world, January is an exciting month. Lots of guitars are given as Christmas presents, and I mean LOTS, and all the fledgling guitarists look for lessons to learn to play their new instrument. They look online, watch videos, buy books, so it's an all-in season for guitar related sites.
The free beginner guitar guide was accesses a gazillion times in the past month, and so were the video tutorials. Lets have a look at what you guys have been playing in January.
The 5 top tutorials of January, 2016
5. Stand by Me - Ben E King
Stand By Me is a barre chord song, and usually isn't on the top 5 list. This song is great for practicing your barre chords, so I'm guessing this is why it's on the list this month. Beginners giving those dreaded barre chords a go. Keep at it, it'll come with time. Actually, learning barres just a month after picking up the guitar is a bit too early...
4. Wipe Out - Surfaris
If you are just starting out on the electric guitar, this song should be one of the first ones you learn. It will dramatically improve your alternate picking, and string jumping skills. But of course, if you've been playing for a while, but haven't learned this song yet, make sure you do. It's loads of fun, especially with a backing track.
3. Pink Panther theme - Henry Mancini
The Pink Panther Theme is a great beginner tune, and as such, if you're just starting out on the guitar, learning it is a must. You'll learn lots of basic, essential guitar techniques by learning this tune, so make sure to check it out if you're a beginner. It looks hard at first, but it's not, even early beginner players will have it mastered quickly.
2. Spanish guitar lesson
This one is definitely a constant favorite of my students. If I were to make an all time top list watched lessons list, this Spanish guitar lesson would definitely be on it. Sometimes it slips off of the monthly top 5, sometimes it gets back on it.
1. You Never Can Tell - Chuck Berry
Chuck is the grandfather of rock, and You Never Can Tell is one of his greatest songs, it's actually one of the greatest songs of all time. Learning to play his songs is a must for any guitarist, this is where contemporary music basically started.
And that completes the list of the 5 most popular songs on the site in January, 2016. I do hope that seeing what others are practicing will get you practicing these songs as well, as well as all the other lessons from our archive of beginner guitar lessons on songs. Keep it going, practice a lot, and let me know if you have any questions or just need some motivation 🙂
https://www.theguitarlesson.com/wp-content/uploads/the-guitar-lesson-logo.png
0
0
Tom - TheGuitarLesson.com
https://www.theguitarlesson.com/wp-content/uploads/the-guitar-lesson-logo.png
Tom - TheGuitarLesson.com
2016-02-02 12:14:45
2016-08-19 09:07:27
Top 5 lessons - January, 2016