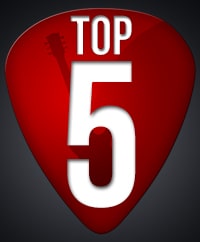 Hey everyone, welcome back! January is always an exciting month in the guitar lesson world, since a lot of new guitarists are created at Christmas time (they get a guitar as an Xmas gift). January is the first month the new beginner guitarists have to practice.
Unfortunately most of them won't make it long. By my approximations, at least 60% of people quit seriously learning guitar in the first month. This is a really sad statistic, and what's worse, even more people will quit in the 2nd month.
But now, for the good news. You're still here, reading this post! You want to learn to play, you want to create music, you want to entertain yourself, your family and friends with your playing. Way to go guys! Woohoooo!
If you're a total beginner, you're probably still progressing with my beginner guitar guide, which is great, keep it up! This post will give you some insight into what other's have been learning on TheGuitarLesson.com in January, and hopefully motivate you, to keep at it, and strive to learn more songs. Since as you know, learning songs is the fun way to learn guitar.
Top 5 lessons in January, 2015
And without further ado, here are the most viewed guitar tutorials of January.
5. Pink Panther theme - Henry Mancini
The theme song to Pink Panther is a great beginner song. It was probably the 2nd song I learned when I started playing. It's fairly easy, but still involves learning a lot of new techniques, such as double string slides, string skipping, and hammer-ons/pull-offs.
4. Wipe Out - Surfaris
Yes, Wipe Out was actually the first song I learned to play on guitar. It is great to get you accustomed with using the plectrum in general, and alternate plucking. If you are a total beginner, Wipe Out should be one of your first songs as well.
3. You Never Can Tell - Chuck Berry
You Never Can Tell is another great beginner song. It's not suited for playing by total beginners though, but if you've been playing regularly for a few months, you should definitely check it out. It's an all time classic by Chuck Berry, the father of Rock n Roll.
2. Southern Cross - Crosby, Stills & Nash
This lesson was released in January, and as such, usually jumps to the top of the list for the given month. This one is a nice beginner strumming song. I teach several versions of it, with respect to it's difficulty, so it's suitable from the early beginner level, all the way to upper intermediate.
1. Wonderful Tonight - Eric Clapton
And the no. 1 spot goes to another new release, Wonderful Tonight by Eric Clapton. The song is perfect for beginners, this might have been like the 3rd song I ever learned. It's got a great intro riff, and easy open chords you can strum or arpeggiate. You'll actually be able to play along with the original recording after watching this lesson. Oh, and if you like Eric Clapton songs, I've got more lessons by him.
This concludes our Top 5 lesson countdown, I hope you found it interesting, and motivating to see what your peers have been practicing in the month of January.
Now there is just one thing left... Grab your guitar, and start practicing! 🙂
https://www.theguitarlesson.com/wp-content/uploads/the-guitar-lesson-logo.png
0
0
Tom - TheGuitarLesson.com
https://www.theguitarlesson.com/wp-content/uploads/the-guitar-lesson-logo.png
Tom - TheGuitarLesson.com
2015-02-09 12:13:12
2016-07-01 09:37:41
Top 5 lessons of January, 2015