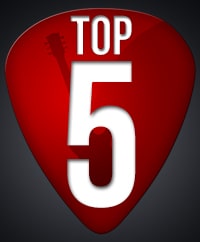 First off, let me wish all of you a Happy New Year my young Padawans! If 2017 hasn't given you something to be happy and proud of, don't fret. The 1st of January signifies the beginning of something new. You have life. You have hope. Go out there and accomplish all that you want.
This time of year is really great in the guitar learning world, it's top season. Lot's of brand new guitar players received their first guitar for Christmas, and are now looking for lessons, info, songs, etc. They want to learn to play guitar, and my job is to help every last one of you in 2018, and on.
This series of posts usually details the most watched lessons of the previous month, but being January, I will derail. The reason is that the top 5 lessons were Christmas song lessons, which have lost their significance (and motivational factor) in January. Instead, I'm going the list the top 5 non-Xmas lessons for you.
But in case you were wondering, the actual top 5 were:
The 5 top non-Xmas guitar lessons of December, 2017
5. Say You Won't Let Go - James Arthur
This lesson was released not too long ago, and is on the Top 5 list for the 2nd month in a row. It's a really nice fingerpicking song that I placed at Level 2. It's not a full beginner song, but not very hard either. If you've been practicing diligently for a few month now, you'll be able to play it.
4. Ring of Fire - Johnny Cash
Ring of Fire is one of the most watched lessons on TheGuitarLesson.com. It's a simple strumming song using very basic open chords, essential for beginners. The reason I love songs like this, is that even though they are easy, they sound great, which motivates newbies to play it a lot, thereby get better, and play even more.
3. Sweet Child O Mine - Guns n Roses
Every beginner guitarist who digs the electric guitar will learn the famous Sweet Child O'Mine Solo played by Slash. It's just one of those solos. But this lesson is a lot more than the solo. You'll of course learn the signature riff, the minor scale, power chords, string skipping, so a lot of very important things. 
2. Pink Panther theme
The Pink Panther theme is one of my recommendations for beginners, since it's simple, sounds great, and will teach beginners a lot of new skills that are essential in advancing as a guitarist. You'll learn string slides, hammer ons, string skipping, alternate plucking, etc.
This was the 2nd song I ever learned to play on guitar. Just in case you were wondering 🙂
1. Hotel California - The Eagles
This song is an all time classic, which was released before I was born, over 40 years ago today. It's crazy how time flies, and so interesting to see that such classic rock songs never go out of fashion. Trends come and go, but good music is here to stay. You'll learn the famous intro solo to the song, and the strumming sequences the Eagles plays during the verse.
Looking at the list above, I can see that a lot of you follow our beginners guide to learning guitar. Great job, keep at it in 2018!
https://www.theguitarlesson.com/wp-content/uploads/the-guitar-lesson-logo.png
0
0
Tom - TheGuitarLesson.com
https://www.theguitarlesson.com/wp-content/uploads/the-guitar-lesson-logo.png
Tom - TheGuitarLesson.com
2018-01-08 10:24:39
2018-05-16 07:44:17
Top 5 Lessons - December 2017