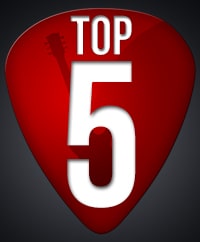 Hey there everyone, Happy New Year to you all! It's a new year, filled with new possibilities, and a chance to leave the rubbish behind and make our lives, and our surroundings better. If you had any new years resolutions, I hope playing more guitar was one of them. I know it was mine 😉
On that note, here is this months post on the Top 5 guitar lessons you guys have been watching on my site. As you know, I publish this list to give you a little motivation, to start playing the songs everyone else plays.
Of course, last month being December, my Christmas lessons totally dominated the most watched lessons list, so you probably won't want to be playing these lessons in January 😀
Either way, it's fun to dive into some statistics, so let's have a look at what you guys were up to last month.
Top 5 lessons in December, 2014
Here are the most viewed guitar tutorials of December.
5. White Christmas - Bing Crosby
4 of the top 5 lessons were Christmas songs, and our list starts out with White Christmas, a classic Christmas song by Bing Crosby. It's holiday mood and calmness is unrivaled in this genre, so if you learned this song, good job, you made a great choice!
4. Jingle Bells
Next we have the ultimate Christmas carol, Jingle bells. I'd hate to break your bubble, so I won't tell you that this song was originally written for Thanksgiving in 1857... Ooops 🙂
3. Jingle Bell Rock - Bobby Helms
There are a few contemporary Christmas pop songs you'll always hear on the radio during the holidays, and Jingle Bell Rock is one of them. It's actually a harder song to master, but once you get it going, it's a lot of fun, especially if you can get someone to sing along with you.
2. Silent Night
Everybody in the world knows Silent Night, it is the most famous Christmas carol of them all. You'll find a version in all languages (that celebrate Christmas), so it's no surprise, that this was the most watched Christmas lesson in December.
1. I'm Yours - Jason Mraz
Interestingly enough, December's most watched tutorial overall was I'm Yours. This lesson was just released in the middle of December, which usually gives the lesson a boost for the month, but this lesson won big time. Like 3x more views than the top Christmas song. I guess you really like Jason Mraz 🙂
And that wraps up our little monthly list, I hope it was as interesting for you as it was for me. I wish you much success and happiness in 2015, and remember that those new year's resolutions are just words, until you start working towards them.
(That was your que to grab your guitar and start practicing)
https://www.theguitarlesson.com/wp-content/uploads/the-guitar-lesson-logo.png
0
0
Tom - TheGuitarLesson.com
https://www.theguitarlesson.com/wp-content/uploads/the-guitar-lesson-logo.png
Tom - TheGuitarLesson.com
2015-01-09 12:12:56
2016-07-01 09:38:42
Top 5 lesson of December, 2014