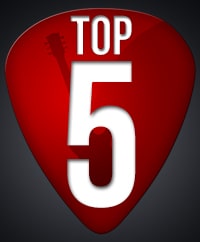 Another month has passed, which is great, since that means you're 1 more month into learning guitar. You are getting better with each day of practice.
Keep in mind that learning guitar is not an overnight process. It is actually a never-ending process, as I describe in my article on How long it takes to learn guitar. But with each month, each day, each hour of practice, you are growing as a guitarist, and soon, you'll be able to play and entertain people all day long. So stick with it!
I have a lot of adult students, and they all have 1 common complaint. They don't have enough time to practice. This is especially common among those, who have kids still living at home. Balancing work, family life, and a time consuming hobby (like playing guitar) is not always easy. You need to find the time, usually after the kids are off in bed. Another great idea someone sent me is that he's gotten his son involved in the guitar as well, so now they practice together. That is just great quality time to spend with your child!
Now let's move on to some motivation from your peers at TheGuitarLesson.com, and show you what everyone's been practicing this last month.
The 5 most popular lessons of April, 2016
5. Bonfire Heart - James Blunt
The 5th position is held by James Blunt's Bonfire Heart. This is an intermediate level fingerpicking song, it will really get you practicing those chord changes, and changing into barre chords. This is a great song with an awesome dynamic, which is part of the reason it's so cool. I also like it's music video 🙂
4. Wipe Out - Surfaris
Wipe Out is definitely one of the most popular lesson on the site, since it's a really good plucking song beginners can start practicing almost from day 1. And even though it's a beginner song, it sounds really great, once you get it up to speed. You'll easily be playing this song along with the backing track just a few weeks after starting out on the guitar, so get practicing!
4. Summer of '69 - Bryan Adams
Whenever I hear this song, it always evokes feelings of nostalgia in me (even though I was born in 79). Summer of '69 is a really cool rhythm strumming song, and it's pretty simple. There is just one semi-harder part in it, you'll know it when you get there 🙂
2. Here Comes the Sun - Beatles
Wow, I'm thrilled that this awesome Beatles song made it into the top 5 list. Here Comes the Sun is one of my favorite Beatles songs, I think I played it just for fun this week while doodling on my guitar. It is a semi-advanced fingerpicking song, so it's a challenge, no doubt about it. If you can learn this song, you can call yourself a good guitarist. You should start learning it once you reach an intermediate level, and stick with it
1. Spanish guitar lesson
And once again, the Spanish guitar lesson tops the list of the 5 most watched lessons on the site. This comes as no surprise at all, because basically, the Spanish guitar lesson tops the list almost every month. I can see why it's so popular though, it's a really great song, and it's pretty easy to master, even for beginners. It definitely sounds much harder, than it actually is. Give it a go, if you haven't already.
That wraps up the list for April's top 5 lessons, I hope you found some songs you like, got your guitar, and are ready to learn. Have fun!
https://www.theguitarlesson.com/wp-content/uploads/the-guitar-lesson-logo.png
0
0
Tom - TheGuitarLesson.com
https://www.theguitarlesson.com/wp-content/uploads/the-guitar-lesson-logo.png
Tom - TheGuitarLesson.com
2016-05-04 12:14:47
2016-07-01 09:31:49
Top 5 Guitar Tutorials - April 2016