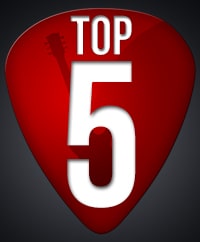 Hello guys and gals, welcome to this month's report on what my online students at TheGuitarLesson.com have been learning.
Each month, I dive into my analytics program with a dual aim:
To find out what my students are learning,
And to motivate everyone through this series of posts.
My logic is that by letting you know what your peers are learning, you will be motivated to learn some of the Top 5 songs as well.
September is the first school month, the true end of summer. It is also the month that most people start practicing guitar again, after the summer hiatus. If that sounds like you, that means you have a lot of practice time to make up for.
Let's start!
The 5 most watched guitar lessons of September, 2017
5. Here Comes the Sun - The Beatles
Yippie, another month where one of my all time favorite songs makes it to the top of the list. This classic feel-good Beatles song is really one of a kind, so if you haven't done so yet, please learn it. I'll teach you a fingerstyle cover version, and we'll learn all of the parts to this awesome hit, so you'll be able to play along with the original, or even sing along to it if you like.
4. Pink Panther theme - Henry Mancini
Coming in at the respectable number 4 position is Henry Mancini's Pink Panther. It's a great one for all you beginners out there, in fact, this was one of the first songs I learned as well. That is the version I'll be teaching you today 🙂 It will be very beneficial, since the lesson is jam packed with techniques you'll need to advance as a guitarist.
3. Sweet Child O Mine - Guns and Roses
The epic riff from Sweet Child of Mine is one of the best riffs of all time. It's surprising to find out that it's actually played on a single position of the minor pentatonic scale, and Slash, the guitarist for Guns N Roses, actually came up with it as a joke. If you are into the lead guitar and want to learn a great song, make sure you try this one.
2. Hotel California - The Eagles
Hotel California is a true "oldie but goodie". It was written 40 years ago, wow. It has a really catchy melody, and is loads of fun tho play, no matter whether you prefer the acoustic, or the electric guitar. To play the song in the correct key, you'll need to grab a capo and place it on the 7th fret of your guitar. By this, you should already realize that the song is played at a much higher register than what you might be used to without a capo. 
1. Ring of Fire - Johnny Cash
Ok guys, so I think I can officially declare Ring of Fire the most popular song on TheGuitarLesson.com. It is consistently in the top 5 list, reaching the coveted number 1 position very often. But please, if you learn this, do me a favor. Learn another Johnny Cash song as well, his version of Hurt.
And there we have it ladies and gents, the Top 5 list for the month of September. These were the most watched guitar lessons on TheGuitarLesson.com. Did you learn any of these in September? Will you learn any of the in October? 🙂
https://www.theguitarlesson.com/wp-content/uploads/the-guitar-lesson-logo.png
0
0
Tom - TheGuitarLesson.com
https://www.theguitarlesson.com/wp-content/uploads/the-guitar-lesson-logo.png
Tom - TheGuitarLesson.com
2017-10-09 13:05:54
2018-05-16 07:44:19
Top 5 guitar lessons - September, 2017