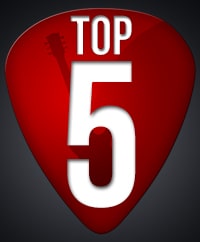 Hi everybody, welcome to this months report on the most watched lessons on the site.
November was an exciting month, we had several new lesson releases, conducted our annual Cyber Monday deal, and of course, the Holidays are coming up, which means that more people are loging in and practicing.
Keep in mind that we have several Christmas guitar lessons, so you might want to start practicing those in time for the holidays.
And without further ado, let's have a look at what you guys were up to in November.
The 5 most watched lessons of November, 2016
5. White Christmas - Bing Crosby
Yeay, the first Christmas song to appear on the list. How Exciting 🙂 White Christmas is a beautiful Christmas from the '40s it was actually the best selling song of all time until the end of the '90s. In our lesson, you'll learn the entire song which you can sing along with, or better yet, ask one of your family members to sing, and you can have a duett on Christmas eve. 
4. Adventure of a Lifetime - Coldplay
Our guitar lesson on Adventure of a Lifetime was a new release in November, but it didn't gain as much traction as I thought it might. Maybe I'm a bit biased, since I really like this song, as it one of my wife's favorite songs. We've listened to it so much, that my 3 year old son knows it by heart as well 🙂 It's a fast paced song, so it's not really suitable for beginners. You have the really fast main riff, and a gunk guitar rhythm section, which is also pretty difficult. All the more reason to learn the song though, as challenging songs like these will be the ones through which you can advance your skills the most. 
3. Jingle Bell Rock - Bobby Helms
It looks like people are really getting into the spirit of the Holidays, awesome! Jingle Bell Rock is on of the most famous Christmas pop songs ever, loads of people chose to learn it on my site every year. You can play it on acoustic or electric guitar, but it's definitely easier on the electric, so I would recommend that if you're a beginner-intermediate player.
2. Take Me To Church - Hozier
This one was another new release in November, so naturally, it made it to the top 5. Take Me To Church was an immensely popular song when it was released, and you can still hear it on the radio today. The song actually has meaning, unlike many contemporary pop songs. You'll really advance your guitar skills if you learn this song, including barre chords, fingerstyle playing, and knowledge of chords and their position on the guitar neck. 
1. You Never Can Tell - Chuck Berry
And once again, this Chuck Berry classic is at the top of the list. I can now safely say that this is the most popular lesson on the site. It reaches the top of the list despite new lessons being released, and of course, old ones coming into and out of favor. If you haven't learned it yet, now is your chance.
This concludes our list, I hope you found some songs that got you excited and eager to pick up your guitar 🙂
Make sure you have a look at our Christmas guitar tutorials list, it would make a great surprise for your family, if you played a few Christmas songs for them during the Holidays.
Happy Holidays!
https://www.theguitarlesson.com/wp-content/uploads/the-guitar-lesson-logo.png
0
0
Tom - TheGuitarLesson.com
https://www.theguitarlesson.com/wp-content/uploads/the-guitar-lesson-logo.png
Tom - TheGuitarLesson.com
2016-12-05 09:55:29
2018-05-16 07:44:21
Top 5 Guitar Lessons - November 2016