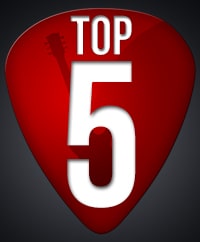 Hello everybody, welcome to this month's report of the most popular song lessons on TheGuitarLesson.com.
We're right smack in the middle of summer. Vacation time, beaches, pools, parties, BBQ. Summer is probably my favorite time of year.
Most guitar players tend to slack off a bit during the summer months, when there are so many other things to do. I know I haven't been playing as much as I would want to. It's best to play your guitar every day for at least an hour. It is undoubtedly hard to get that practice time in during summer, but try.
The visitor stats for the site also shows that it's summer, there had been a dip in traffic, which is to be expected.
I just realized that I forgot to write the Top 5 post last month (May). My apologies to our regular readers, must have been the summer heat clouding my mind...
Now let's have a look at those stats now.
5 most watched guitar lessons of June, 2018
5. Say You Won't Let Go - James Arthur
Say You Won't Let Go is a very nice, mellow song. If you are into the acoustic guitar, make sure you learn this one since it will teach you a lot of acoustic guitar techniques, like new strumming patterns, a percussive slapping technique and new chord embellishments. This song has been in the top 5 for quite a while now, for good reason.
4. Nothing Else Matters - Metallica
All right, now we're getting somewhere. This Metallica classic has never been in the Top 5  list, so welcome. This song was released in 1992, which would make it 26 years old. Wow. I remember I had my Metallica days around that time, and was listening to this non stop on tape. Younger readers won't even know what tape is 🙂 So anyhow, if you're into the genre, this will be a perfect lesson for you.
3. Hotel California - The Eagles
Hotel California is a stable contender in the Top 5 list, has been for quite a while now. My son, who is 5 years old, just discovered this song over the weekend, and he loved it. We listen to music together, and he'll get hooked on a song for weeks. He'll probably start listening to this one a lot as well, so I'll be playing it a lot for him. It's a great song that will teach you how to use a capo, accented strumming and some nice arpeggios.
2. Ring of Fire - Johnny Cash
Practicing, my young padawans are. Joy it brings 😉 Ring of Fire is a classic Johnny Cash song, which is one of my first recommendations for newbie guitarists. It uses your basic open chords, so it will give you a chance to practice changing in between them, strumming, and rhythm. All beginners need to learn this song. Not just because it's good practice, but because it's a Johnny Cash song!
1. Pink Panther Theme Song - Henry Mancini
Speaking of my son, this is another song he loves listening to. Actually, he likes my guitar cover better than the original, and requests it every few days. The Pink Panther theme song is another top recommendation for beginners. It's simple, but still teaches loads of important guitar techniques. And it's a great, catchy song as well.
That concludes the list of the most popular guitar lessons for the month of June. Hope you found a few songs you'll learn soon.
Keep on playing, see you in one of the lessons.
https://www.theguitarlesson.com/wp-content/uploads/the-guitar-lesson-logo.png
0
0
Tom - TheGuitarLesson.com
https://www.theguitarlesson.com/wp-content/uploads/the-guitar-lesson-logo.png
Tom - TheGuitarLesson.com
2018-07-09 08:21:01
2018-07-09 08:21:30
Top 5 Guitar Lessons - June 2018