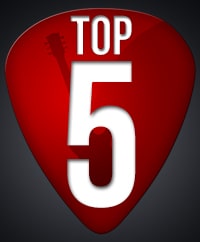 Hello everybody, welcome to another report on the most watched guitar tutorials on TheGuitarLesson.com.
I created this series of posts to share what thousands of students on the site are learning each and every month, hoping that this will get others excited about learning more songs.
Based on my experience as a guitarist/teacher, I truly believe that learning to play songs from early on is the key to sticking with the guitar, and improving at an acceptable pace. Playing songs is what makes playing guitar fun and motivating!
So get your guitar ready, let's go through what other students have been learning in July.
The 5 top guitar tutorials of July, 2016
5. Spanish guitar lesson
Do you love the sound of authentic Spanish guitar? If no, than please go to number 4 in the list 🙂 If yes, than this is your day! The Spanish guitar lesson on TheGuitarLesson.com has been one of the most popular lessons since forever. It sounds great, and it's pretty easy to master, even for beginners.
4. Can't Help Falling in Love - Elvis Presley
This popular love song by Elvis Presley will help you learn more chords, and improve your chord changes. It only has 1 barre chord, so the song is more than suitable for beginners as well. You should definitely give it a go!
3. Pink Panther theme - Henry Mancini
The Pink Panther Theme is a great beginner tune, and as such, if you're just starting out on the guitar, learning it is a must. You'll learn lots of basic, essential guitar techniques by learning this tune, so make sure to check it out if you're a beginner. It looks hard at first, but it's not, even early beginner players will have it mastered quickly.
2. Stand by Me - Ben E King
Stand By Me is a barre chord song, and usually isn't on the top 5 list. This song is great for practicing your barre chords, so I'm guessing this is why it's on the list this month. Beginners giving those dreaded barre chords a go. Keep at it, it'll come with time.
1. You Never Can Tell - Chuck Berry
Chuck is the grandfather of rock, and You Never Can Tell is one of his greatest songs, it's actually one of the greatest songs of all time. Learning to play his songs is a must for any guitarist, this is where contemporary music basically started.
This concludes the list of the most watched lessons, I hope you found it an interesting, and moreover, motivating read.
Now grab your guitar, get in tune, and learn one of these songs!
https://www.theguitarlesson.com/wp-content/uploads/the-guitar-lesson-logo.png
0
0
Tom - TheGuitarLesson.com
https://www.theguitarlesson.com/wp-content/uploads/the-guitar-lesson-logo.png
Tom - TheGuitarLesson.com
2016-08-04 09:07:28
2016-08-19 09:33:33
Top 5 Guitar Lessons - July 2016