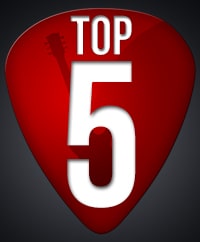 Hello everybody, welcome to this month's installment of the Top 5 Guitar Tutorials on TheGuitarLesson.com. As you may (or may not) know, each month, I dive into Google Analytics to check what my online students have been watching, and I make the most viewed lessons public.
"But Tom, why don't you just record new lessons instead?", you may be asking. Good question my young grasshopper!
The reason is simple. By telling you what other guitar students are presently playing, I'm trying to motivate you to start playing those songs as well. The more you play, the more you learn.
So have a look at what your peers have been up to lately, grab your guitar, and start playing!
The 5 top tutorials of February, 2017
5. Here Comes the Sun - The Beatles
I am thrilled that Here Comes the Sun made it to the top 5 list last month, since this is actually one of my favorite songs of all time. I'll let you in on a little secret. I play this song to myself at least 2-3 times every week, and have been doing it for as long as I can remember. I love the happy, joyful mood of the song, and I think you will too.
4. Whatever - Oasis
Whatever was a new lesson release in the month of January, and it looks like it stuck around for February as well. It's a really cool strumming song, where you'll get to work on chords and chord changes as well. No barre chords at all, which makes it a Level II lesson suitable for beginner-intermediate players as well.
3. Stand By Me - Ben E King
And real oldie but goodie. This Ben E King classic will give you a great barre chord workout, so if you are struggling with those barres, you will definitely want to give this song a shot. In fact, I recommend this song to all students who are just starting out with barre chords. 
2. You Never Can Tell - Chuck Berry
The Chuck Berry classic, You Never Can Tell, is one of the most popular songs on the site. It consistently makes it to the Top 5 list every single month. But you may already know that, if you follow this series of posts. If you haven't learned the song yet, you are really missing out on one of the best songs of all time.

1. Ring of Fire - Johnny Cash
And drum-roll please! Ring of Fire, released more than 50 years ago by the awesome Johnny Cash takes the number 1 spot in our list of the most watched guitar tutorials for February. This song is totally suitable for beginners. It will teach you basic chords and strumming, as well as the popular I-IV-V chord progression.
This concludes our list of the most popular songs for the month. You know what to do, right? Grab your guitar (if it's near by, otherwise grab it a bit later), and start learning one of the songs you just read about. Oh, and once you learn a song, make sure you play it to your friends and family as well.
See you in a lesson!
https://www.theguitarlesson.com/wp-content/uploads/the-guitar-lesson-logo.png
0
0
Tom - TheGuitarLesson.com
https://www.theguitarlesson.com/wp-content/uploads/the-guitar-lesson-logo.png
Tom - TheGuitarLesson.com
2017-03-08 13:30:49
2018-05-16 07:44:21
Top 5 Guitar Lessons - February 2017