As I do every month, today I will share with which guitar lessons were the most popular in the month of February. Why do I think this is important enough to write about?
Because I'm hoping that seeing what other people are learning and enjoying will hopefully give everyone else a motivational boost, and start practicing more.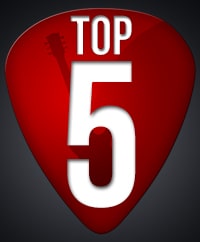 The month of February is an interesting one, the boost of new players from Christmas and January starts to die off a bit. I've seen this trend for years, and know that it is industry wide.
Lots of people get a guitar for Christmas, or make it their new year's pledge to learn guitar, but not many actually continue learning for more than a few weeks. If you think about it, this is part of human nature actually. How many times have you set out to do something, learn something, but than backed off because of various circumstances?
It's the same with the guitar unfortunately, but I'm here to make sure that you, my dear Padawan, will continue learning for decades to come!
So in that spirit, lets have a look at what your peers have been learning last month
Top lessons in February, 2014
As you'll know, I always expand my top 5 list to not include the basic lessons, since they are the most watched lessons on the site. 4 basic lessons made it into the top 5, so I'm expanding the list to the "Top 9 lessons of February". Catchy, isn't it 😉
9. Ring of Fire - Johnny Cash
This Johnny Cash song is among the top lessons almost every single month. It's amazing how much people like Johnny Cash, a musician/songwriter who started his career in the '50s, and died more than 10 years ago. I think I need to make more Johnny Cash lessons!
8. Basic guitar lesson #2
Last month this lesson was at position no. 5, so seeing it drop back a bit means that lots of people are past this lesson and already learning more songs. Good for you guys, keep it up! Don't get me wrong, the basic lessons are a great primer, but you really have to start learning songs as early as possible, to keep things fun.
7. Stand By Me - Ben E. King
Yes, I think I was right with my assumption. Stand By Me is a great song to practice barre chords with, which is why I think it made it into the top list. The beginners that started around Christmas have gotten to the barre chords lessons, and this is the first barre chord song I recommend. Keep at it, barre chords are hard, but they'll get easy with time.
6. Spanish Guitar Lesson
I'm glad to see this lesson in the top list as well, since it sounds great but it's very easy to learn, which means it gives an extra boost of motivation to people that learn it. See for yourself, you'll be able to play it in just a few days, and it'll sound absolutely fantastic, people will be astonished at how well you can play Spanish guitar 🙂
5. Samba Pa Ti - Santana
This is a great beginner's lead guitar song. Just like the Spanish song, this one is easier than it looks, and is one of the first lead songs electric players tend to learn. Learning Santana songs is great, I have a few other Santana lessons on the site, just search for it in the search box at the top.
4. You Never Can Tell
An oldie but goodie, it looks like my students got a bit nostalgic in the month of February. The intro to this Chuck Berry classic is pretty tough, so you'll need plenty of practice for that, but the rest of the song is a piece of cake. Oh, I just found an epic video of Chuck Berry and Keith Richards, a must watch. Chuck disses Keith like crazy 😀
3. Basic lesson - How to read chord charts
The top 3 lessons are usually out of the basic lessons, after all, my site is all about helping beginners, so no surprise there. At spot no. 3, we have the lesson on reading chord charts, a must know for anyone starting out with the guitar.
2. Basic lesson #1
Wow, the first lesson in the series of 10 basic lessons is usually at spot no. 1, I'm surprised it slipped down a notch. If you're reading this, you're probably way passed this lessons already, so you'll know what it's all about. An intro into the guitar.
1. Basic lesson - How to read guitar tabs
This lesson, just like the one on learning to read chord charts, is essential to getting started on guitar. It's even more important than Basic lesson #1. I think a lot of people start out with that lesson, but since it includes tabs, they quickly come and check this lesson out, to learn what those numbers on those lines actually mean.
So that's it for this month, I truly hope you got some inspiration out of it, and with your guitar already in your sight, you're ready to give one of the above lessons a shot. Time to practice!
https://www.theguitarlesson.com/wp-content/uploads/the-guitar-lesson-logo.png
0
0
Tom - TheGuitarLesson.com
https://www.theguitarlesson.com/wp-content/uploads/the-guitar-lesson-logo.png
Tom - TheGuitarLesson.com
2014-03-01 12:15:08
2016-07-01 09:31:03
5 Most Played Lessons of February, 2014