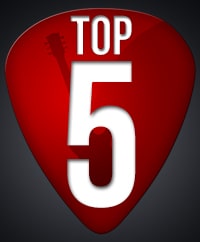 Hey everyone, welcome to yet another monthly report on the most watched lessons on TheGuitarLesson.com.
As you might know, each month I gather the statistics on what my online students have been watching, and make them public here, on my blog. I do this for a number of reasons:
To gain a better understanding of what you guys are looking to learn.
To motivate you to practice more, by showing you what the majority of your peers have been playing as well.
April isn't really a special month in the guitar lesson world, it's average. We are coming up on Summer though, which always shows a significant drop in students.
The 5 most watched lessons in April, 2015
Here are the most watched tutorials of April.
5. Stand by Me - Ben E King
The 5th most watched lesson in April was Stand by Me, a wonderful classic that will get you practicing those barre chords. If you are struggling with your barre chords, or just want to learn a great song, Stand by Me is for you.
4. Pink Panther theme - Henry Mancini
If you are a newbie and haven't learned the Pink Panther theme yet, head on over to this lesson right now. It's one of the most recognizable tunes in music history, and it's a great one for beginners to get their fingers moving across the fretboard.
3. Spanish guitar lesson
This lesson has dropped off of the top 5 list in the recent months, but I'm glad to see it's back. I think it's one of the best lessons, as it's perfect for beginners, even though it seems complicated. Don't let that fool you though, this is just a level II song.
2. Wipe Out - Surfaris
This classic by the Surfaris is a great beginner piece, you can literally start learning it from the moment you pick up the guitar. Of course, if you are an absolute newbie, it'll take a bit of time to master, but before you know it, you'll be playing it like me in the video.
1. You Never Can Tell - Chuck Berry
And the Chuck Berry classic makes a comeback! This song was near the top of the list for a long time, but dropped off for a few month, only to return to the most watched position. Classics don't die.
So there you have it. I hope you are excited about learning these songs as well, after all, these are the songs that a lot of your peers have been learning recently as well. Have fun with them, and practice a lot!
https://www.theguitarlesson.com/wp-content/uploads/the-guitar-lesson-logo.png
0
0
Tom - TheGuitarLesson.com
https://www.theguitarlesson.com/wp-content/uploads/the-guitar-lesson-logo.png
Tom - TheGuitarLesson.com
2015-05-02 12:15:13
2016-07-01 09:32:22
Top 5 Lessons of April, 2015