Welcome to this months posting on the most popular guitar videos of the previous month. As you may know, I take a detailed look at which lessons my online students have been visiting, and create a post just like this one.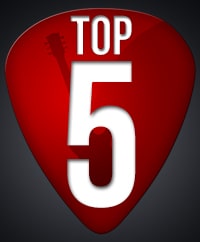 I started writing these posts this year, in the hopes of motivating every reader to play as much as possible, by demonstrating what other guitar students are playing as well. Hopefully it's working, and after reading this post, you will just grab your guitar and hit a lesson.
Let's just get into it and have a look at which tutorials my students viewed the most in July.
Top lessons in July, 2014
Before I list the top 5 lessons of July, I want to mention that my intention with this series of posts is to list the 5 most popular song tutorials. Since I have a lot of beginner students learning the basics, the lessons from the basic tutorials are usually among the 5 most watched videos as well. For this reason, I expand the list as much as I need to, so that it includes 5 song lessons 🙂
It looks like we had 4 basic lessons among the top lessons, which means I'll be expanding the list to the "Top 9 video lessons of July".
9. Samba Pa Ti - Santana
Santana's Samba Pa Ti is consistently on of the most popular tutorials, making it into the top 5 list almost every month. Last month it was at spot #7, so it fell back a few positions.
8. Wake Me Up - Avicii
Wake Me Up is a relatively new lesson, so I'm not surprised to see it in the top 5 list. It was released in May, so we'll see whether it van hold it's position next month as well, or fall out of favor. I love this song, so I'm glad lots of you are practicing it!
7. Basic lesson #2
The second in our series of 10 basic guitar lessons introduces beginners to chords. This video usually isn't among the top lessons, which to me means that I have more beginners onboard learning guitar, a great achievement on my part, considering that it's the middle of the summer, which is usually the slowest period for online guitar lessons.
6. Spanish Guitar Lesson
This lesson introduces you to a few typical Spanish guitar riffs, forming a nice song in the end. It has influenced a lot of you to learn more Spanish style songs, which I'm thrilled about, since I love the genre as well. Note to self: Must make more Spanish guitar lessons.
5. You Never Can Tell - Chuck Berry
Last month You Never Can Tell was as position no. 6, so it strengthened a bit during June. The 1 position jump isn't anything major though, this is another lessons which is among the top lessons each and every month.
4. Basic lesson - How to read chord charts
This is another basic lesson which is consistently on the list, and actually, it was at this exact position last month as well. It teaches beginners how to read chord diagrams, which is a very important thing to learn if you want to learn guitar.
3. Basic lesson #1
This first in the series of 10 basic lessons is always on this list as well. It is the initial lesson of the series, and teaches the very basics, like how to hold the guitar, the plectrum, and how to pluck a string.
2. Basic lesson - How to read guitar tabs
Another basic lesson which makes the top 5 list. I'm starting to think that next month I'll just skip these basic lessons, since they're always hovering at their usual positions, and don't really provide much insight into what's going on.
1. California Dreamin' - The Mammas and the Pappas
California Dreamin' was a new lesson released last month, so it should come as no surprise to see it on the most watched list. It's a very nice strumming song, and if you're the singing type, you'll be able to sing along with your guitar playing as well. Give it a go if you're into acoustic strumming.
That's the entire list for the month of June, I hope you are now super-psyched to grab your guitar and start playing, I know I am 🙂
See you in one of the lessons!
https://www.theguitarlesson.com/wp-content/uploads/the-guitar-lesson-logo.png
0
0
Tom - TheGuitarLesson.com
https://www.theguitarlesson.com/wp-content/uploads/the-guitar-lesson-logo.png
Tom - TheGuitarLesson.com
2014-08-05 12:13:07
2016-07-01 09:37:54
Most popular lessons of July, 2014