As you might have come to expect, each month, I analyze and publish the most watched video guitar lessons on TheGuitarLesson.com. Why?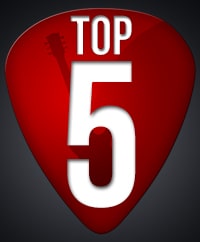 Well for one thing, I like to know what my students are up to, what is popular, and what isn't. Don't expect a "Most unpopular" post though, that is for me to know and learn from.
The reason I actually publish my findings on my blog is that I hope it hits that social drive in all of us, when we see what others are doing, and we do the same. By this, I don't mean that I want you to copy everyone else, I just want you to become motivated by the fact that a whole bunch of other people just like you are learning to play as well.
So pick up your guitar, have a look at what others have been learning in April, and get to it!

Top lessons in April, 2014
Since I want this list to be motivational, I am expanding the Top 5 list to not include the basic lessons. You might be wondering why don't I just omit them? It's because I want you to see that there are so many newbies just starting out.
In April, we had 3 basic lessons among the top lessons, so I'm expanding the list to the "Top 8 lessons of April".
8. Ring of Fire - Johnny Cash
If you follow this series of posts, you'll know that this Johnny Cash song is always among the top lessons of every month. Why? Because it's awesome!
7. Nothing Else Matters - Metallica
I don't think we've had the Nothing Else Matters guitar lesson in the top list at all, it's interesting to see. I have several guitar lessons on Metallica songs, but since the band isn't that active, they aren't really viewed that often. I guess a few metal players signed up this month. Turn up the distortion guys!
6. Spanish Guitar Lesson
A great song loved by my students month after month. The Spanish guitar lesson usually hovers around spot 6-8 each and every month, showing me that this genre is a popular one. I've been meaning to record more Spanish style lessons, this just reinforces this. If you want more Spanish guitar lessons as well, please leave a comment telling me so.
5. Samba Pa Ti - Santana
Santana is one of the best guitarists ever, I just wrote an extensive article on his life and playing style if you are interested. He makes great music, and has been doing so for decades. If you are a Santana fan, you should definitely check out the article I wrote about him. It covers everything from his life story, playing style, guitars, amps, techniques, images, etc. Basically everything you need to know about Santana, without going Wikipedia style overboard.
4. Basic lesson - How to read chord charts
As I mentioned before, there are lots of beginners picking up the guitar each and every month, looking to become good guitarists just like you. The fact that the most watched lessons each month are basic lesson reinforces this.
3. Basic lesson #1
This basic lesson is the first in a series of 10 beginner lessons, which goes through the very fundamentals of playing the guitar. While going through each lesson, make sure you learn a few songs from the recommendation list as well.
2. You Never Can Tell
This Chuck Berry song is usually among the top lessons as well, but not this high in the list. You Never Can Tell is a magnificent song, one of his best. I wrote a lengthy article on his life and style as well, you will definitely want to have a look at it. You'll also find a few fun videos on the article page, make sure to check out the one where is gets in an argument with the guitarist of the Rolling Stones, it's hilarious.
1. Basic lesson - How to read guitar tabs
This is the very first basic lesson, so it usually holds the top spot month after month. And don't downplay it's important, since without learning how to read guitar tabs, you just can't get anywhere on the guitar.
And that's it for the most watched guitar lessons of April, I'm glad to see everyone practicing. The summer is coming up, which is usually a time of rest and relaxation away from the guitar as well, so make sure you get as much practice now as possible.
https://www.theguitarlesson.com/wp-content/uploads/the-guitar-lesson-logo.png
0
0
Tom - TheGuitarLesson.com
https://www.theguitarlesson.com/wp-content/uploads/the-guitar-lesson-logo.png
Tom - TheGuitarLesson.com
2015-05-02 12:15:19
2016-07-01 09:30:33
Most Viewed 5 Lessons - April, 2014