Another month has passed, we are another month older and wiser, and hopefully another month of intense guitar practice is behind us. As I've been doing each month, I want to show you which beginner lessons were most popular on TheGuitarLesson.com, to give you inspiration, and just some interesting facts.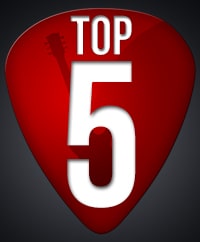 November isn't anything special, the laid back months of summer and the hecticness of back-to-school is behind us, so November should be a real heavy duty guitar practice month.
I released the much anticipated Beginner's Guitar Guide this month, so I'm hoping people have been following the course outlined there, and getting more practice. Since as you know, practice makes perfect 😉
So let's dive into it shall we, here are the most popular guitar lessons of November.
If you follow this series of posts, you'll know that I want to see the 5 most popular song tutorials, so if there are any basic guitar lessons in the top 5, I'll just expand the list to as many as it takes to show you 5 lessons on songs.
Top lessons in November, 2013
This month, just like in October, there were 4 basic guitar lesson among the most watched lessons, so I'm increasing this month's top 5 countdown to Top 9 countdown 🙂
9. Someone Like You - Adele
It is by no surprise that Adele's song can be found very often among the top 5 list each and every month. The song is really wonderful to listen to, and it's fairly simple to learn. It is, of course, a fingerpicking song where you basically arpeggiate a few chords.
8. Samba Pa Ti - Santana
Just like Adele, Santana is usually among the top songs as well. He is of course a master of the electric guitar, and an awesome person as well. I've seen him several times at concert with my father, he's a Santana fan as well. Hi Dad 🙂
7. Amazing Grace
Could this song be a sign of Christmas mood coming? Maybe, let's wait and see the rest of the songs in our countdown. Amazing Grace is a religious hymn, but it's often associated with the holiday season as well. So let's see if it holds on in December as well.
6. You Never Can Tell - Chuck Berry
An oldie-but-goodie, You Never Can Tell was of course made popular again in the movie Pulp Fiction. It's a really good song to learn, the intro is a bit difficult, but the rest of the song is pretty easy, even for beginners. It looks like November should be called Nostalgia November.
5. Basic guitar lesson #2
As usual, the 2nd guitar lesson is again among the list of most watched guitar lessons. It's where my students learn how to form their first chords, so it's a really exciting stage of learning guitar. Congrats to all of you learning it, and keep at it!
4. Silent Night
Christmas time is here again, hurraaayyyyy!! Silent Night is of course a very popular Christmas carol, so I'm not surprised to see it among the top November lessons. I'm going to be sending out an email this week to remind my students that I have a bunch of Christmas guitar lessons ripe for learning as well.
3. Basic lesson - How to read guitar tabs
Learning how to read tablature is a must know for beginner guitar players, that's exactly why this basic lesson is among the top lessons each month. I'm pretty sure it has been in the top lesson list ever since I started publishing this series, but don't quote me on that one.
2. Basic lesson #1
The fundamentals of learning guitar are covered in the first basic lesson, so the very basics like how to hold the guitar, and pluck a string. Since by site is aimed at beginner guitarists, it can come as no surprise to see this lesson high in the list.
1. Basic lesson - How to read chord charts
And the most watched guitar lesson of November on TheGuitarLesson.com is...... Well, you already know from the title 🙂 Being able to decipher chord charts is also very important in the initial stages of learning guitar, that's why this lesson is so popular.
And that's the list, the top 9 lesson of November. Thanks for reading, and I hope it motivates you to go ahead and learn something that others are learning as well. And keep in mind that Christmas is just around the corner, so make sure you learn those Christmas guitar songs and read up on nice Christmas presents for guitarists.
https://www.theguitarlesson.com/wp-content/uploads/the-guitar-lesson-logo.png
0
0
Tom - TheGuitarLesson.com
https://www.theguitarlesson.com/wp-content/uploads/the-guitar-lesson-logo.png
Tom - TheGuitarLesson.com
2013-12-11 12:16:14
2016-07-01 09:26:31
Most popular guitar lessons of November, 2013